The time has come to stop sitting on that old ruin that now only you insist on calling a "desk" and to get something new, light, adjustable and suitable for your gamer needs. In fact, many gamers still have the desk of their older brother, father or even grandfather in their room, but technology and design in furniture have evolved over the years and if you want a perfect product on which to place one or more screens, your new RGB mat or the new gaming chair just taken on Amazon, here is a selection of the best Amazon gaming desks that meet the standard of a gamer.
Before proceeding, we also remind you that if you were looking for cheaper products, you can take a look at our guide to cheap gaming desks.
Amazon gaming desks, the best
DlandHome, the economy
Homcom, the best with raised floor
Dripex, the best adjustable
Hilonone, the best with LEDs
Himimi, the most spacious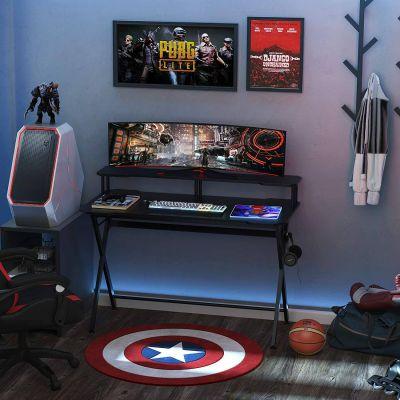 DlandHome, the economy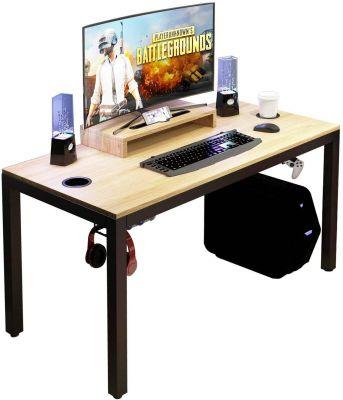 An inexpensive desk from
cost less than 100 euros
, which takes up as little space as possible and combines the design of a traditional desk with the advantages and functionality of a gaming desk. This desk, with a
surface covered in wood 120×60 cm
, features a headphone hook and controller holder, drink slots and a compartment to hide cables. In addition to this there is also a
small mezzanine floor
to lift the screen and position it exactly in front of the head, so as to avoid annoying neck problems. Furthermore, on this riser, there is also a small slot in which to keep the smartphone. The DlandHome is not a 360 degree gaming desk but
an excellent compromise between the classic and the new
and that will allow you to feel comfortable while spending very little.
See on Amazon
Homcom, the best with raised floor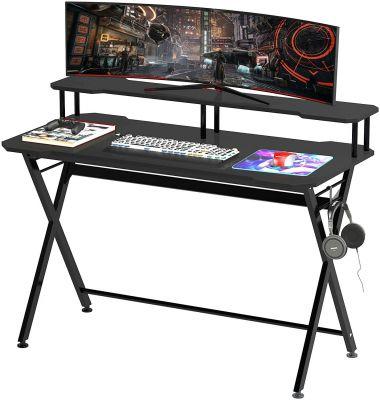 If you look for
a very spacious product
and able to support two screens and maybe raise them so you don't have to strain your neck, the Homcom gaming desk could be the one for you. With
PVC laminate top
from 140 x 60 x 93cm e
X metal legs
which guarantee perfect resistance to shocks and impacts, this desk is perfect if you spend several hours sitting and playing. Thanks to
adjustable feet
also adapts to uneven surfaces and is also equipped with
compartments underneath to store your games
. Especially recommended if you use two screens and love raised floors.
See on Amazon
Dripex, the best adjustable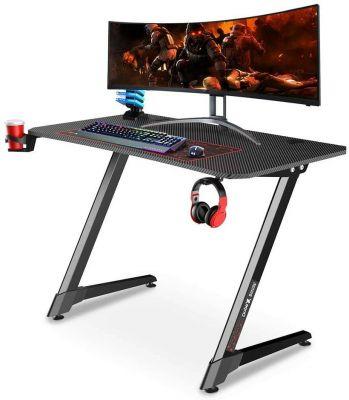 The gaming desk for those looking for height adjustments. This
desk 110 cm wide and 75 cm deep
it will provide you with all the space you need to play, hide cables, clip headphones and securely position your drinks. There
laminated carbon fiber surface stays cool and breathable
as well as being waterproof. Finally, the adjustable height allows you to adapt it to any gaming chair (and not) that you have chosen to use. In fact, the legs of the desk allow you to raise the support surface to different heights and it is also included in the price
one year warranty
which will allow you to fully test all the features of the chair.
See on Amazon
Hilonone, the best with LEDs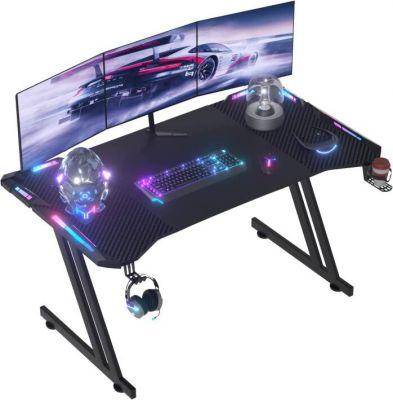 If you are looking for one instead
designer gaming desk
, perhaps with LEDs and that goes perfectly with your RGB mat (here the guide to the best ones), Hilonone's proposal could be the solution you are looking for. Equipped with a 120 x 60 cm laminate top that always stays cool even during the most intensive use, this desk also spares no expense in terms of headphone hooks, cable compartments, drink holders and controller holder. Other than that, on the sides, they are
present RGB LED lamps
which are perfect for offering a truly unique atmosphere during your games.
See on Amazon
Himimi, the largest and most spacious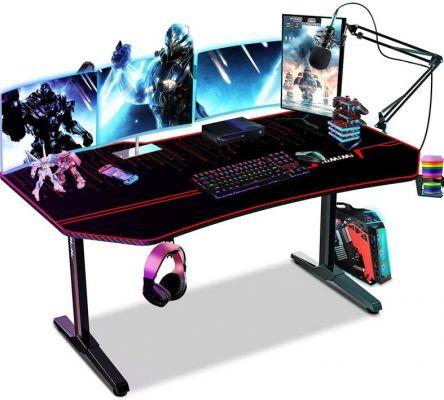 If you have a lot of free space and were looking for a really large product, you can finally opt for the Himimi Gaming 63″ gaming desk. A product that is not only beautiful to look at but embodies the essence of a 360-degree gamer with a design mat (rollable if necessary) that covers the entire surface in
fresh carbon steel
, Several
height levels
to meet the ergonomic needs of any type of gamer and a load capacity of up to 120 kg. So you can easily fill it with screens, books or action figures without worrying about the weight. Naturally, there is no shortage of supports for drinks, headphones, discs or controllers or special compartments to hide the cables from view. We close in style with the measurements of this gaming giant which offers a width of 74 cm, but a length of 160 cm.
One meter and 60 to fill with your passions, your games or your work
. If you have the space you need and a few more dollars, this is the best gaming desk you can take home from Amazon.
See on Amazon
How to choose a gaming desk
Gaming desks differ from a classic desk because they are designed to meet all the needs of a gamer. They therefore have compartments to hide the wires of screens, PCs and consoles; they can be equipped with LEDs, marrying perfectly with PC cases (and if they don't have them, you can always add them); they feature supports for stacking controllers, headsets, drinks and much more and finally they can be adjusted to fit the vast majority of gaming chairs out there. However, there are some characteristics that must always be taken into consideration when purchasing.
Ergonomic spaces and furniture
If you spend a lot of time playing, your desk needs to be ergonomic and help you maintain good posture. The gaming ones are almost all designed for this (especially if you accompany them with excellent gaming chairs) and very often they are adjustable (like the Dripex seen just above) and equipped with feet that allow you to change the height (and sometimes also the inclination) of the desk. If you need your desk to comfortably accommodate two screens, then you prefer the Homcom, which you will find in this guide, one of the most spacious in our selection but also on the market.
Supports
From headset hook to the controller stand. If you want the gaming desk to meet you at 360 degrees, choose one where these things are not lacking and if you want a well-ordered workstation, make sure there are as many compartments for the passage of cables as possible. Of course, if these proposals from the Amazon store don't satisfy you, we also advise you to take a look at this guide with the best gaming desks where secretlab, a brand that has built history and credibility on the quality of gaming chairs and desks, offers a solution for keeping cables in place thanks to comfortable magnetic clips.
Spazio
It could be an obvious variable but in the end it is really fundamental. Most gaming desks are large and spacious, so you need to choose a piece of furniture that fits your room and your needs. You don't have to be tight, this means that the desk must have space in front to fit your chair and that it has enough freedom of movement. The best way to understand which gaming desk could be right for you and where in the room it is most comfortable to put it is to take an old table (or old desk) and experiment until you find the ideal solution. Maybe the bedroom isn't the most suitable place, maybe the living room is better. Also don't forget to place it in a spot where you will have several hours of natural light.
Material
If you are a player who sweats a lot and your hands get hot when you play, make sure you choose a desk in carbon fiber rather than one in wood, they cost more, it's true, but you will really stay much cooler, even during the hottest of summers. The desks recommended in this guide are made in both wood and metal, the former are more elegant and easier to place in a neutral environment that is not necessarily a gamer's room but rather a work environment such as a room used for study or an open plan living room. The latter, on the other hand, have a more complex design to be placed in the traditional living room, but are much fresher and offer grooves in the metal that let the skin breathe. They also come with a dedicated gaming mat that covers the entire desk and is included in the price, to improve overall comfort.
Advised price
If you are looking for a respectable gaming desk, we advise you to set aside at least a budget exceeding 100 euros. In fact, on Amazon there are also many products below this figure but the quality is quite questionable and it is better to spend a little more to take home a product that is able to last over time. In this guide we have preferred to recommend quite cheap Amazon gaming desks, some that are good for both office work and gaming. However, if you were looking for something even more suitable, we leave you with our guide to the best gaming desks ever, where you can find products from all stores and also modular and professional desks.