Everything as promised. Illustrator, the vector graphics tool, officially lands on iPad. While the drawing app Fresco also becomes available for iPhones. The news was announced during Adobe Max 2020 which - for the reasons we all know by now - was held completely digitally for the first time. The updates for the entire suite of tools of the Californian giant are really many and Adobe's Sensei artificial intelligence has played a leading role, especially for the enhancement of Photoshop.
Illustrator for iPad
Let's take care now of the news for iPad and iPhone. Let's start with Illustrator, whose interface has been redesigned to better adapt to the tablet screen of the Cupertino giant and the Apple Pencil, for an experience that is as natural as possible. Additionally, Illustrator now offers a cross-device experience for desktop and iPad users. Documents can be shared using Creative Cloud.
On Photoshop, Illustrator and Fresco it was simplified the ability to share documents stored on the cloud to allow others to view them or add comments. Furthermore, in the first months of next year it will be possible to invite colleagues to modify the contents of the documents, thus further simplifying collaborative work.
You can access over 18.000 built-in fonts, including the latest features such as OpenType Color and Variable Fonts, and upload your own fonts via Illustrator to the iPad. The livestreaming function is also available - which made its debut last year on Fresco - which allows you to broadcast your work live directly from the app or to follow the work of other illustrators. Adobe says this is just the beginning of the journey and more news is on the way. All the details here.
Adobe Illustrator for iPad is available for free with a 30-day free trial, at the end of which you must sign up for a Creative Cloud subscription or subscribe only to Illustrator for iPad for 10,99 euros per month.
Fresco per iPhone
The Fresco drawing application is now also supported on iPhones. The experience is the same as guaranteed by the desktop version: same interface, brushes and functionality. Because it uses Adobe's Creative Cloud libraries, you can start drawing on an iPhone and then switch to another platform to get the job done. There is also the possibility to create a drawing on Fresco and send it to Illustrator.
Text support, on the other hand, allows you to include words with access to thousands of Adobe Fonts. All the details are available on this page.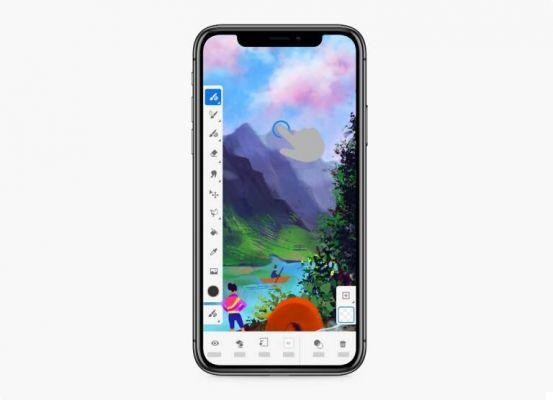 Fresco is compatible with iPhones updated to iOS 13 and later and requires iPhone 6S or newer models. The app is available for free on the App Store but offers Premium features for professionals in a bundle along with Fresco for iPad and Photoshop for iPad and in most Creative Cloud subscriptions. Further information and prices.
Preorder the new iPhone 12 on Amazon. The available models can be found at this link.