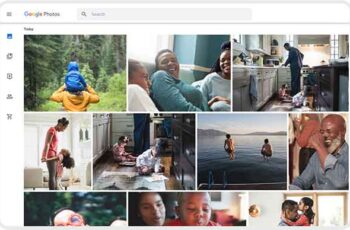 Google Photos was the default choice for most of the Android platform. It comes pre-installed on most Android devices and gets the job done with photo backup, editing and AI function. However, that changed after June 1, when Google limited unlimited storage in Google Photos. Now users are looking for alternatives to Google Photos, and Microsoft OneDrive is easily at the top of our list of recommendations.
Unlike Google Photos, Microsoft OneDrive is a complete cloud storage service. However, the app comes with a capable photo gallery, smart folders, and recently announced photo editing tools. It's good enough to give Google Photos a worthy battle.
But the burning question is: Does Microsoft OneDrive have what it takes to replace Google Photos as the leading photo backup tool on Android? Let's compare Google Photos with OneDrive on Android and find out.
How to download Google Photos photo albums
How to Transfer iCloud Photos to Google Photos
10 best tips for editing videos in Google Photos
The best photo editing apps
How to edit photos in OneDrive
OneDrive versus Google Photos
The comparison below is based on UI, cross-platform availability, backup, storage, price, sharing, AI functionality, widgets, and more. Let's begin.
Cross-platform availability
As part of Microsoft's "Mobile first, Cloud first" mantra, the OneDrive app is available natively everywhere. You can access the OneDrive app on Windows, iOS, Android, Mac, and the web.
Google Photos has native apps for Android and iOS. For Windows and Mac, you will have to rely on Web or Progressive Web App (PWA).
Windows users are in for a treat here. The OneDrive gallery section is directly integrated with the Photos app on Windows 10. Google does not enjoy this integration.
User interface and widgets
There isn't much to complain about here. Both OneDrive and Google Photos carry the Material Design theme guidelines and offer a convenient bottom bar for navigation.
Both of them also support the dark theme. Google Photos will take you directly to the home page where you will see all the photos uploaded. OneDrive takes you to the Files section which contains files and folders uploaded to the cloud.
However, OneDrive has a neat trick to go straight to the Photos section in the app. Using the OneDrive widget, you can easily search for a photo or open the photo tab in the app.
Surprisingly, Google Photos doesn't have widget support on Android. On iOS, they offer a handy iOS 14 widget (Why Google?).
Automatic backup and organization
Both Google Photos and OneDrive offer a way to automatically upload pictures and videos to the platform. Just go to Settings and enable image and video upload.
As for reliability, we've found Google Photos to be more accurate and consistent with the background loading process. OneDrive goes to sleep frequently and this disables autoloading. While it's rare and likely to do with an aggressive Android skin, it's still worth pointing out.
Both Google Photos and OneDrive let you create custom photo albums, but organization is where OneDrive advances. Allow us to deepen.
OneDrive neatly organizes each photo / video in a specific month folder in the Camera folder. It makes a huge difference when looking for a particular image in a large photo library.
Microsoft also promises to release a new update in the next month that automatically creates folders based on the upload source of your photos, whether it's a photo you saved from WhatsApp or a screenshot you took yourself.
Features and safety
Let's talk about the basics first. OneDrive offers built-in fingerprint protection. Google Photos is missing this. And this is big trouble for our books.
Google Photos offers the ability to lock photos in a separate folder in the app. But the overall implementation leaves a lot to be desired. On the other hand, OneDrive offers a robust Personal Vault in the app.
Personal Vault is a place to store your most important and sensitive files and photos. It is protected by two-step verification, locks automatically after 3 minutes of inactivity, and unlocks with biometric data only. You can also scan files directly into Personal Vault.
Search is where Google Photos picks up in the comparison. You can search for photos with people, places or scenarios such as sky, city, dance, etc. In short, you will have no difficulty finding the photo you are looking for.
OneDrive also automatically tags your photos as Food, Beach, Sky, etc., but it still doesn't match Google's superior AI to differentiate between places and scenes.
Google's AI-generated suggestions are also superior compared to OneDrive. You will be amazed by Google's suggestions for improving a photo with filters and creations automatically applied such as animations, collages, cinematic photos and movies.
Microsoft only offers the "On this day" notification.
Edit and share photos
Google Photos once again comfortably wins this round. Google Photos offers a solid photo editing experience in the app. All the buttons are large, optimized for a tall screen at the bottom, and you have a ton of options to choose from: Crop, Adjust, Filters, Markup, and AI tips.
Microsoft recently added photo editing features to the OneDrive app, but the features are limited to cropping and adjustments like Brightness, Exposure, Contrast, Shadows, Saturation, and more.
There is no way to scribble on a photo and filters are also missing.
When it comes to sharing, you can generate a sharing link in OneDrive and send photos to others. However, you can also create expired links and add a password to the shared link to move sensitive photos and videos.
Google Photos has added a social / chat touch with the share feature. You can send photos directly to the person without leaving the current interface. It all happens in the Photos app and you can chat with another person as well.
You can also create a group of people and share photos between friends and family in the group, no need to rely on other services to share photos. Google Photos does it all smoothly in the app itself.
You can also link your current Google Photos library to your Partner account and view your better half photo gallery in the app.
Pricing: OneDrive and Google Photos
Google Photos offers a generous 15GB of storage, for starters. However, that storage will also count between Gmail and Google Drive. After that, get ready to pay for the Google One subscription which starts at $ 1,99 for 100GB per month
OneDrive packs 5GB of free storage. You can purchase a Microsoft 365 subscription that unlocks Microsoft Office apps and 1 TB of OneDrive storage. Pricing starts at $ 59,99 per year.
Summary - OneDrive vs Google Photos
In the end, it's really up to you to choose between OneDrive and Google Photos. Let us make it easier for you.
Choose OneDrive if you're already a Microsoft 365 subscriber, use Windows 10, want an Android widget, and value security and better organization of your photos.
Google Photos advances with superior sharing, AI-powered tips, and top-notch editing features.
Further Reading:
How to edit photos in OneDrive
How to delete photos and videos on iPhone at the same time
Can't delete OneDrive folder, 9 solutions
4 ways to stop Windows 10 from saving files to OneDrive
How to recover deleted photos from iPhone