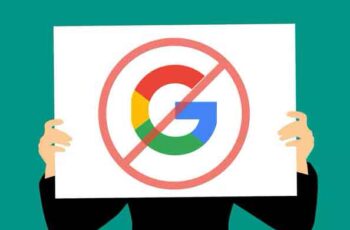 What if your Google account has been deactivated and how to restore it without losing data. There are several Google services and products used by billions of users who don't pay a single penny. From Search to Maps, YouTube, Gmail and many more, and almost all of them are free. Even more interesting is that you only need one account to access all Google services. But what happens if this account is blocked by Google?
Google account has been disabled, how to reset
Do you lose access to all its products? Will you still be able to use any of them? Also, how do I restore a disabled Google Account? We explain everything to you in this article.
Why did Google deactivate my account?
There are many reasons why Google can block a user's account and we'll cover all of them below. However, to put it briefly, using your Google Account (or any of the Google services) for activities that violate Google's policies and Terms of Service will result in account deactivation. Some of these activities include (but are not limited to):
1. Spam: using your account to send or distribute unsolicited and unwanted content (emails, reviews, comments, photos, etc.) on any of its services is considered spam and could lead to the deactivation of your account by Google .
2. False identity / deception: the creation and use of an account under a false pretext on any of its services could result in the deactivation of the account.
Creating an account claiming to be someone you are not is a violation of Google's Terms of Service (ToS). The only exception provided by Google is the creation of a VIP account.
3. Promotion of violent content: using your Google account to share content that incites violence, sexual abuse and terrorism on any of its services could lead to the temporary or permanent closure of your Goolge account.
Other noteworthy reasons why Google disables accounts include using its services for malicious purposes like phishing, account hijacking, etc. You can learn more about why Google accounts are disabled on the Google account help page.
Interestingly, a Google account may also be disabled for some strange reasons such as changing the password when logging into a new computer or simply using your Google account on another computer as reported by these Google users in the Gmail community. .
Typically, only Google knows the exact reason for disabling an account. However, it primarily revolves around any activity it perceives as a violation of its policy and ToS.
What happens when a Google account is deactivated?
As soon as Google deactivates your account or notifies you that your account has been deactivated (they always do), you will no longer have access to all Google services and products linked to the deactivated account. Notification of the decision to deactivate your account is usually sent by email or text message, if you have a phone number linked to your Google account.
Whenever you log into one of Google's services using the blocked account, you will receive an error message informing you that the account has been disabled. You will also be asked to visit the Google Account Help page to find out why it was deactivated and how you can recover your deactivated Google Account.
What happens to your data?
When your Google account is suspended, it's temporary, at least in its early stages. Google allows you to restore a deactivated account, the files and data associated with the account will remain temporarily inaccessible. However, you need to act fast if you want to get your data back.
Disabled accounts are (not always) deleted from the Google server. Guess what gets deleted too? The data. All emails, photos, videos, contacts, Google Drive files and all other data stored in the account. Everything is erased.
If you can prove to Google that you have not violated any of its Terms of Service or Usage Policy, your account (along with your details) will be reactivated and restored. And how can you restore a disabled Google account? We will explain it below.
How to create a Google account on your Android device
How to remove a Google account from Chrome
How to delete Google account forever
What happens when you remove the Google account from the phone
How to recover the Google account?

When you log into the account that has been disabled, tap the "Try to Reset" button to initiate an account recovery appeal.
You will then be prompted to enter an email address to which the outcome of the appeal will be communicated. Finally, you will be asked to type and submit your appeal.
Final report: use an alternate email address that is active and not disabled. Otherwise, you will not be able to receive updates on your appeal request.
Alternatively, you can visit the Google Account Recovery / Appeal page and fill out the form on the page with the necessary details.
Typically, Google takes around 2 business days to process and respond to your appeal request. Some users reported that it took up to 5 days, while some took a little longer.
During your appeal, Google will review your account and its content to see if your account needs to be restored or not. The outcome of the appeal will be communicated to you via e-mail.
Final report: the outcome of the appeal is definitive and cannot be further challenged. Also, you can't appeal a second time.
Further Reading:
4 methods to reactivate someone on Instagram
How to disable Facebook Messenger
How to use Google Tasks
How to reset Samsung Galaxy S21
How to reset Samsung Galaxy A52