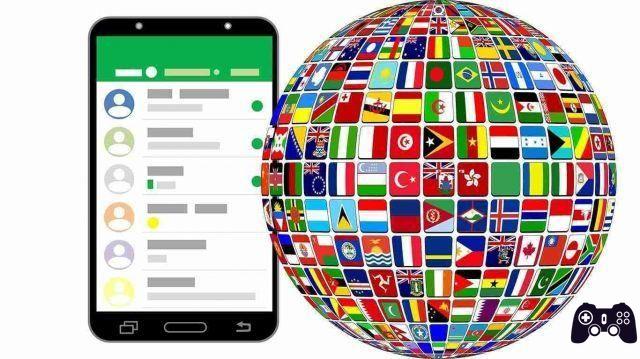 Want to know how to add international phone numbers on Whatsapp to communicate with a person in another continent or country, here's how.
Add international phone numbers on Whatsapp
First of all you have to save the person's number in the address book of your smartphone, as Whatsapp refers to it to make contacts with which to start a chat.
Open your smartphone's address book and add a new contact.
In the number section enter the symbol + followed by country code and from cellphone number. The international prefix is ​​a numeric code that must be entered before the telephone number to make calls abroad.
For example, if you have a contact in the United States (country code "1") whose district code is "408" and whose phone number is "XXX XXXX", you will need to enter the number like this: +1 408 XXX XXXX. Make sure you remove 0s or special characters
NB: All Argentina telephone numbers, (international prefix "54") should have a "9" between the country code and the district code. The prefix "15" must be removed and the final number will have 13 digits in total: +54 9 XXX XXX XXXX. Mexico numbers (international prefix "52") must include the number "1" after the "+52", even if they are Nextel numbers.
Once the international contact has been made and stored in the address book of your smartphone, open Whatsapp. Now in the chat tab select the green balloon at the bottom right to view the contacts. Then select the three dots at the top right and select Update. Now your contact list has been updated and you can then select the international contact and start a chat with him.
International telephone codes for Whatsapp
Country

Prefix
international

Call
International

Other

Other

Argentina
AR
+54
0054
54
Australia
AU
+61
0061
61
Belgium
BEL
+32
0032
32
Brazil
BRA
+55
0055
55
Canada
CA
+1
001
1
Chile
CL
+56
0056
56
Colombia
CO
+57
0057
57
Francia
FR
+33
0033
33
Germany
DE
+49
0049
49
Spain
IT
+39
0039
39
Luxembourg
LU
+352
00352
352
Mexico
MX
+52
0052
52
Panama
PA
+507
00507
507
Portugal
PRT
+351
00351
351
Spain
ES
+34
0034
34
Switzerland
CH
+41
0041
41
United States
US
+1
001
1
These are just some of the most used. on this page you will find the.