Find out in this guide the best tips and tricks to dominate your opponents and win more battles on Lords Mobile
After the huge success of the last 3 years on mobile devices, a few months ago Lords Mobile has also arrived on Steam. So whether you are new to the strategy MMORPG from PC, or mobile gamer looking for advice for win more battles, you are in the right place.
The importance of the Guild
The most important step to take to improve your Lords Mobile experience is definitely joining a Guild. In addition to the obviously importance of having allies, you will be able to access various additional rewards and other benefits. First of all, literally, it will be a bonus of 400 gems only for joining your first Guild.
Once you have found your Guild, it will be important to have a look at both the bar often Gift of the Guild, both in the Guild area, to make sure you have already helped all your companions. Helping clan mates who request it will take you very little time and will speed up the loading of the indicator of the Guild Coins daily.
To request help from your Guildmates, click on the yellow icon with two arrows in the list at the top right, and if you are helped, you will be able to complete various actions much faster.
How to get VIP points and what they are for - Lords Mobile: tips and tricks
The easiest way to accumulate VIP points, useful for increasing the VIP level, is to access the game everyday. By increasing your VIP level you will receive more and more benefits, such as the ability to open more chests per day.
Talent points - Lords Mobile: tips and tricks
By increasing your level in Lords Mobile, you will unlock the Talent Points, which you can use to make your city more efficient. With these points you can in fact increase the production of food, reduce the time needed to train troops, and make many other fundamental improvements. For this reason, it is very important to often take a look at your amount of Talent Points, and above all, spend them well.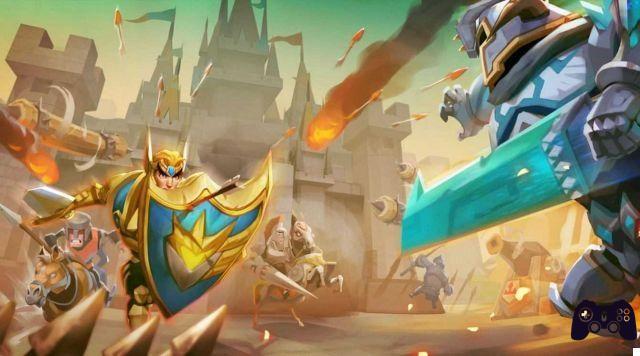 Easily unlock and upgrade champions with Hero Scenarios mode - Lords Mobile: Tips and Tricks
In this game mode, which consists of facing different levels with a team of maximum five samples, the final boss you will face in some cases it will add to your roster of heroes. However, to access each level of the Heroes Scenarios mode you will need to spend Vitality Points, and you will have to manually activate the skills of the various heroes.
Completing Hero Scenarios will also unlock many pieces of equipment for heroes. Whenever you occupy a slot in a hero's equipment you will be able to promote itby clicking on the shield in the center of the equipment screen. Promotions will increase the hero's rank and improve his stats considerably.
Easily obtain valuable resources and materials
In addition to carrying out missions, to obtain resources in Lords Mobile it is important to log in often map. The game map allows you to recover precious resources and materials from the cities of other players, and every now and then you will also find enemies to defeat (quite difficult though), which will leave many rewards on death.
We hope this guide has been helpful to you, and we remind you to go to the dedicated section on our site for other guides, reviews, news and specials on the gaming world.