Unlike previous acquisitions, that of Activision Blizzard from Microsoft is probably not proceeding as everyone expected. The deal has yet to be closed and to do so we need the approval of the antitrust involved in the process, but PlayStation is making a long opposition through the press and providing the various regulatory bodies with reasons why the deal should not be completed. After the Jim Ryan news which visited the European headquarters in Brussels to express its doubts about this market maneuver, Microsoft is now trying to respond with a website that wants to try to remove any doubts about the future of the video game market.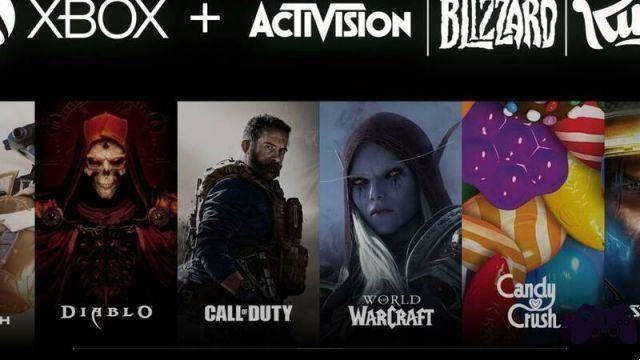 Clearly, when we write "response," we don't mean a direct attack on Sony. Microsoft's website was probably (indeed, certainly) in the program for some time and will be a necessary asset to be able to convince the various antitrusts around the world of the goodness of the deal. On the site you can read all the steps of the acquisition and find out a little more about the vision of gaming by the Redmond giant, which unlike PlayStation focuses more on offering games through services than on selling hardware. All with the aim of getting more people to play, freeing them from the constraint of buying a console or a PC, but using the devices they already have at home. There is also a market analysis: even if the acquisition were successful, Microsoft would remain in third position in terms of earnings, with Sony and Nintendo still in an advantageous position, also thanks to their presence on the market for much longer and having built a fan base dedicated to historical IPs such as games from the Zelda series, Super Mario, God of War and many others.
However, the future of Activision Blizzard seems very uncertain and we are not sure that the deal will go through. PlayStation has good reasons to prevent the group from passing under the wing of Microsoft, and the outcome of the deal will depend on the various bodies involved in regulating the market at a global level. It is probably the first time that the Redmond giant has found itself in this situation in the gaming sector and the scenario is still decidedly uncertain.
Microsoft began a series of acquisitions way back in 2018, which resulted in several small to modest sized teams like Obsidian, Double Fine, and inXile transitioning into the Xbox Game Studios family. In September 2020, the Redmond giant got its hands on Zenimax, managing to transform Bethesda, id Software and all the other studios controlled by the US group into first party.