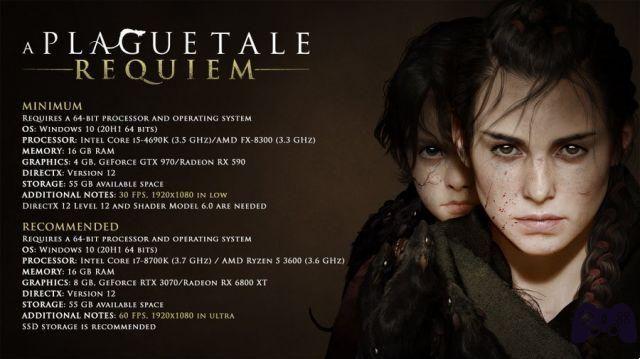 After having amassed acclaim practically everywhere with the first episode, Asobo Studio prepares for the launch of A Plague Tale: Requiem. The sequel to the adventure of Hugo and Amicia arrives 4 years after the first chapter and will see the light on October 18, 2022. While we are waiting to find out the first opinions of critics and the specialized press regarding the title, the team development has decided to finally reveal the requirements of the PC version of the game. And yes, they are not light at all.
As disclosed by Asobo Studio on Twitter in the last few hours, an Intel Core i1080 60-7K and an 8GB GeForce RTX 700 are required to run A Plague Tale: Requiem at 3070p and 8 frames per second. With this hardware it will guaranteed a decidedly fluid frame rate (at 60fps) with the Ultra graphics presets, while if you have less performing hardware know that officially the game can also be started with an i5 4690K and a GeForce GTX 970, but in this case you'll have to settle for 30 frames per second at low settings.
Clearly these requirements lack a series of very important variables. For example the integration of DLSS, which will improve (and greatly) the user and gameplay experience. Without forgetting the Ray Tracing, which will certainly weigh everything down but may not be a problem, especially for all those who have really hi-end hardware. Despite this, the requirements of the game are certainly not light and it will probably be necessary to explore all the available options well in order to be able to play in a calm and fluid way, without too many clicks.
Get the full specs of #APlagueTaleRequiem below pic.twitter.com/iC1ImgmdWJ
— A Plague Tale (@APlagueTale) October 7, 2022
As mentioned at the beginning of the news, A Plague Tale: Requiem will be available starting October 18, 2022. The game will also come to PS5 and Xbox Series S|X and will be included from day one within the Xbox Game Pass, the Microsoft service that allows you to play over 100 titles on PC and console.