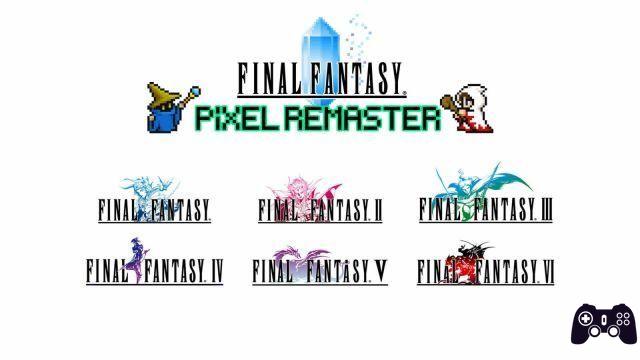 On the occasion of the 35th anniversary of the series, Square Enix has announced the arrival of Final Fantasy Pixel Remaster on PlayStation 4 and Nintendo Switch. The announcement arrived today, in the early hours of the morning, without however announcing a precise release date and put an end to some rumors that had spread over the last few days, regarding the arrival of the games on the Sony and Nintendo platforms.
First things first: Final Fantasy Pixel Remaster will be available from spring 2023. The games included are the same as the PC version and can be purchased both in bundles and individually in digital version. However, Square Enix has also thought about fans and collectors, with a physical Limited Edition that will be available on day one and for which pre-orders are already open on the official website of the publisher and developer.
The Limited Edition is decidedly rich in content, including a vinyl and sticker set. The cost? Obviously high: 274,99 Euros, but at the time of writing everything has sold out. However, it is not clear whether Square Enix has still produced a few units and if it can reopen pre-orders, perhaps over the next year. Below are the contents included in this special edition:
The game in physical version
Box dell'Anniversary Edition
Two vinyls with the music from the game and a cover created by Kazuko Shibuya
An art book
Wall Stickers
The Final Fantasy Pixel Remaster series is coming to Nintendo Switch and PlayStation 4.
Experience these classics individually or as a bundle when they launch digitally in Spring 2023.
Full details: https://t.co/eFZnqs6sPK pic.twitter.com/ciGKH8gkH8
- FINAL FANTASY (@FinalFantasy) December 18, 2022
As we have already specified a little above, the PS4 and Nintendo Switch versions of Final fantasy pixel remaster they don't have a release date yet. The launch of the games is scheduled for spring 2023, as usual in these cases, we invite you to wait for further news on the matter, which can shed more light on the launch. We will update you as soon as there is more information on this.
Before saying goodbye, we invite you to subscribe to our YouTube channel.