Is it possible to find excellent monitors under 300€? We know very well that not all gamers have a high budget to invest in their passion. Precisely for this reason we have carried out a search on the main online stores to find the best proposals that the market has to offer in this period with only one objective: to keep ourselves below this figure, but at the same time trying to include all the characteristics that they can give to players a more than good gaming experience.
To enjoy a mouse experience free from annoying visual artifacts, it is essential keep an eye out for some features before buying a monitor. In particular, we emphasize AMD's FreeSync or Nvidia's GSync, so as to avoid tearing problems and benefit from a smoother gaming experience. Furthermore, with the standards set by HDR technology, it is important to purchase a panel with a 10bit and HDR certified display.
With these premises, the time has now come to delve into our selection and show you what they are the best gaming monitors under 300 €. Before starting, however, we suggest that you also take a look at our other buying guides such as: the best gaming desks and the best gaming chairs, so as not to miss anything at your workstation.
Best gaming monitors under $300
ASUS TUF GAMING VG28
LG 32GN650 UltraGear
Itek GGF
BenQ Monitor Led Gaming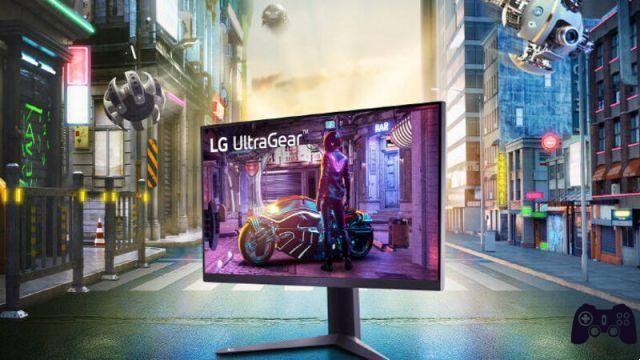 ASUS TUF Gaming VG28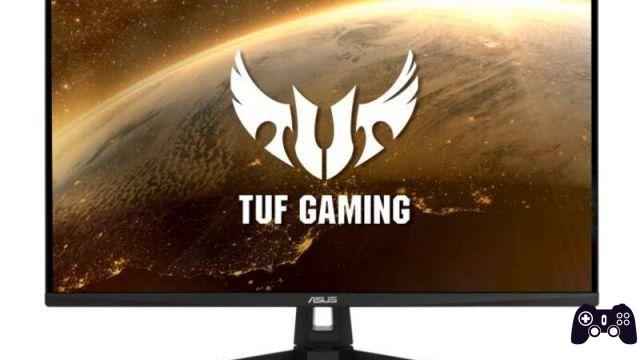 Let's start with a monitor from the TUF Gaming line by ASUS. Equipped with AMD FreeSync, IPS panel with HDR technology and a 4K UHD resolution, the ASUS TUF Gaming VG28 is certainly an excellent choice for the proposed price. Currently, in fact, it is possible to take this monitor home with a cost of less than 300 Euros for the 28-inch model, an excellent desk size.
There are certain reasons why a gamer on a shoestring budget should buy this screen. The first is certainly related to its specific destination: with a decidedly low response time (just 5ms), the monitor is designed for all those looking for a decidedly low latency. The inclusion of AMD FreeSync also makes it a monitor in step with the times, especially for all those who play on PC. Finally, support for the GPU NVIDIA grazie all'Adaptive-Sync. Only downside? The refresh rate, stopped at 60Hz. However, if you intend to play in 4K and 60 frames per second without necessarily having to spend that much, this is definitely the product for you.
See on Amazon

LG 32GN650 UltraGear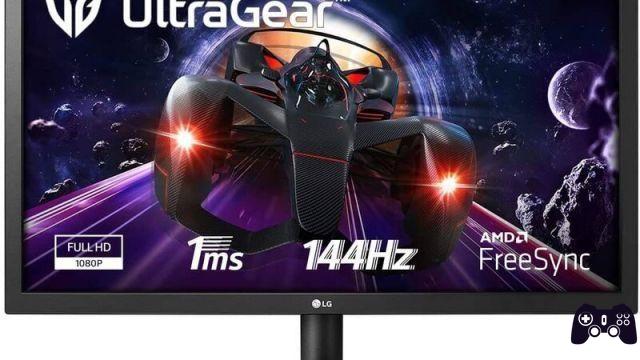 Now let's move on to an LG monitor, or the 32GN650 model. It is a panel characterized by a VA type display with support for HDR technology. This model is 32 inches, but you are very free to select another size within the link. The one we offer is the one with the best value for money, especially considering the frequent discounts.
The screen more than suitable for gaming
, considering the presence of a very low input lag (1ms), AMD FreeSync Premium technology, 165Hz, HDMI 2.0 and DP 1.4 ports. All this at a very high QHD resolution (2560 x 1440 pixels), the most recommended in the PC environment. So, if you love playing at 1440p resolution and are looking for excellent gaming specifications, this is the monitor for you.
See on Amazon
See on Unieuro

Itek GGF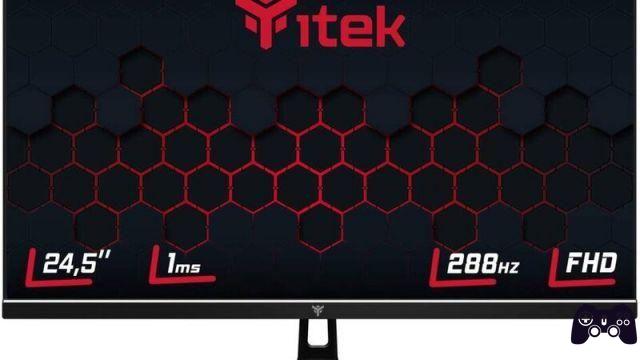 Let's move on to now
this Itek GGF monitor, which stands out for its high refresh rate, anchored to 288Hz combined with TN technology
(always very responsive) and 1080p resolution, the classic Full HD. A screen particularly suitable for lovers of high frame rates, colors who love to play extremely fluidly, in this case also with the support of Adaptive Sync and HDR technologies, and the usual HDMI 2.0 and DP 1.4 ports. If your goal is to perfect the frame rate of your games, this screen is unrivaled
See on Amazon
See on eBay

BenQ EL2870U Monitor Gaming LED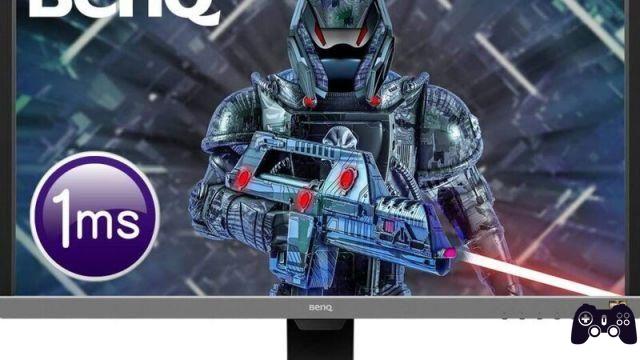 After ASUS, LG and Itek, we close this guide with another giant like
BenQ
. If you don't want to spend too much on the purchase of a 4K monitor, this BENQ panel could be your choice. Available in both 27, 28, 32 and 35 inches with Ultra Wide, this screen has a whole series of features necessary to enjoy the best experiences on PC, PS5 and Xbox Series X. In addition to the presence of HDR, this monitor also supports Brightness Intelligence Plus technology, which allows the player to dynamically adjust the brightness, color temperature and ambient lights according to the contents that are on the display. Finally, there is also full support for AMD FreeSync to obtain greater optimization in the frames.
See on Amazon
See on eBay

How to choose a gaming monitor
Having reached the final part of this guide dedicated to the best gaming monitors under €300, you will surely have noticed how many different choices there are on the market. Between curved screens, in QHD and 4K resolution, and with support for specifications such as HDR and variable refresh rate, there is something for all tastes. Precisely for this reason, in the following paragraphs we will try to provide you with all the necessary information so that you are able to make an informed purchase and know what are the basics to enjoy a top gaming experience without spending too much.
Resolution
La resolution remains one of the most important features to keep an eye on when buying a gaming monitor. Only this feature is able to significantly increase the cost of the monitor. In all of this you need to be well aware of the use you will have to make of it and decide whether or not 4K is necessary within your gaming experience. What we can tell you is that the choice depends even from the hardware that you mount under the case of your computer or from the console you have at home: to play in 4K, perhaps with the graphic details shot to the maximum, you will necessarily need a latest generation card, complete with DLSS to lighten the load or Xbox Series X and PS5. If, on the other hand, you play on old gen (PS4 or Xbox One) or have an Xbox Series S available, then your choice will have to fall on a Full HD or a 1440p.
High refresh rate
If you've ever experienced ultra-high frame rate gaming, you won't want to be without it. The feeling of control that such a scenario is able to give back is incredible, and the response to the commands also benefits, whether you play with a mouse and keyboard or with a controller. Also, high frame rates aside, most monitors when set to max refresh rate available significantly reduce the response time of the screen, the so-called input lag, improving your experience even more. Therefore, also in this case your purchase must take into consideration various elements, above all the conditions of your PC, whether it is more or less suitable for playing at such high frequencies.
Dimensions and inches
Le Screen size matters a lot. In fact, even before eyeing 27 or 32-inch screens, our advice is to take the measurements of your desk. Doing this is important because each monitor, depending on the size of the screen, has a different visual distance to be respected not only to view it at its best, but also to not strain your eyes excessively.
Having said that, beyond the dimensions there are also monitors characterized by a different shape. Curved displays, for example, they are recommended for all those who usually play sitting in a perfectly frontal position to the screen.
Price
We come to discuss the price, a feature as trivial as it is important to keep an eye on before buying a gaming monitor. Although we have already been very specific and selective in the making of this buying guide, it must be said that even with a budget that does not go beyond € 300 you can find quite different choices.
As you have surely already noticed, in this guide we have chosen to offer you gaming monitors that put gaming in the foreground quality of experience. In fact, as the price increases, you will find yourself in front of products that are not only more resistant in terms of materials, but also with displays that will allow you to enjoy any video game to the fullest. Graphics do a lot in a game these days, and with these monitors we've chosen, you'll find a great display in your home without having to break the bank.
Sure, we've also included some types of monitors that go a little further below the maximum budget indicated, but even in those cases you can rest assured that you will find yourself with a gaming monitor suitable for enjoying any type of gaming experience to the fullest between now and the next few years.
HDR, VRR, FreeSync e GSync
In conclusion, we will try to make you understand the usefulness of technologies such as HDR, VRR, FreeSync and FSync in a simple way. Starting from the first, theHDR, it is enough to know that it is a rendering technique that has made its way in recent years in the gaming sector to significantly increase the color rendering of video games. In short, you will enjoy much deeper and more nuanced images, with super-defined blacks to play your favorite video games like never before.
Regarding VRR, known in monitors as Nvidia GSync or AMD FreeSync, it is a technique that allows the refresh rate of your display to synchronize perfectly with the frame rate of games. In this way, many video artifacts such as stuttering and tearing are completely eliminated, giving an always smooth experience.
As for HDMI and DPPer, we want to underline the differences between these two video inputs, namely HDMI and Display Port. First of all, we specify that, although there are differences between the two inputs, the basic operation remains the same, that is to allow video connection to devices such as a computer or a console. The main difference lies in the bandwidth of the two inputs and in the fact that, in the vast majority of cases, it is precisely the DP inputs that unlock all the functionality of the monitor.