Video games and collectibles: two passions which, merging, give life to truly unique experiences of their kind. Anyone who likes to buy a game not only to have a few hours of fun, but for the sake of owning a small work of art to exhibit knows what we are talking about: it is an increasingly widespread practice, which with the explosion of the internet first and then social media has reached increasingly incredible proportions.
The writer loves to buy a few, very few titles to which he is particularly attached, just as at the same time there are people with a much more unbridled passion: the gaming world is beautiful because it is varied, and today we want to bring you some of the most interesting examples for collectors … And not only. The following is a list of best Collector's Edition in the history of video games between rarities, various oddities and some pearls to be discovered. Ready?
Fallout: New Vegas Collector's Edition
Let's start with a real gem for all fans of Fallout . New Vegas was a pleasant surprise for fans of the franchise, with the Obsidian title proving to be one of the best experiences of its generation: could a Collector's Edition be missing that was almost as spectacular as the game?
This special edition includes a copy of the beloved RPG, playing cards with chips (and a replica of the platinum one!) In addition to a DVD dedicated to the "Making of" the work, and a graphic novel set just before the events narrated. In short, the perfect package to set off on a long and terrible journey through the depths of New Vegas!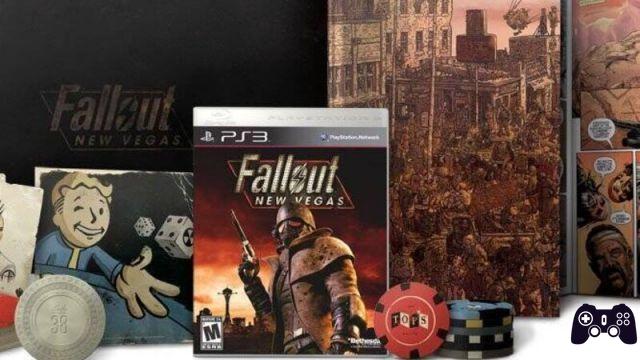 Batman: Arkham Origins Collector's Edition
Batman: Arkham Origins, prequel to the series developed by Rocksteady, is often seen by fans as the weak point of the saga: a title perhaps not up to par with the others, but which can boast a truly rich and spectacular collector's edition. A one-of-a-kind package containing a copy of the game, a 12cm Joker statue, an 80-page artbook, the batwing prototype schematic, a Wayne family photo, and a glow-in-the-dark map of Gotham.
All enhanced by some digital content, among which the documentary on the world of DC comics entitled Necessary Evil: Super-Villains stands out. If the game failed to exceed expectations well, this version certainly manages to make a good impression.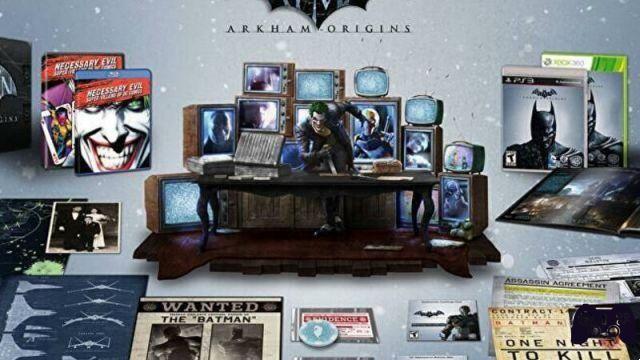 Borderlands 2 Ultimate Loot Chest Limited Edition
A work out of mind like Borderlands 2… Obviously it must offer fans a collector's edition capable, in every little detail, of doing justice to the Gearbox Software saga. The Ultimate Loot Chest Limited Edition includes a myriad of exceptional gadgets: in addition to the game, we will find an exclusive steelbook, a bubblehead-style statue of Marcus Kincaid, a series of stickers, an artbook and much, much more.
All packaged with a comic download code and numbered certificate of authentication, and housed in a replica Borderlands-branded Loot Chest. Quite a show, isn't it?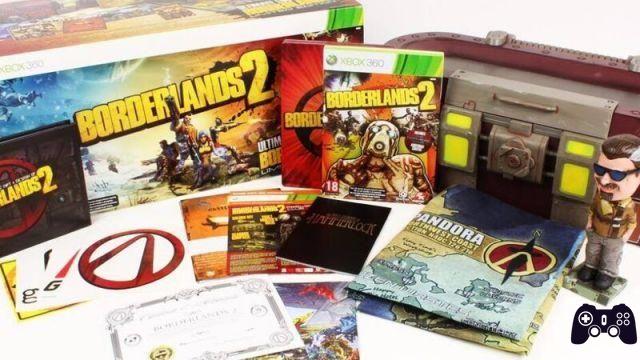 Dead Island: Riptide Zombie Bait Edition
Fan of Dead Island report! Here is the very limited Zombie Bait Edition, designed to do justice to the 2013 Techland title: it is a Collector's perhaps a little too pushed by standards, but which enthusiasts have not been slow to praise precisely for its excessive strangeness .
The complete package contained a copy of the Dead Island RIptide Preorder Edition, an exclusive steelbook, collector's cards, and a hand-painted zombie bust statue. An object that we don't struggle to define singular and that, as it were, is not exactly the typical gadget to be displayed in the window of your living room. Or maybe yes, the choice is yours!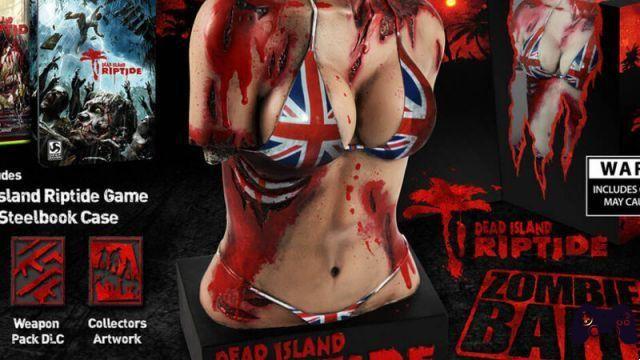 Halo: Reach Legendary Edition
A real must have for all Halo fans, a saga that has always accustomed us to one-of-a-kind Collector's Editions. The Legendary Edition of Halo: Reach is perhaps the best of all, with a range of gadgets perfect for any collector worth their salt. Let's start with a hand-painted statue of the Noble Squad, produced by McFarlane Toys with an impressive attention to detail.
This is joined by a Project SPARTAN-II patch, a replica of Dr. Halsey's security badge, a series of classified documents - including Halsey's own personal diary - and of course a copy of the game. All enclosed in a replica of the ONI black box, for a unique and perfect collector's item to live that fantastic experience that is Halo: Reach.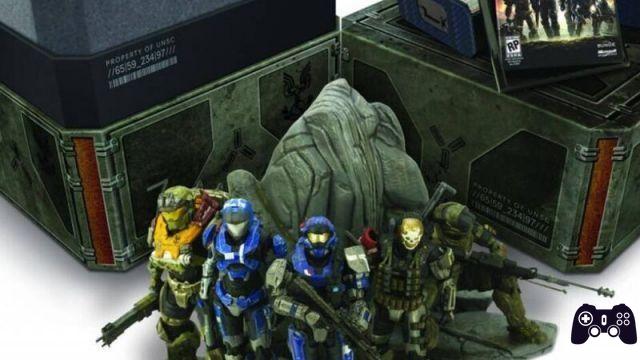 Bayonetta Limited Climax Edition
Let's move on to another truly spectacular Limited Edition: the Climax version for all collectors who love Bayonetta. Designed exclusively for the English and Australian markets, this package contains a copy of the game, embellished with a steelbook that is a small work of art, in addition to many other unique gadgets.
Ranging from the CD with the soundtrack of the game to an exclusive art book, up to a replica of Bayonetta's Scarborough Fair pistol: all in an excellently made packaging, available in just 1.500 units which obviously sold out in no time. time.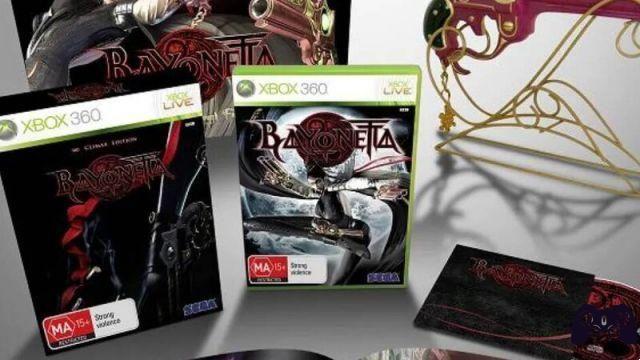 Uncharted 3: L'inganno di Drake Collector's Edition
The third installment in the saga of Nathan Drake is one of the most spectacular titles of the PlayStation 3 era, and could boast a collector's edition worthy of the work signed by Naughty Dog. It starts with a statue of the protagonist made by Sideshow Collectibles, passing through the replica of the buckle and ring featured in the game.
There is also a code for downloading exclusive content and a special package containing the game disc, all contained in a travel bag bearing the game logo and a sophisticated design, perfect for setting off on this great adventure.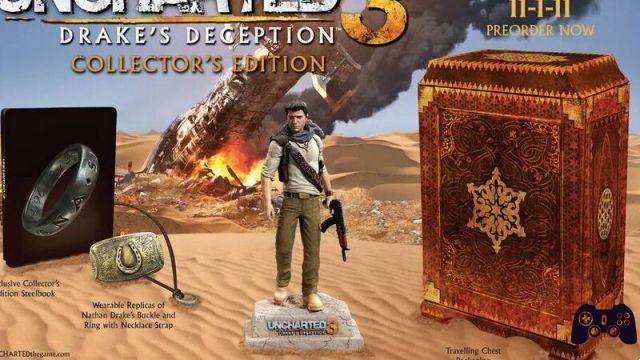 Dying Light: The Following Spotlight Edition
Simply, the most expensive Collector's Edition in the history of video games. The price? 10 million dollars. The reasons? In fact, it is an experience that we have no trouble defining as unique. This special edition of Dying Light: The Following in fact, it includes a whole series of reasons to justify such a price, including 4 copies of the game (and God forbid!).
The rich buyer will secure a role in the Dying Light film with a professional acting lesson, trips around the world to participate in filming, parkour training sessions, a dedicated camper directly on set and even an original copy of the script. Not bad, right?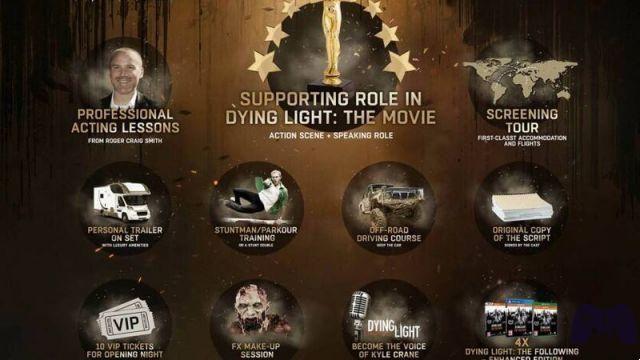 Saints Row 4: Super Dangerous Wad Wad Edition
Finally, here is a Collector's Edition that is not very sober, and which therefore adapts perfectly to that exceptional title which is Saints Row 4. We are facing a very limited version, available in a single specimen, priced at one million dollars. What does it contain? A Dubstep Gun replica, a Lamborghini Gallardo, plastic surgery, a day of training to become a spy, a dedicated personal shopper, a trip to space with Virgin Galactic… Oh and, of course, a copy of the game!
It was clearly a joke, but Deep Silver made itself available to provide the interested buyer with all the necessary information: who knows, could there be at least some truth in all this?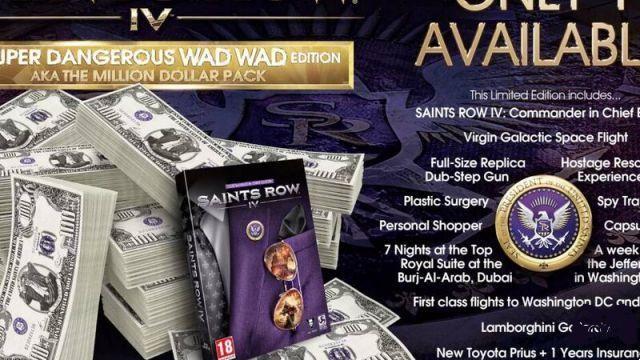 As always, we close by leaving the word to you players, inviting you to tell your very personal experience in the comments. What are those Collector's Editions, in short, for which you would or have already done something crazy?