Not long ago, well before certain films talked about gladiatorial arenas romanticizing them to the point of making them cloying for historians, many looked at them with anger, respect and awareness that the past, written in blood, had given the worst of self. Men forced to fight hard for survival, sometimes under the orders of lowly dignitaries and for the pomp of emperors, or for those who wanted bread and a circus to quell riots and bad moods. It was no longer the time of Aeneas and his story, it was no longer the time of Romulus and Remus, and certainly long dead Julius Caesar never imagined that history and the world of entertainment would collide against the round shield of Maximus Decimus Meridius. To tell the truth, the dictator of Rome had not foreseen that, in an era far removed from his, the famous – for us – FromSoftware would have decided to dedicate an entire free DLC to merciless struggles inside the arenas. Why, if you didn't understand, the Interregnum is an immense place, and was once the cornerstone of a bygone era forged through the ages.
Elden Ring, which snatched the award for best game of the year from Kratos' ax, is the latest effort by the Japanese team, strengthened by the announcement of Armored Core and the success achieved in the last thirteen years with its most exciting productions on the market. I'm telling you about Sekiro: Shadows Die Twice, Bloodborne and Dark Souls, which absolutely convinced through their quality and gave birth to a sub-genre of a large family already tested and recognized by experts, called action-rpg. A sub-genre that, considering the many alternatives to the productions of the Tokyo-based development studio, has been so successful as to obtain the name "Soulslike", because of the clear references to Demon's Souls and Dark Souls, its difficulty and a winning play structure.
A success from every point of view
Elden Ring, on the other hand, didn't deviate much from the main works, but still created an incredible game world, filling it with dungeons, secrets and unpublished stories, some of which are much more beautiful than I expected. Many were enchanted by Ranni, Blaidd and the rest of the characters from Hidetaka Miyazaki's work, who presented the game trailer at the Summer Game Fest 2021, attracting all the attention that before was for Final Fantasy XVI, unleashing social media and popular acclaim, creating discussions of all kinds, even the most unexpected and curious, also bringing with it the inevitable controversies, which unfortunately lurk everywhere.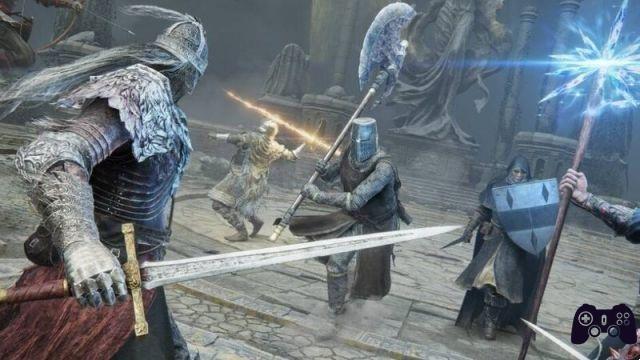 On December 7th, FromSoftware suddenly released its first free DLC dedicated to arenas and multiplayer, and in the last few days I got to go back to the Interregnum and enter these open-air fight clubs between the various regions of the game map. Post-launch support, which has enriched the work of valuable content, corrections and useful additions to help the less experienced but also those who don't chew video games of this magnitude, is only at the beginning and, according to the latest statements from the team, Colosseum is just being the first of the content provided by FromSoftware. It is still to be understood how many there will be, what they will bring and which, above all, will obviously be paid or free. Given the release of this additional content, questions arise spontaneously: in the past, in fact, Dark Souls III maintained the same aura of mystery, and then the various DLCs were released. Could Elden Ring's future be the same?
The fight club according to FromSoftware
It didn't take long before I was thrown into the arms of opponents, although first I had to explore far and wide to find the paths that led me to the arenas. Each of them, in fact, is easily traceable from the game map: by opening it, you can select the indicator and head towards the one you intend to reach. In total there are three of them and all, of course, are in the places already explored in the main adventure. And surely someone has already been there, considering the intuitive huge structures overlooking the landscape, especially striking with their majesty and charm.
Three arenas, therefore, which enclose a nefarious and forgotten past that can only be imagined. Once upon a time, the Interregnum was a place of peace, dominated by lords who, by preserving its light, protected those who lived there. Now it is a corrupted place, fascinating but deadly. The arenas that the player finds on his way are nothing but testimonies of a past time that everyone wants to forget. The first one I visited, as it was closer to my last Site of Grace, is in Limgrave, the magnificent initial region of the work that introduces the world of Elden Ring. The second is in Caelid, a nefarious and not at all hospitable place, a real tribute from FromSoftware to Bloodborne. Last but not least, especially in the order that I have decided to follow, there is that of Leyndell, a place where I left my heart, soul and an unlimited number of runes.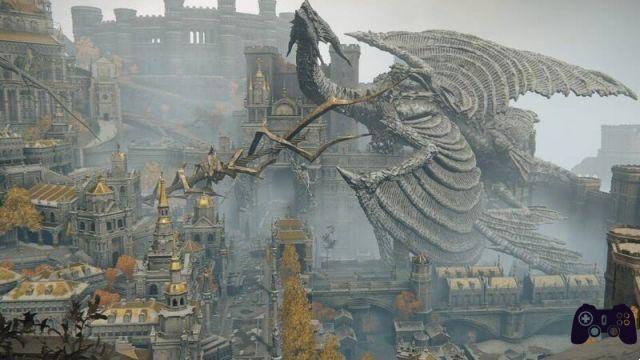 However, finding all the arenas was certainly exciting but also inconvenient, especially for the modes offered in the multiplayer package which are certainly interesting, but still not up to the original work. To unlock them all, just reach their entrance, choose the one you prefer in the main hub of the Round Table and then start beating your hands. Finding them all meant wasting a lot of time from one part of the game map to another with no clues other than your sixth sense. I admit that it took me a long time to reach them, remembering exactly where they were located and how to reach them, but nothing that wasn't worth doing, although I've tried various combinations with the best builds.
Arrived at Limgrave's Arena, I defeated an invader in the form of an NPC and then I opened the doors of the arena, entering it and arriving at the feet of a statue of Marika, which I just had to touch to discover the first game modes. Each one, dedicated to team combat and the classic free-for-all, could actually seem quite interesting on paper but, once I tried the first two modes for a long time, I came away bitterly disappointed.
The ordeal, where each Senzaluce fights to survive and win, is certainly the better structured skeleton of both, with intuitive options for deciding how to approach the experience. Instead the team deathmatch, in which it took me some time to understand the various mechanics to win and survive, he has often put me in trouble with opponents stronger than me, some of which used magic to gain the upper hand. I fought, I lost, I won and I repeated, yet unfortunately the best known problems are precisely in the structure of the multiplayer sector, which presents non-optimized clashes with sufficient care.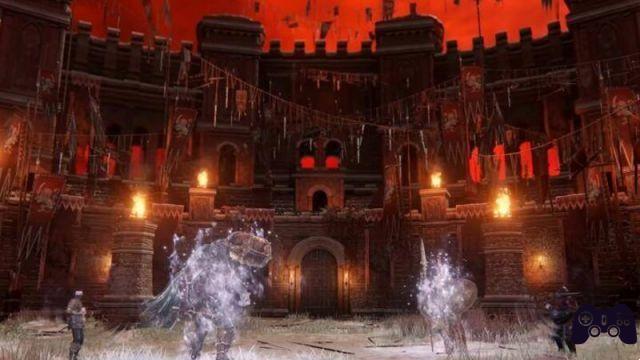 In this sense, I am referring to the poor reactivity of the controls, which I often had to press several times to ensure that my Senzaluce was able to deal the fatal blow, while I dodged and tried to escape. Another point against, which concerns these two modalities, lies precisely where his strength should instead be: understanding how to choose opponents, maybe making a reference to your own level, it is not explained very well, and therefore greater attention is needed to understand how to move. Nothing serious, mind you, but I would have preferred it to be explained better in such a way as not to waste too much time explaining things that are quite classic and have already been seen in many other multiplayer modes.
Leyndell Royal Arena, which I much preferred compared to the first two, is dedicated to only one modality: the Duel. Inside you fight, in fact, with another opponent. Although the problems persist, this option is instead well implemented, because it allows you to train to get better prepared for the next ones, however chaotic and sometimes not very refined due to servers unfortunately not managed in an optimal and careful way, often slowed down. These problems were already present with Dark Souls and when someone indulged in unbridled PVP, hoping to relive the same sensations with some friends, sharing fights against huge and brutal bosses.
In Elden Ring, however, it is clear that the multiplayer component, compared to the original work, is actually more accessory than necessary: FromSoftware added it in part so as not to disappoint those who were clamoring for it but, on balance, perhaps it could even have been avoided, considering the low stability of the servers and the purely technical problems of the various modes, which in reality never literally punish the player but only make him lose. Unfortunately, the lack of rewards and malus when you lose is felt, and I don't deny that additions of this kind, mandatory to support a multiplayer system, are necessary to push the player not to leave too soon and remain in the experience without desire many more, perhaps better structured, or returning directly to the main adventure, getting lost in the creation of a character with which to start a new adventure.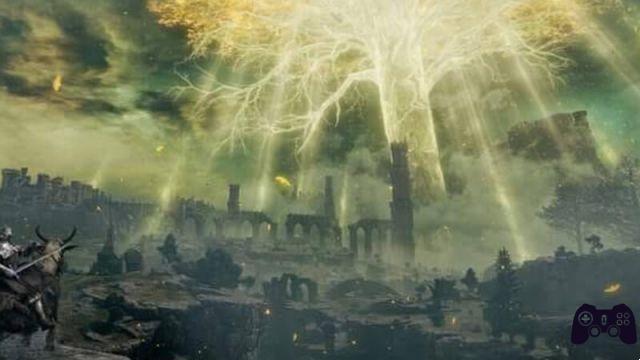 Last but not least, there is the Arena of Caelid, which offers the possibility of tackling the various modes previously explored, adding the ability to fight even with spirit ashes to support other players. Although this addition may tease, an initial and substantial problem remains: why divide the various modes instead of proposing them immediately, giving the player the opportunity to explore them as he progresses, and perhaps arriving in each of them only after passing a certain score or level? These supplements, in addition to proposing an even more marked and precise multiplayer structure, would have even exploited the name of the DLC in an optimal way, allowing players to approach each arena without great difficulty. However, due to a certain haste, compared to the original work and its majesty, the multiplayer sector of Elden Ring is unfortunately lower than expected, with very few glimmers of light really of note.
It is clear that the goal, having reached this conclusion, is not exactly to be an alternative to already known video games that present both an excellent single player campaign, and a valuable multiplayer component. THE Colosseum DLC, however, in addition to making some basic choices wrong, was smeared and proposed in the wrong way, with total success in reaching the goal. Maybe it would have been better to spend more time to take care of it and fix it in the best possible way, or maybe not make it at all, considering that the philosophy of Elden Ring does not go well with the rest of the production. A small spot that however does not affect the majesty of a production that always knows how to get people talking.
What to expect from the future of Elden Ring?
I mentioned future DLCs and thought long and hard about how much more stimulation is needed to understand where we are going with post-release support. The Japanese team, in this sense, has let very little leak out, except that there may be other additional content along the lines of Colosseum and additional paid ones dedicated to the main story, with new areas to explore and enemies to face.
For sure, I really hope so, considering that the Interregnum is still a full-bodied box of chocolates just waiting to tell its story, making itself known as it has been able to for the past ten months through its main storyline. Or adventure, if you prefer. Once the servers have been fixed, stability has been improved and some choices not totally in focus have been adjusted, Colosseum could in the end be a modest DLC waiting for something decidedly more substantial and better structured. Surely, and I hope this is the case, from the Arenas we could move on to something else, to something that FromSoftware knows very well and knows how to tell and propose. Just like Rome, However, not everything can be accomplished in one day.