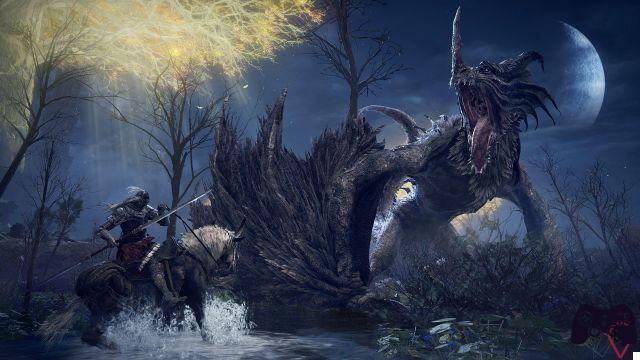 Elden Ring distances itself from the Dark Souls saga, but they belong to the same subgenre, and given the immensity of the new From game we thought of this guide dedicated to the Graces, which in this case have the same function as bonfires. Understand for yourself therefore that they are places of vital importance and it is essential to know where they are.
In case you don't know what Graces in Elden Ring are for, know that they will allow you to level, sort items in the inventory and bottomless chest, change the time of day, travel, talk to Melina and manage spells. Of course, they will also refill the Sacred Flasks. If you are curious to find out the difference between Elden Ring and the Dark Souls saga, you can do it through our review.
We would like to remind you that, although these are only names, this Elden Ring Graces location guide may contain spoilers. So keep reading knowing about this risk.

Where do you find Graces in Elden Ring? Here is the guide
Sepulchrid
First step
Elleh Church
In front of the gate
Dilapidated cell of the Rest Point in ruins
Artist's hut
Marika Third Church
West of the Haight Fort
South Agheel Lake
North Agheel Lake
Church of the Draconic Communion - Accessible by passing through the coastal cave
Maritime ruins
Margins of Tetrobosco
Coast of Acquafosca
Sacroponte - May come out under the Colle Tempesta region after patch 1.02
Hut of the warrior master
Margins of the village of Idrocanto
Catacombs of Passo Tempesta
Catacombs of Acquafosca
Latibosco cave
Coastal cave
Aquafosca cave
Highway cave
Tombs Galleries
Eternal galley of Colle Tempesta
Storm Threshold
Ruins incinerated by the dragon
Rest point in ruins
Ruins of Tetrobosco
Well on the Siofra river
Haight Fort
Galera eterna del limiere alacre
Hydrocanto village
Abandoned Cemetery
Cave of Knowledge
Abandoned Cemetery
Colle Tempesta
Colle Tempesta hut
Gallery for the castle
Margit, the Relentless Omen
Hut of the warrior master
Sacroponte
Deadly catacombs
Fortified bridge of Sepolcride
Divine Tower of Sepolcride
Wailing Peninsula
Pilgrimage Church
Bulwark of the castle of Morne
Guardiasepolcro
South of the lookout tower
Edge of the suffering village
Near the clearing of the craters
Capanna of the Lonely Trader
Marika Fourth Church
Ruins of Lammia
Bridge of the Sacrifice
Goods lift of the castle of Morne
castle retro
Close to the jail
Morne's mourning
Catacombs of the Impaler
Profundis cave
Catacombs of Guardiasepolcro
Morne Gallery
Watchtower Silvana
Oridys Tower
Suffering village
Baptistery of Callus
Morne Castle
Minor Mother Tree
Ruins of Guardiasepolcro
Eternal prison of lament
Cave of Guardiasepolcro
Witchbane Ruins
Tower of Return
Grantempesta Castle
Storm's main gate
Room near the gate
Storm Storm Cliff
Bulwark tower
Elevator chamber
Isolated cell
Godrick the Grafted

Lake Liurnia
Cliff on the lake
Shores of Lake Liurnia
Laskyar ruins
Panoramic island
Academy Gate Town
South gate of Raya Lucaria
Main Academy Gate - Requires the use of the Academy Stonebreaker Key
Highway of south Liurnia
Main road of Liurnia Nord
Academy Suburbs Bridge
Artist's hut
Room of Ranni
Eastern shore of Lake Liurnia
Eastern planking
Church of the vows
Dilapidated labyrinth
Shrimp hut
Folly on the Lake
Slumbering Wolf's Shack
Village of the Albinauries
ConvertedTower
Revenger's Shack
Temple Quarter
Crystalline Woods
Foot of the Four Belfries
The Four Belfries
Sorcerer's Isle
Gate Town North
Northern Liurnia Lake Shore
Road to the Manor
Main Caria Manor Gate
Manor Upper Level
Manor Lower Level
Royal Moogazing Grounds
Ranni's Rise
Behind Caria Manor
The Ravine
Ravine-Veiled Village
Road's End Catacombs
Black Knife Catacombs
Stillwater Cave
Lakeside Crystal Cave
Raya Lucaria Crystal Tunnel
Study Hall Entrance
Liurnia Tower Bridge
Divine Tower of Liurnia
Church of Irith
Malefactor's Evergaol
Purified Ruins
Search Study Hall
Ainsel River Well
Minor Erdtree
Cuckoo's Evergaol
Testu's Rise
Kingsreal Ruins
Ruin-Strewn Precipe
Ruin-Strewn Precipe
Ruin-Strewn Precipe Overlook
Magma Wyrm
Moonlight Altar
Moonlight Altar
Cathedral of Manus Celes
Altar South
Bellum Highway
East Raya Lucaria Gate
Bellum Church
Grand Lift of Dectus
Frenzied Flame Village Outskirts
Church of Inhibition
Academy of Raya Lucaria
Church of the Cuckoo
Schoolhouse Classroom
Parlor debates
Atlus Plateau
Abandoned Coffin
Erdtree-Gazing Hill
Atlus Highway Junction
Forest-Spanning Greatbridge
Windmill Village
Shaded Castle Ramparts
Shaded Castle Inner Gate
Castellan's Hall
Old Atlus Tunnel
Mt. It doesn't come
Bridge of Iniquity
First Mt. Gelmir Campsite
Ninth Mt. Gelmir Campsite
Road of Iniquity
Seethewater River
Seethewater Terminus
Craftsman's Shack
Primeval Sorcerer Azur
Gelmir Hero's Grave
Seethewater Cave
Volcano Cave
Volcano Manor
Volcano Manor
Prison Town Church
Temple of Eiglay
Guest Hall
Audience Pathway
Rykard, Lord of Blasphemy
Leyndell, Royal Capital
Outer Wall Phantom Tree
Minor Erdtree Church
Outer Wall Battleground
Capital Rampart
Sealed Tunnel
Erdtree Sanctuary
East Capital Rampart
Avenue Balcony
West Capital Rampart
Queen's Bedchamber
Fortfied Manor, First Floor
Divine bridge
Elden Throne
Subterranean Shunning-Grounds
Underground Roadside
Forsaken Depths
Frenzied Flame Proscription
Cathedral of the Forsaken
caelid
Fiery Church
Rotview Balcony
Caelem Ruins
Smoldering Wall
Caelid Highway South
Church of the Draconic Communion
Southern Aeonia Swamp Bank
External roads of Sellia
Staircase of Sellia
Chair-Crypt of Sellia
Church of the plague
Deep Siofra Well
Impassable Greatbridge
Chamber Outside the Plaza
Starscourge Radahn
War-Dead Catacombs
Minor Erdtree Catacombs
Get a Tunnel
Rear Gael Tunnel Entrance
Crystal Gallery of Sellia
Forsaken Ruins
Caelem Ruins
Sellia Gateway
Gowry's Shack
Sellia, a city of witchcraft

Swamp of Aeonia
Aeonia Swamp Shore
Astray from Caelid Highway North
Heart of Aeonia
Inner Aeonia
Street of Sage Ruins
Greyoll's Dragonbarrow
Dragonbarrow West
Isolated Merchant's Shack
Fort Faroth
Dragonbarrow Fork
Lenne's Rise
Farum Greatbridge
Saint Beast
Divine Tower of Caelid: Center / Basement
Minor Erdtree
Forbidden lands
Forbidden lands
Grand Lift of Rold
Hidden Parth to the Haligtree
Mountaintops of the Giants
Fatigue Ruins
Ancient Snow Valley Ruins
First Church of Marika
Whiteridge Road
Snow Valley Ruins Overlook
Castle Sol Main Gate
Church of the Eclipse
Castle Sol Rooftop
Flame Peak
Consacrated Snowfield
Consacrated Snowfield
Ordina, Liturgical Town
Apostate Derelict
Miquella's Haligtree
Haligtree Canopy
Haligtree Town
Haligtree Town Plaza
Haligree Promenade
Elphael, Brace of the Haligtree
Prayer Room
Elphael Inner Wall
Drainage Channel
Haligtree Roots
Malenia, Goddess of Rot
Ainsel River
Ainsel River Well Depths
Ainsel River Sluice Gate
Ainsel River Downstream
Dragonskin Soldier of Nokstella
Astel, Naturalborn of the Void
Ainsel River Main
Ainsel River Main
Noxtella, Eternal City
Nokstella, Waterfall Basin
Lake of Rot
Lake of Rot Shoreside
Grand Cloister
Nokron, Eternal City
Nokron, Eternal City
Mimic Tear
Ancestral Woods
Night's Sacred Ground
Aqueduct-Facing Cliffs
Great Waterfall Basin
Siofra River
Siofra River Well Depths
Siofra River Bank
Worshippers' Wood
Deeproot Depths
The Nameless Eternal City
Across the Roots
Prince of Death's Throne
Room of the Round Table
And here are all the places you can teleport to when you can unlock them, so as to facilitate the exploration of the Elden Ring Interregnum. Fundamental gameplay mechanics not only to find all the Graces, but also to discover where other secrets are, such as sacred tears.
Since the release of the new soulslike, a real Elden Ring mania has broken out that has affected everyone, even those who worked on it. In fact, everyone joined the celebrations, even those who have worked on it for years, such as George RR Martin, who worked on the worldbuilding of the Interregnum. in which we will be able to move easily by exploiting the graces.
We hope that our guide to the thanks of Elden Ring has been useful for you, for more information we refer you to our guides section always updated!