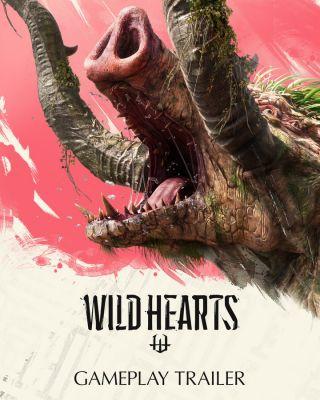 A few days after the release of the first trailer for Wild Hearts, EA and Koei Tecmo have also announced the arrival of a gameplay video. Through a post on the game's official Twitter account, in fact, the developers have released the details of this next movie. With a launch date already announced and this new content on the way, it seems that the title is already in a fairly advanced stage of its development.
Brace for the Kingtusk's charge! Experience 7 mighty minutes of WILD HEARTS gameplay on Oct 5 at 7:00am PT. https://t.co/HwGjSptYCi pic.twitter.com/gvrevZHcM7
— WILD HEARTS (@playWildHearts) October 3, 2022
Immediately defined as the rival of Monster Hunter (you can find Monster Hunter Rise for Switch on Amazon), Wild Hearts actually seems to have many of the typical characteristics of the Capcom game. The risk for developers is, in fact, that of creating a product that is too close to its source of inspiration and has few relevant innovations. Precisely to quell these potential controversies, EA and Koei Tecmo have decided to release a new gameplay video which, as stated in the official tweet, will even last seven minutes.
It will therefore be a rather generous video that will be able to dispel many of the doubts relating to the gameplay of Wild Hearts. Furthermore, the developers are keen to warn us of the pitfalls surrounding Kingtusk. This name is probably to be connected to the gigantic boar shown in the trailer and which also appears in the image accompanying the post. It is possible, in fact, that it is a bossfight with Kingtusk that will be shown by the developers in this new video.
To find out, the wait will be relatively short. The first gameplay of Wild Hearts, in fact, will be released on October 5, 2022 at 16:00 Italian time. As always, we at Tom's Hardware will report the video and delve into its contents. Finally, the release of the title developed by EA and Koei Tecmo is scheduled for February 17, 2023. Unfortunately, however, there is still no information relating to the platforms on which the title will be available.