A question that many players are asking themselves right now is: how to swim underwater in Sekiro? We have decided to give you an answer in this little guide!
A lot of players are wondering if this is possible swimming underwater in Sekiro. The answer is yes! Of course, obtaining this skill is no simple matter. In any case, if you follow this guide you will know how to do it.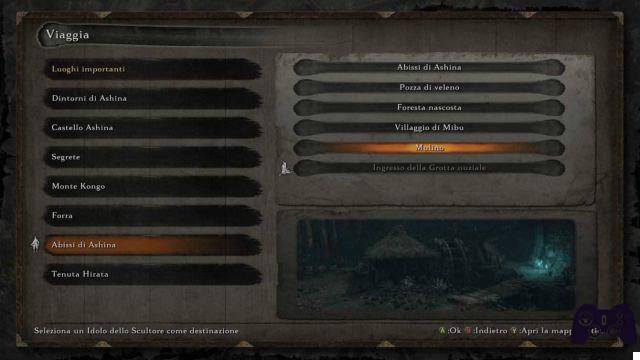 Sekiro: how to swim underwater (here's where to go)
To learn the skill it will allow you to swim and breathe underwater in Sekiro the first step is to head in the right direction! As you can see in the photo you will have to go to the "Abyss of Ashina". More precisely to the Idol called "Mulino".
Follow the path that appears in front of you. If you haven't defeated it yet, an optional boss will appear in front of you that you can easily dodge. Continue on the bridge (once you pass it you will not be followed anymore) and go to your left.
To make sure you are on the right path, you can keep the temple on your right as a reference point. If this is the first time you are in this area, I recommend that you "clean up" the mobs and enter the temple! You will find some interesting objects.
If you have already cleaned up the area or just want to fly understand like swimming underwater in Sekiro sling to your left, no one will get in your way, for now!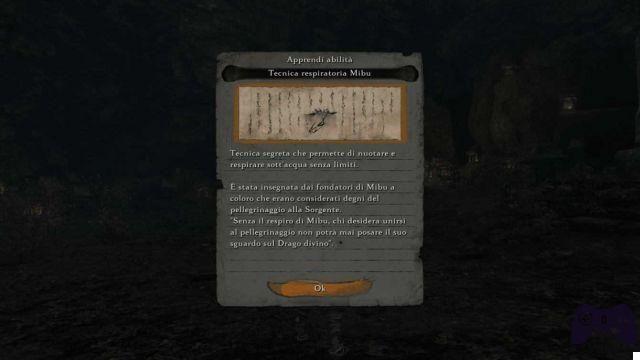 Sekiro how to swim underwater: prepare for battle!
The prize is very coveted but the effort will be a lot! To be able to obtain the "Mibu breathing techniqueWhich will allow you to swimming underwater in Sekiro it will be necessary to defeat an optional but very powerful boss.
The subject in question is in a skirt but trust me it will make you sweat seven shirts! His name is: Corrupted Nun.
The fight will be tough but paying attention and learning your opponent's patterns will be doable. From mine, I can advise you to keep your distance and strike at the right moment.
The attacks of this boss are not that numerous and after a couple of battles you may have already figured out how to best face the fight. To make your life easier I can advise you to equip the "Castagnola" which will stun your enemy making him vulnerable. Another tip is not to be too greedy in trying to do damage quickly! The "hit and run" technique will lengthen the battle a bit but it could be the right strategy.
If you struggle, you can always consult our guides on the best fighting strategies or on how to earn Sen credits and experience quickly.
Once you defeat the Corrupted Nun you will get the much desired techniqueto and with her the opportunity to swim underwater! Plus a point for the Strength upgrade.
Without adding anything else, I also invite you to follow the path that will open up before you! You will find a unique object essential for the (complete) continuation of your adventure.
Sekiro like going underwater: now have fun!
Now that you know how like going underwater in Sekiro, enjoy yourselves! Continue to follow us on the pages of Holygamerz for other guides on Sekiro and much more from the world of video games and more!
Guide to the Hirata Estate
Where to find Rosary beads
Better fighting strategies
How to gain experience fast
How to earn Sen credits and experience fast
How to cure Dragon's sickness
Where to find all Ninjutsu
Where to find Pumpkin Seeds
Where to find all fragments of the Mask of the Dancing Dragon
Where to find the Carpe del Tesoro
Where to find materials for Crafting
How to unlock all endings
The best skills
How to defeat all the bosses