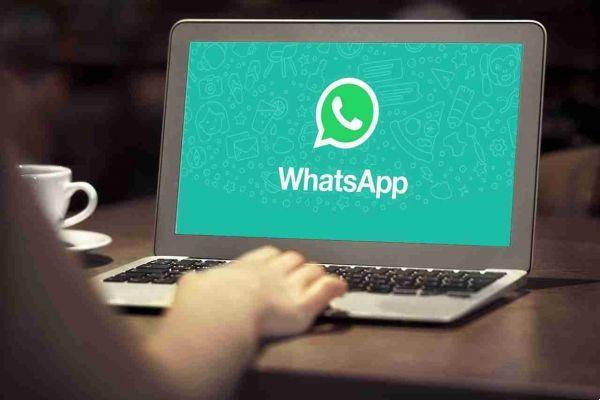 Whatsapp web and Whatsapp Desktop to chat more efficiently. For over a billion users around the world, WhatsApp is the best way to communicate. It is used for everything from communicating with loved ones to conducting business. And if you are constantly on WhatsApp, you may want to use a bigger screen.
This is where WhatsApp Desktop or Whatsapp web comes into play.
Whatsapp web and Whatsapp Desktop for PC and Mac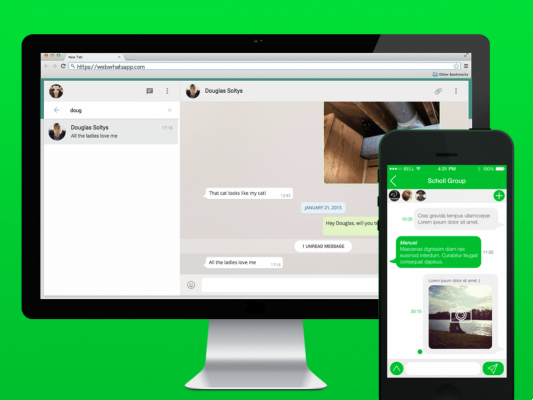 WhatsApp Desktop It is similar to Web WhatsApp, but it works natively as an app on your PC or Mac. It's more reliable, faster, and much better than using WhatsApp in a browser.
To use WhatsApp Desktop, install and run it or go to the page through your Whatsapp Web browser
The window will show a QR code.
How to log in or log out
apri WhatsApp on the phone.

Android: touch Other options

.

iPhone: go to settings of WhatsApp.

Toccata Connected devices.

Android: touch CONNECT A DEVICE. Follow the onscreen instructions if your device allows authentication via biometric recognition. If biometric authentication is not activated, you will be asked to enter the PIN you use to unlock your phone.
iPhone: touch Collect a device > OK. On iOS 14 and later, use Touch ID or Face ID to unlock. If biometric authentication is not activated, you will be asked to enter the PIN you use to unlock your phone.

Select the checkbox next to Stay connected on the QR code screen on your computer or Portal to maintain connection with your device.
Use your phone to scan the QR code that appears on your computer or Portal.
If prompted, tap or select Done or Done.
Note: authentication is managed by the operating system of the device that uses the stored biometric data. WhatsApp cannot access biometric information stored by your device's operating system.
Log out
You can log out of WhatsApp Web or WhatsApp Desktop from your phone, computer or your Portal device.
Log out of your computer or Portal
Open WhatsApp Web or WhatsApp Desktop.
Click on Menu (

o

) at the top of the chat list> Disconnect.
Log out of the phone
Open WhatsApp on your phone.

Android: touch Other options

> Connected devices.

iPhone: go to settings of WhatsApp> tap Connected devices.

Tap a device.
Toccata DISCONNECT.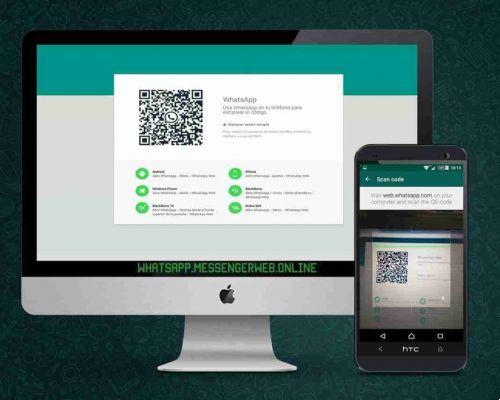 WhatsApp for Windows and Mac also has limited functions compared to the smartphone app. For example, you cannot use your computer's camera to take a photo or video.
So, if you want to use WhatsApp Desktop or WhatsApp Web, here are some tips to help you.
How to use WhatsApp Web on a computer
Once logged into WhatsApp Web on the main page you will find all your chats on the left side. At the top you will find icons that will allow you to:
Update your WhatsApp status by adding a Whatsapp story that will remain visible for 24 hours to all your contacts or view the status of your contacts;
By clicking on the cartoon icon you can start a new chat by choosing one or more WhatsApp contacts;
The three dots are used to access the menu and view the other available options such as creating a new group, viewing archived chats and disconnecting your device.
If you click on a chat you will find options similar to the smartphone version with:
The magnifying glass icon that allows you to search for conversations by typing a keyword of interest
The paperclip icon that allows you to attach images, documents, photos and videos and activate the camera and send photos to your friends in real time
The icon with the three vertical dots you can archive or delete the chat, mute the chat delete messages or view the contact information of that chat
The button to add emojis or animated GIFs
The field where you can write your message
The microphone to record and send voice notes
The rest of the WhatsApp Web and Desktop experience works much the same as on a mobile device. You can send voice notes, view the WhatsApp status of your contacts, and more. It's actually easier to attach photos and documents, as you can just drag and drop any media directly into a WhatsApp conversation. However, it is not possible to make voice or video calls or upload WhatsApp status from WhatsApp Desktop or Web.
WhatsApp Web Picture-in-Picture
When we want to watch a video received in a conversation we can do it while continuing to have the chat window on the screen and at the same time play the video "in the background" on the screen.
Put the mouse pointer on the video and a symbol of an empty rectangle with a smaller white rectangle will appear at the top left. Clicking on it the video will be put in Picture-in-Picture mode on your computer screen.
WhatsApp Desktop or WhatsApp Web Tips
Customize notifications
By default, WhatsApp will disturb you with audio-visual notifications whenever you receive a message. But luckily, there is a way to customize notifications.
Click the drop-down button next to your profile icon and select Settings . Here, you choose Notifications .
The first thing you should do is disable the option Sounds . If you don't want the message content to be visible on your Mac (especially useful if you're in a shared workspace), deselect the option Show previews . To turn off alerts completely, deselect the option Alerts on desktop .
You can mute WhatsApp Desktop or Web for an hour or a day using the drop-down option at the bottom of the page.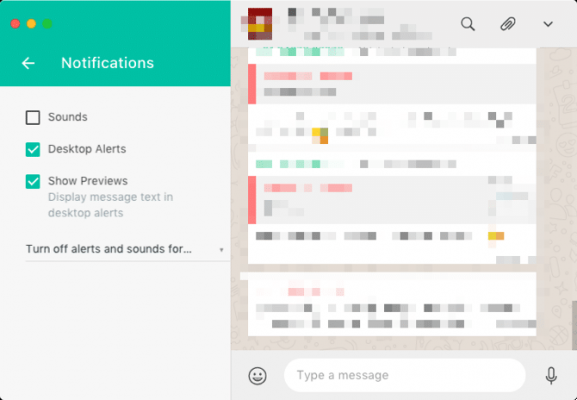 Use the commands for Emoji
If you are a user who uses emojis a lot, WhatsApp Desktop or WhatsApp Web are a must. When you've selected a chat, press the keyboard shortcut Shift + Tab to highlight the emoji picker and press enter to open it here you will find GIFs and stickers.
WhatsApp Desktop supports auto-complete Slack-like emojis so you may not even need to do this.
To insert a laughing emoji. Start with a colon (:) followed by the emoji name. Use the arrow keys to move between options and press Submit to add it to your message.
Navigate faster using the Tab key
WhatsApp Desktop and Web are designed with fast keyboard use in mind. And it's all hinged on the Tab key.
After launching the app, the first press of Tab highlights the search area. The second highlights the current chat on the list. The next one highlights the emoji selection and the next one, the message window. The last press of Tab is redundant, since pressing the key directly Submit the message window is highlighted from the list view.
It is the first presses of Tab that are the most useful. Whenever you want to jump to a new conversation, just press the key Tab , start typing the name, select it from the list by pressing Submit , and start typing your message.
Whenever you are navigating to a section or higher level item, you can use the Tab key. For example, after selecting the emoji selector, you can use the Tab key to quickly move to the GIF section or the Stickers section .
Convert emoticons to emojis
WhatsApp Desktop and Web support old school emoticons and automatically convert them to emojis.
Just enter the emoticon as you normally would. All popular options like :-), :-(, :-p. <3, and so on are supported. When you press the key Submit , they will appear as emojis in the chat.
Text formatting
In 2017, WhatsApp added support for text formatting. This means that you can now use convert text to bold, italic, strikethrough and underline.
To make the text bold, place it between two asterisks.
Example: * hello *
For italics, use underscores.
Example: _hello_
To strike out a message, use tilde on both ends.
Example: ~ hello ~
To change the font to look like a monospace font, add three back quotes on both ends.
Quick commands for WhatsApp Desktop and WhatsApp Web
WhatsApp Desktop and WhatsApp Web are designed to be used with a keyboard most of the time. And there's a lot you can do with keyboard shortcuts. There is no need to go looking in the menus.
CTRL+ N : start a new chat.
CTRL + Shift + N : create a new group.
CTRL + Shift + [/] : move between chats.
CTRL+E : Archive a chat.
CTRL + Shift + M : Disable chat.
CTRL + Shift + U : Change the reading status of the chat.
CTRL + Backspace / Delete : Delete a chat.
CTRL+P : Open your profile.
If you are using a Mac, use the Command key instead of CTRL.