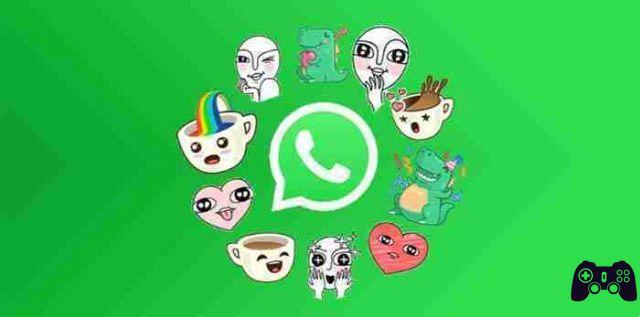 WhatsApp stickers are a great way to spice up your chats, adding loads of cartoon colors, jokes and faces to your conversations. WhatsApp doesn't have an amazing emoji selection by default, but take a couple of taps further and you can find a whole world of sticker packs that you can download to add hundreds of emojis and images to your WhatsApp sticker collection.
How to get WhatsApp sticker packs
There are a few ways to get sticker packs for WhatsApp. One is to download a third-party sticker pack app from the Play Store, where you can browse pretty much any type of sticker pack you can imagine.
The other method is to get sticker packs from WhatsApp itself. To do this, open a WhatsApp message, tap the emoji icon in the lower left corner, then tap the "+" icon in the upper right corner of the gray pop-up box.
Here you can browse the sticker packs that have been approved by WhatsApp and download them to your collection by tapping the green download icon.
Best sticker packs for WhatsApp
Adesivi per WhatsApp – WAStickerapps
The great thing about this WhatsApp sticker app is the huge variety you get within it. Whether you're looking for sticker packs that hark back to old-school comedies, modern-day TV shows, or political figures like Vladimir Putin, lo.
Stickers for WhatsApp seem to grow every day, so practically every time you log in you will find something new. He's also very in touch with games, so expect plenty of Fortnite and PUBG sticker packs, as well as those based on the hit mobile game Clash of Clans.
Whatsapp Squid Game Stickers
Everyone is talking about Squid Game right now, giving the whole "Ultraviolent Asian Game Show" theme another rebirth. Seeing as the show is so popular, you'll want to show that you're up to date with the latest pop culture phenomenon, and a great way to do that is with a selection of Squid Game stickers.
The largest collection of Squid Game stickers we could find was this one. Once downloaded, you will need to use Sticker Maker (6th in this list) to open it. Let the games begin!
Discover them now.
r/WhatsAppStickers
The largest . The way it works is that people post links to various WhatsApp groups based on various sticker topics. There's everything from SFW to NSFW, positive stickers to the latest memes, so you're sure to find what you want.
Once you've joined a group, you can download stickers and sticker packs directly through it, then they'll join your WhatsApp sticker library (which you access using the method mentioned earlier in this guide).
Egg and Chup
This Egg and Chup sticker pack is beautifully designed and depicts a weird pouting-faced ballerina egg and what appears to be its tomato friend.
The animations are super cute and you will be sending this sticker pack to friends even if the actual stickers don't directly represent any particular emotion (although they are quite charming for romantic couples).
Betakkuma 2
Another newly added sticker pack with a Japanese inspired hand drawn style, it's perfect for bear lovers. The popularity of the original Betakkuma sticker pack prompted the artist to create a sequel, and you'll find all kinds of nonsense here like animated bows, cheers, and floss.
It's super weird, but this bear has some serious moves and is sure to impress anyone lucky enough to receive one of these stickers.
wemoji
Technically it's not a sticker pack per se (don't worry, there are many on this list), but probably the best tool when it comes to making your own bespoke WhatsApp stickers. One of the best features of is the freehand crop function, which allows you to precisely cut out the outlines of faces, people, whatever you want to use in your sticker.
There's a ton of other editing features here too, including lots of fonts to use in the text for your emojis, and a handy organizer for your custom emojis, which lets you create different categories in which to organize them.
You don't even need to use photos, so if there's a particular sticker, like a TV show character, you want to use, take a screenshot, crop it using the app, and add it to your collection.
Sticker.ly
One of the most popular sticker packs around, it contains a huge variety of WhatsApp stickers uploaded by thousands of users. It's also easy to create and upload your own sticker packs using the built-in "Auto Cut" feature, which detects the outlines in your photos and crops them for you (with sometimes unintentionally funny results, like a strangely angled cat face pack that we met ).
There are funny stickers, romantic stickers, inspirational quotes for your WhatsApp status page, memes, "Lovely Donald Trump" stickers and much more. The amount of choice is spectacular!
10 Sticker Packs for WA
A pack of stickers that kids will love is. She has choices of characters, such as rabbit, bird, crocodile, cat, friendly shark, dog, penguin, polar bear and unicorn.
A funny thing about this particular sticker pack is that, since it comes from Telegram, there is a sticker that tells you to use Telegram. You can add the sticker pack by tapping the plus sign you see before entering the sticker pack or by tapping the green "Add to WhatsApp" button.
Sticker Maker
The best WhatsApp sticker packs you create are yours. You may have a picture of yourself with an expression that you want to share in a conversation. With you can use any image as a sticker on WhatsApp.
You can create square or oval shaped stickers with an image from your device's gallery. You will need to produce at least three stickers and a sticker icon to add the sticker pack to WhatsApp. You can add up to 30 stickers per pack, and if you want to remove a sticker from a pack, simply tap on the minus red spots.
Stickers Cloud & Sticker Maker
they have various great options. You can choose from sticker packs such as Christmas, Animals, TV Shows, Memes, Video Games, Emoji, Celebrities, Soccer and Phrases.
It also has an option to make your own WhatsApp stickers, but it will give them a square shape by default. To add a sticker pack, tap the green "See more" button followed by the download button to the right of each pack.