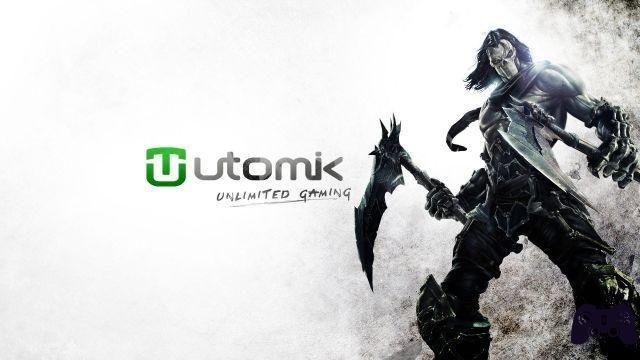 If Netflix offered video games it would be called Utomik.
MONTHLY SUBSCRIPTION!
Were you scared? Okay, you may not have jumped out of your chair, but I am convinced that you have a squeeze in your heart like a small heart attack, and that your hand has readily rested on the wallet. These words still strike a lot of terror in the minds of many, but you don't have to worry, this is the future, and the market is really going in that direction. Nobody is trying to rip you off, we haven't been paid by multinational lobbies who have sold their souls to the devil, and we won't call you in the middle of the night to offer you a lifetime contract that will offer you a personalized "good morning" every morning. Indeed, I'm here to let you discover the gamer's Valhalla, made of green plains, large buffet, and lots and lots of retro gaming.
Speaking more pragmatically, I'll quickly introduce you to the platform: hundreds of games that launch without any installation, new titles every month, you can unsubscribe at any time, and there's even a two-week free trial. No, it's not Xbox Game Pass, this one came first and it's called Utomics.
I state that like you, I too was extremely skeptical, and for many entering the card number in a form on the internet can be terribly difficult, but in this article I will tell you everything there is to know about this platform and you will be free to make your choice.
475 titles and I never know what to play
Let's start by seeing the offer that Utomik offers us: 5.99 € per month (price from open beta) or 9.99 € for the Family Plan which allows use to four different users, the catalog includes more than 475 games and is fattened every month with up to 30 new titles. There is a trial period of 14 days which does not oblige to any subscription and without any contract, it is therefore possible to cancel it at any time.
All in all nothing too complex, the price seems honest and the library well stocked, with no small clauses placed there to rip us off. Despite this, I know that this is not enough to convince you. Anyone with intellect who has surfed the internet for more than ten minutes knows that he shouldn't be impressed by the high-sounding number of games in the catalog. What matters is the quality of those titles.
So let's go and touch the sore spot, I'm not deluding you, it would be stupid to think that all 475 games are good productions. I don't even know if I am able to name 475 titles that are worth playing, so expect a lot of indie games, included in the catalog as obvious filler, that make it difficult to find real gems. Be ready to take a dip in the past because you will not find anything from this generation and only players with a strong stomach and a superfine palate will be able to appreciate the potential of Utomik. So forget about living in 2017 and grab the handkerchiefs because now let's have a feast of nostalgia.
Among the best "Old but Gold" I've seen is the Star Wars saga (recently added) which includes LEGO Star Wars, Battlefront II, The Force Unleashed, and soon to come LEGO Star Wars III, The Clone Wars, and The Force Unleashed II. Departing from the George Lucas saga we find Borderlands, Darksiders, Unreal Tournament, Overlord, Red Faction, Empire Total War, Alan Wake's American Nightmare, Tropico 4, Crazy Taxy, and many others.
Savoring some quality indie games instead we can play Space Jammers (in early access), Shelter I and II, Evoland I and II, The Silent Age, Type: Rider, and Lone Wolf.
These are the pearls that made my eyes sparkle, some I replayed for the nostalgia factor, others I was grateful to be able to pick up as I have never had the opportunity to do so in the past. It goes without saying that if you have not read even a title that has opened your heart, you are probably beasts of satan, but do not worry, I leave you at the end of the article the complete list (not updated) to make you an more in-depth idea.
Utomik is a pool of colored balls: you can throw as many balls as you want, but some of them are a bad executioner.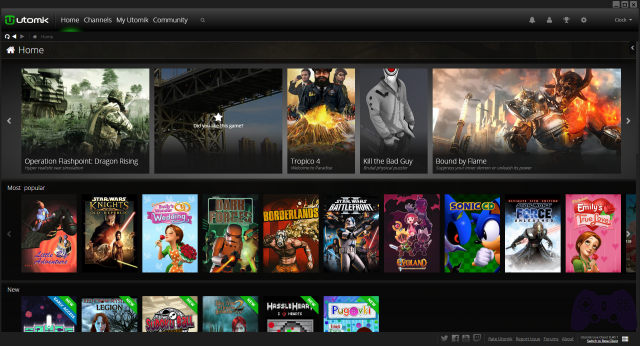 Here too it takes!
We come now to the strong point, the client. Although it seems made of glue, therefore not very reactive and quite heavy, game support is great. We can open any title without worrying about lengthy installations and updates, of each game only a small part is downloaded when we click on it, the rest will be downloaded as we play. Then there is nothing left on the computer, and if we want to reopen the game we just have to wait for the short download (obviously the saves will remain present).
But there is the downside: connections. In fact, as long as small games are launched, the download is only a few megs, but a Star Wars could also require 1 / 2GB, and I know that not everyone can do it without effort, but those who can rely on fiber can jump from a game to another in seconds.
In conclusion, I invite you not to discard the idea of ​​a monthly subscription a priori, but rather to make a calculation on the actual value of these games which far exceeds € 5.99 per month. Above all, I advise you to make the most of the 14-day trial period that could leave you pleasantly surprised, with the possibility of replaying an old title or a pearl that you have lost over the years and that you can now recover for free for two weeks.
Over the next few months we will cover the various news regarding the new games that will be added to Utomik, and if you are therefore reading this article with a few weeks of delay, continue on this link to read the news of the platform.
So all you have to do is pop into the Utomik website to sign up for the free trial and dive into the tide of catalog titles. We close with a list of the titles currently on the platform, so as to give you a complete idea of ​​the offer.