After conquering turn-based strategy lovers and fans of a more complex narrative than normal last March on Nintendo Switch, Triangle strategy finally landed a few days ago also on PCthus opening up to a whole new plethora of fans. An appointment, the one with the latest production of ArtDink and Square Enix, absolutely not to be missed in case you like the genre and haven't gotten your hands on the game yet.
We reviewed the game with the following PC:
GPU: Zotac RTX 3070 Twin Edge OC
MOBO: Asus ROG STRIX Z370-F
RAM: G.Skill Trident Z RGB 16GB DDR4 3200MHz
CPU: Intel i5 8600k 3.6 GHZ
SSD: Sabrent SSD 2TB Rocket NVMe PCIe M.2 2280
Keyboard: Corsair K70 LUX LED Rosso Cherry MX Brown
Mouse: Fnatic Flick 2
Headphones: Logitech G930
Monitor: Samsung C27HG 70 Quad HD 144Hz HDR
A new conflict
Triangle Strategy tells the story of Nortelia, a continent divided into three macro-territories and whose economy is governed by salt and iron. Two very precious materials, which in the past gave way to a very bloody war, called precisely the War of Salt and Iron, between the three kingdoms of Nortelia, which ended only after numerous and dramatic clashes with a truce as fleeting as it was ardently desired by all peoples of the continent, tried by such a long and dramatic conflict.
A peace as longed for as it is hanging by a thread and indeed, a few minutes after the start of the game, we will see it crumble before our eyes, when the House of Wolfhort, a vassal of the kingdom of Glenbrook, is attacked and conquered by the Grand Duchy of Aesglast. A betrayal made even more painful by the fact that Serenoa Wolfhort, our main protagonist of the game, had been betrothed a few moments before to none other than the daughter of the fearsome Gustadolv, ruler of the Grand Duchy of Aesglast.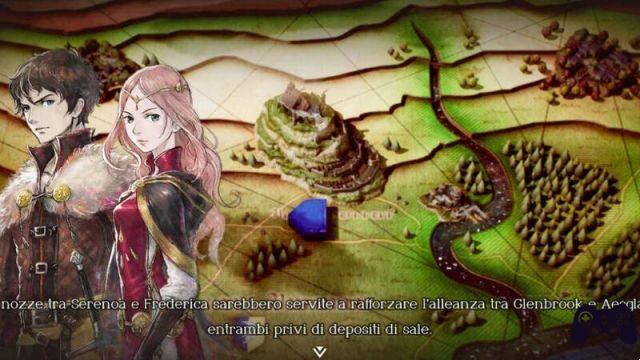 From this incipit a plot full of facets and twists branches off, which it has little to envy to a fantasy literary production. As reported a few months ago in our original review of the title, in fact: "The story is beautifully writtenfull of twists and turns and without any fear of daring to stage the cruelties of war. If at the time of the Triangle Strategy announcement, going so far as to compare the plot of the title with that of Game of Thrones in terms of maturity and topics covered could seem nothing short of a gamble, in the face of the entire narrative structure of ArtDink's work this parallelism is nothing short of spot on, with Triangle Strategy that looks good in the face of this sacred monster of fantasy literature. In short, get ready for a long-winded title, full of dialogue and drama, where your choices will have serious consequences.
Whenever we should make a decision, in fact, we will activate a whole mechanism that takes the name of Resolving Libra and that will weigh our choices on a moral level. In Triangle Strategy there is no clear division between light and dark, between yin and yang and it will therefore often it is difficult to understand how best to direct one's decisions, on which obviously depend the fate not only of the kingdom of Wolfhort, but of the whole of Nortelia.
More specifically, Serenoa's personality is characterized by three different values: morality, pragmatism and freedom. Each of our decisions, in addition to having a more or less direct impact on what happens in the game, also changes these values, but does not indicate which ones or how much. However, this mechanism is not an end in itself or a mere moral mirror, but also affects what is the narrative of the work, bringing us to one of the different multiple endings which Triangle Strategy is equipped with.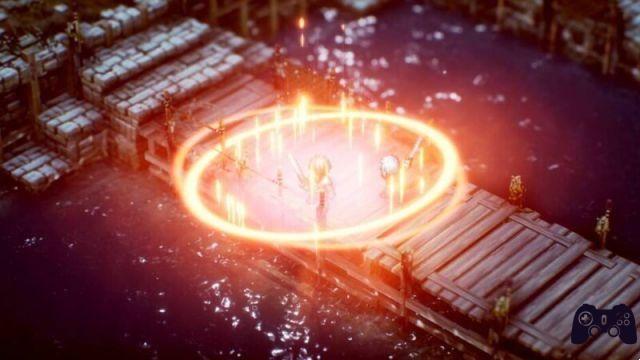 Strategic turn-based
In addition to this predominant narrative part, Triangle Strategy obviously also has a gameplay, which develops through an extremely traditional turn-based strategy structure and particularly suitable even for newbies of the genre. Although all in all satisfactory, in fact, the latest effort by ArtDink and Square Enix is ​​far from touching the complexity and richness of mechanics of the sacred monsters of the genre, such as for example Final Fantasy Tactics o Tactics Ogre, with the latter also receiving an HD re-release shortly among other things.
In fact, on the battlefields strictly divided into Triangle Strategy boxes, we do not find particular evolutions with respect to the classic stylistic features of the genre, but a simple and clean game system. In addition to attachment placement, which can be critical if done behind the opponent or pincer if the enemy is closed between two members of our team, there are in fact particular dynamics that particularly complicate or enrich the gameplay of the title. Sure, as you go along there are always new ones elemental spells that can change the playing field, different skills and so on, but the Triangle Strategy leitmotif never deviates clearly from the road we will get to know in the first hours of the game. To avoid the risk of falling into the repetitive are fortunately gods battlefields built wisely and particularly challenging bosses, who are able to bring out the tactical spirit of the players.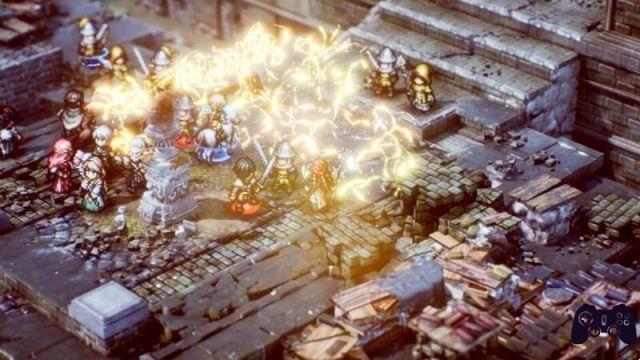 Finally, not even a few are missing small element more managerial and role-playing, which, however, can be considered little more than a mere decorative tinsel of the entire structure of the title. In the camp where we will find ourselves before today's battle, in fact, we will be able to train our characters, upgrade the weapons, which are fixed and non-changeable for each character, and decide on the two pieces of equipment with which each individual character is equipped.
The PC port of Triangle Strategy
But how does Triangle Strategy run on PC? Definitely good, even if it was difficult to expect anything different given the not exactly heavy style of the title. The particular HD-2D that we have come to know and appreciate in titles like Octopath Traveler in fact, it performs particularly well on high resolutions, making even more honor to the work done by ArtDink on an artistic level compared to what was seen on Nintendo Switch. Even the general rendering, in addition to the resolution that can be set as desired, has also received upgrades, with particle effects that are for example now more convincing and cared for that previously. I'm left with that not very clean effect of some locations and scenes, but it's really the classic hair in the egg of a stylistically inspired and colorful production anyway.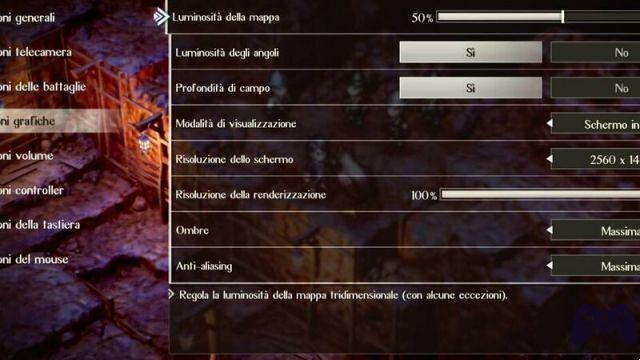 Net of the much appreciated and necessary possibility of setting a higher resolution, this port of Triangle Strategy for PC certainly does not shine for the amount of graphic options made available to the player. In addition to resolution and relative rendering percentage, in fact, we could only set the quality of the shadows, anti-aliasing and post-processing. Admittedly, this is by no means a title that requires a large number of graphics options, but it was certainly reasonable to expect a little more, such as the ability to set the framerate. Framerate that in any case, during our test with the configuration you find above at maximum details in Quad HD, it has never shown the side to sagging of any kind. That said, this PC port of Triangle Strategy is now the best place to enjoy this particular epic, especially via controller given a not exactly perfect mouse and keyboard control system.