When I first heard of tower of fantasy, I didn't know exactly what to expect. On the other hand, and I won't hide it, it's a genre completely far from my favorites but I recognize that, for some years now, the Genshin Impact phenomenon has done nothing but bring new similar productions with it. Tower of Fantasy, brought by Tencent to the West, is actually developed by Hotta Studio with the support of Level Infinite, two studios that created what many have defined as the real challenger to the throne of gacha games. And if there is one, I'm guessing it's very similar to the one in House of the Dragon, or so I hope.
For those who hear them for the first time, they are called gacha games, that is, a game system similar to random loot obtainable during the course or completion of any mission during the game experience. And Tower of Fantasy, in this sense, offers a main plot that has been appreciated by players as much as by critics themselves, which however has nothing to do with Genshin Impact, although you remember its mechanics.
In this regard, when the Chinese video game arrived on the market, many criticized it precisely because of its mechanics. While it was reminiscent of video games like NieR: Automata, its open world could also make players remember Zelda: Breath of the Wild. Certainly, they were both extremely exaggerated comparisons, especially for a production that, unlike many others, knew how to entertain in one way or another. Net of in-game purchases, now very normal in video games (and no one has ever actually complained about Call of Duty or Red Dead Redemption Online), Genshin Impact still knows its stuff, and is one of the most played video games on PlayStation but, above all, also on PC.
Today, however, Tower of Fantasy is magnified with a new update containing its first expansion, called VERA, a particular name for an additional content that still has a lot to say about itself. But what is there to know about it, however? Meanwhile, it's free, and can be unlocked from today, thus giving many players the opportunity to enjoy a unique experience, capable of both offering hours of entertainment and an overall interesting story. If nothing else, it was inevitable, as Gacha games survive largely on continued support from their developers. But let's proceed in order.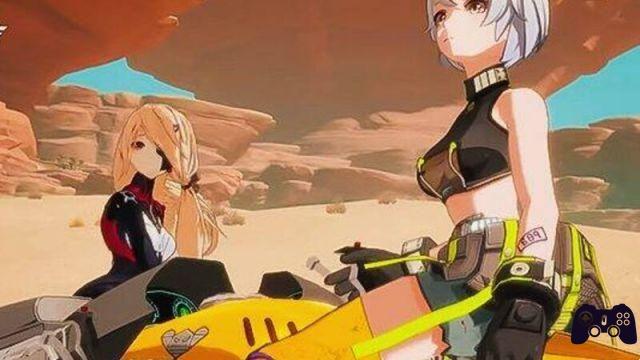 Tower of Fantasy expands: VERA is a desert of dreams and hopes
But in reality, as the name suggests, it's not just that. Because VERA is set in the desert of Gobby, placed in the middle of the game map of Tower of Fantasy, covering a large part of it, obviously without extending from one part to another. The plot inside, which I prefer not to reveal so as not to give you spoilers, took me to tropical places. As I immersed myself in it, I actually saw the desert getting bigger and bigger, as if it had no end. Therefore, in addition to offering an interesting context, VERA is an expansion that even adds additional bosses, some of which are really complex to deal with if you don't pay due attention.
Although I started with level one, the lowest, I still managed on the server, but it was very tough. The rewards, however, prompted me to go further, thus reaching even warmer and more temperate places, which prompted me to undertake further journeys, even if on more than one occasion I encountered merciless sandstorms. However, I stopped at nothing, despite the fatigue of the journey and, while I explored the wonders of this world built with so much passion, I recognized more closely the excellent qualities of a Gacha games which, unlike many others, it still tries to entertain the player in a unique way.
Leaving the most pleasant and seraphic places, protected by forests and mountains that host creatures of all sorts, arriving in the desert was like warming up and interfacing with a new mirror of this world, which has much more to offer. In this sense, another great addition of the VERA expansion is Mirroria, a floating city that can obviously be visited in which I was able to meet many other players with whom to carry out missions, special and random assignments, and so on. even boarding a subway that took me around the city. In addition to being pleasant and fun, it allowed me above all to better understand what this interesting and increasingly well-kept world hides, which can only grow bigger in the immediate future.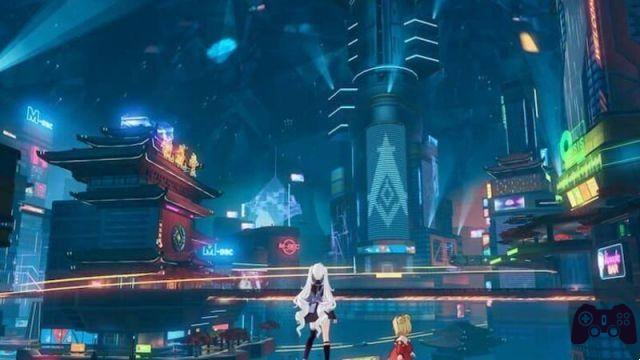 An extremely fun and interesting side activity is the Glachon Machine, a means that allowed me to receive many free rewards, which I then used to embellish the look of my character, who responds to the name of "Adalberto". That's right, yes, the very character whose adventures I wove in the tried-and-true of Inkulinati a few weeks ago. The news didn't end here, because the VERA expansion introduces us to other protagonists, and one of them is Ruby, a very nice shy girl with many qualities. Furthermore, during the presentation a few weeks ago, we also got to know new characters. In addition, the character creation and gameplay interfaces have been improved. The fights, which now remain the real focal point of the gaming experience, are as always fun and rewarding.
Speaking quickly of the Greyspace, mind you, the entities you will face inside it will obviously release double the loot, which you can spend as you prefer. It costs nothing, on the other hand, to want a few more additions to your look or paraphernalia. In Tower of Fantasy, especially in this new expansion, the possibility of increasing and becoming more powerful is at the very basis of the play structure. For those unfamiliar with it, it is in fact a video game that requires many hours of play and a lot of familiarity before being fully understood and absorbed. For sure, we couldn't have expected better from this first contact with the additional content.
A journey that awaits only you
With this expansion, which certainly comes at a time saturated with proposals in the gaming landscape, Tower of Fantasy could in fact be a right alternative for players who are looking for an experience capable of getting them out extraordinary.
VERA, which expands Tower of Fantasy and improves it, is the expansion that everyone - especially fans and those who have been living the experience for some time now - needed. A desert to explore, an expanding world, a new character to meet, more vehicles to drive and many stories to write. Need anything else? Also, for those who don't know, Tower of Fantasy is now downloadable on Steam also with the new additional content.