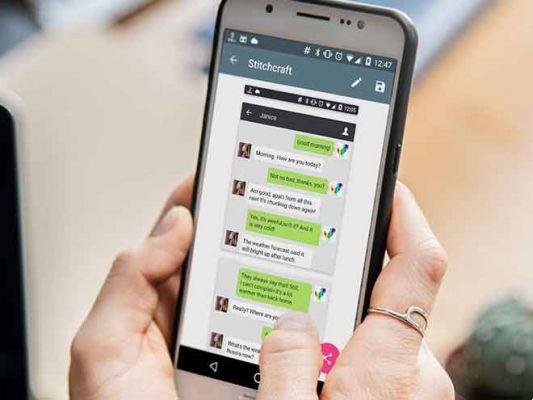 Taking a screenshot on your phone for an image or page of a document or web page you are viewing is easy. You may want to take a longer screenshot of an entire chat or webpage. However, combining multiple screenshots together using an image editing tool would be tedious.
Thankfully, you don't have to go through the hassle of engaging both hands. There are some reputable apps that can take scrolling screenshots on Android or iPhone devices. Let's see them.
Native tools for scrolling screenshots
Android users, especially those with Samsung or Huawei smartphones, can use the native Scroll Capture tool (formerly Capture More) and take long screenshots on their devices.
To use the Scroll Capture tool on Android, do the following:
Step 1: Open Settings and tap Advanced Features (or Advanced Settings).
Step 2: activate Smart Capture.
Step 3: take a screenshot (the method varies according to your android device, but the normal way is to press the power and volume down buttons at the same time). Tap the Scrollshot icon. The page will scroll automatically, but you can tap the phone screen to stop it where you want it to end.
Step 4: you will see a small preview of the long screenshot in the left corner of the screen. Tap Save to save the screenshot when finished or Share if you want to send it to someone via email, social media or other platforms.
Unfortunately, iPhone users don't get a native scrolling screenshot tool like Scroll Capture in some Android devices. This is where scrolling screenshot apps come in handy.
The following is our round-up of the best scrolling screenshot apps for Android and iPhone.
1. LongShot
This is a powerful scrolling screenshot app for Android that captures images with lots of details. The free app features a stitch tool to connect multiple screens or the floating tool to take multiple screens in quick succession.
You can also use it to capture long web pages just by scrolling down and the app captures the whole web page without any input from you. If you want to customize the screenshot further, you can add the start and end point. You don't have to worry about the watermarks showing up in the final screenshots.
2. Stitchcraft
It's another free app that you can use to take long screenshots, but it doesn't have the auto slide and snap tool. As a result, you'll need to shoot all of the shots individually while keeping some overlap for best stitching results.
It's still a robust app and works with third-party apps, web pages, still background images, and message threads. With its automatic stitching process, you can select the images you want to include in your long screenshot and the app will stitch them together. You can also do it manually and use a granular control.
Other noteworthy features include the image manager, annotation tool, and social media sharing options. The app is available for free albeit with ads, but for an ad-free version, you can use the paid Stitchcraft Pro app.
3. Stitch It!
Stitch It! is a free screenshot editor app for Android or iOS operating systems. Its interface is simple and easy to use, but it limits you to three images at a time. If you want to do more, you need to buy the paid version of the app.
It is a great app to use for sharing chats or text message conversations via social networks or email and other platforms, as it helps you to create a seamless image. It does this by cropping and merging the screenshots together and automatically saves them to your photo library.
You can also blank out private information from any chats or conversations you aren't ready to share.
Download Stitch It! for Android
Download Stitch It! for iOS
4. Picsew
IPhone users can also use Picsew to take scrolling screenshots. With it, you can merge the images manually or automatically and create a landscape oriented image if you like. Also, you can select an unlimited number of screenshots and merge them into one image.
To customize the image, you can use the app's editing tools to blur or pixelate parts and hide any sensitive information or people's faces. It also lets you add borders, watermarks, and with the web snapshot extension, you can capture an entire web page with a single tap.
Picsew works with social media and third party app content.
5. Web Scroll Capture
This is another free ad-supported app for taking long screenshots on Android devices. It works with web pages, so you can't use it to grab content from third-party apps or message threads.
Its main features include saving web pages as PDF or as images or downloading the scanned pages for offline viewing.
Android phones can handle PDFs, but Web Scroll Capture is useful if you constantly find yourself having to save web pages as images.
Download Web Scroll Capture
Conclusion
Good screenshots are a work of art. While it's crucial to get all the details in one image, the app should be smart enough with the content. You can use several methods to make sure you get the best results. However, for scrolling through screenshots, these five apps will provide excellent results.
Further Reading:
How to take a scrolling screenshot on Macos and iPadOS
How to take full page screenshots with iOS 13, iPadOS 13
Screenshot su Samsung Galaxy A90 5G
Screenshot su Samsung Galaxy A70
You can take a screenshot on Samsung Galaxy S10 Plus