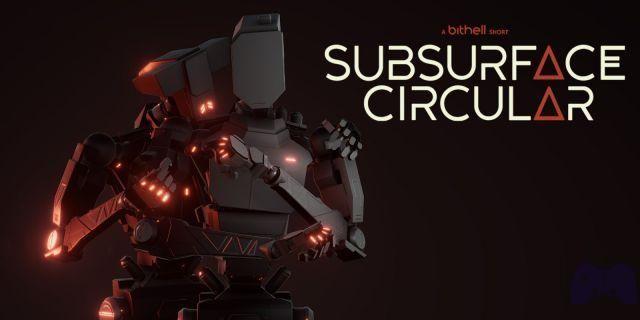 The beauty of dialogue.
Mike Bithell is a genius. Not only is he an extraordinarily talented game designer, but a very fine storyteller, endowed with an extraordinary, magnetic writing ability, which meets and completes the perfect minimalism of his gameplay. He is also someone who does not have much trouble putting existential doubts and arguments of great depth on the plate of the narrative, veiled by the irresistible humor that distinguishes him, to then strike and surprise the player / listener / reader when he least expects it, when the tale blossoms in all its strength and brilliance. It happened with that videogame monument that it is Thomas was alone, symbol of a way of making video games that focuses on the cultural potential of the medium, rather than on merely entertainment, and it happens today (with in the middle of a Volume, of which I do not say anything because I have yet to recover it) with Subsurface Circular, a rediscovery of dialogue, videogame and not, as the most powerful means of multi-level investigation, first police and then spiritual, leading the player to face one of his greatest shyness: talking to strangers on public transport. A meta-referentiality that is all in the sensations that live in the limbo between everyday life and fiction, in which interpreting a robotic alter-ego will remove all restraints on our language, curious to find out everything about our interlocutors, getting lost in a stream of chatter written by God and developed in a diabolically brilliant way, to make us lose ourselves among the carriages of a train launched at great speed along the tracks of our thoughts. The wonderful intro that I put below is ideal for understanding the style and charisma of the product that I am going to analyze.
Version tested: Nintendo Switch
Existential underground
It is the visual novel that evolves and reaches new heights of script. A sci-fi theatrical piece shot entirely on the Subsurface Circular wagons. It is so in terms of conception, immutable setting and duration. A "short", as defined by the author himself, the first of a long series, if Mike wants.
An alienating and unforgettable 2-3 hours of travel with a one-way ticket from € 5,99.
And considering that soon, in Milan, ATM tickets will cost € 2, I would say that it is a bargain.
Specifically, the Circular is a subway for the exclusive use and consumption of Teks, androids at the service of humans and "management", the obscure government entity that knows, manages and decides everything. A real sub-culture that moves on public transport, programmed to do a certain job, indoctrinated by its bosses, sometimes resigned, others rebellious, troubled and restless, while there are those who simply want to stay on the sidelines, undisturbed, without getting too much beaten up, listening to music. Doesn't it remind you of something? Yet besides the subtle social criticism and the allegorical spirit there is much more, a multifaceted work that shines with a thousand reflections despite the soft light of the neon, graced by a fantastic design in its cleanliness.
Between textual and graphic adventure, where every conversation hides a small enigma and every word is a piece to be inserted in the mosaic of a techno-noir investigation.
It is first and foremost the story of a detective who investigates of his own free will on the mysterious disappearance of some Teks, after having listened to the disturbing and worried story of a similar one, chatting with him almost by chance, each sitting in his own place, enjoying a few minutes of relaxation between a commitment and the other. Playfully, everything takes place simply by choosing which joke, question, insinuation to make among those proposals, without the possibility of game over and without taking narrative crossroads, but always having the feeling of taking dialogue where we believe best, choosing irony, arrogance or sympathy as a means to go into this lexical mystery (strictly in English, and note that it is a fairly demanding barrier to entry). The real keystone of this video game format river of words are the "Focal Point", Fundamental arguments to propose to our interlocutors, discovered simply by talking or solving some requests, such as giving directions to a robot nanny on the correct stop at which to get off, or letting the spark between two emotional lovers go off again (synthetic ) blocked, and many other brilliant ideas that make up a give-and-take capable of adding new pieces to an investigative puzzle of great interest and tension.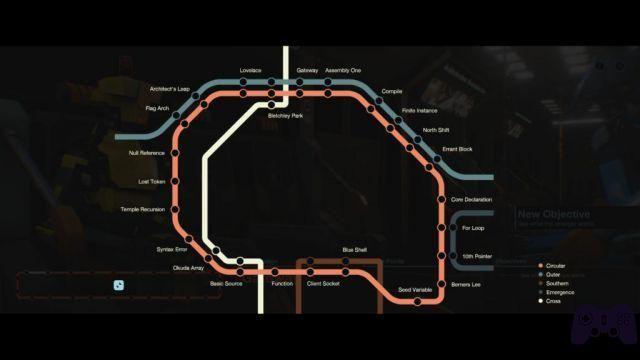 A "play on words" that will lead us to face increasingly challenging dialogues, structured, which will involve even more Teks at a time, sometimes leading us to play with their own programming and ethics, which owe a lot to Asimov and his laws. And this is where the atavistic feeling of passivity inherent in most text adventures burns like gun cotton, because the story never goes on without a bit of brain effort. In all this, the science fiction background that Bithell has built is of a coherence and a sensational charm, despite all the sea of ​​sci-fi stuff that they pour us from year to year, thrown down by force in all sauces. Subsurface Circular manages to surprise and charm with a tale full of twists and turns, that sinuous and elegant strip between thriller, politics, society, technology and religion, finally poisoning us with the most unsettling moral dilemmas and essential questions; "Who we are? Where do we go? And above all, why? ". Delightfully easing the tension with the humor of a sumptuous protagonist, charismatic as all passengers are, despite and above all thanks to the lack of connotations ("because humans feel disgust at seeing automatons with a human face") which subtracts expressiveness all facial expressions, to leave room only for vocal language.
Mike Bithell manages to propose a script that is never banal in a world, the sci-fi one, which is less and less surprising and mysterious. Almost a work of the past.
A narrative fabric that sanctifies the script made available to virtual actors, which shows the care in the composition of each sentence, joke, revelation, studying the times to perfection and leaving in the synapses the sweet aftertaste of those readings of absolute quality, while the sound design envelops everything at 360 °; between techno-noir music and the credible and familiar noises of the subway, the rails, the doors that open and the recorded voices that indicate the next stop, a new stage towards knowledge. Wonderful. It is a title born of a very specific intent, that of telling oneself without diluting the story in playability but making it an integral part of the story, without creating dead times and transforming our every action, every keystroke, into a fundamental part of the text. Here also its duration, as mentioned 2-3 hours, is absolutely balanced and leaves no bitterness, thanks to a final shock that will ask you a few minutes to recover. And then, one day, you can decide to tackle the trip again in the company of Mike Bithell himself, or rather, its robotic alias, for an almost documentary and certainly didactic run.
Verdict 9/10 Robot Rock Comment Subsurface Circular is one of the most recent and powerful examples of how much the videogame narrative can rival, if not sometimes surpass, the literary and cinematographic one. Mike Bithell writes and directs a title with a claustrophobic setting, audio-visually rich in style and a free, brilliant dialogue, whose progression is linked to a visual novel gameplay that never forgets to set the player's neurons in motion, putting him in front of a series of lexical puzzles, almost masked in the script, but very tasty and intelligent. A mysterious, humorous, unsettling techno-noir, capable of emerging from the sci-fi sea of ​​entertainment in which we swim every day. I never thought that a trip on the subway could be unforgettable. Pros and cons
✓
Superior quality fiction and script
✓
Brilliant and never boring puzzles
✓
Gorgeous audio-visual style
x
Excellent knowledge of English is a barrier to entry to be reckoned with