Signal is a privacy-conscious messaging service, let's take a look at what Signal is, how it works and how you can start using it.
What is Signal
Signal is a messaging app that enables instant messaging over the Internet. Like other messaging apps, the service is not tied to your service plan like sending SMS is. As long as your phone is online via cellular data or Wi-Fi, you can use the app to text people.
Signal is very similar to the other messaging apps you may have used. It supports text chat for individual or group conversations. You can send pictures, videos and voice clips within your chats. Signal also supports live voice and video calls within your chats for real-time communication.
Signal also includes stickers and the ability to share your location with your chats.
The app uses the Signal protocol, which is a system that provides end-to-end encryption for all messages and calls made in the app.
End-to-end encryption refers to a communication system where only the devices involved can read the messages. This means that if a third party were to intercept your message in transit, it would be incomprehensible to them.
How to download Signal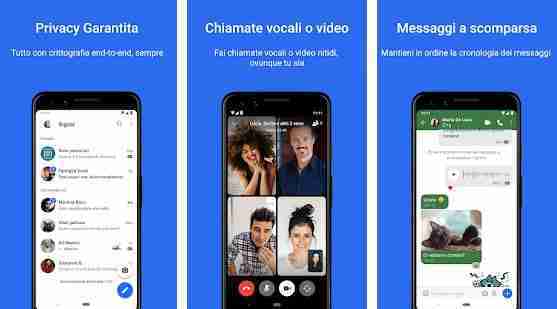 Signal is available on both. It is also available on.
However, to use the app on your computer, you must first have it installed on your phone. This is a consequence of end-to-end encryption - Signal doesn't work on multiple devices, so the desktop app pulls the data from the phone.
Signal is completely free and open source, you don't have to pay anything to use it.
The app is free to download and contains no advertising or in-app purchases.
How Signal works
Install Signal on your Android phone or iPhone.
When you open the app, you will see basic information about the app, followed by prompts to enable notifications, access to your contacts, and the like.
Enter your phone number to register.
After confirming your phone number with a code, you will need to enter your name.
You can enter your surname and profile picture if you wish, but it is not required. Finally, you need to create a PIN to use the app.
This keeps your private information encrypted on the app and allows you to restore your contacts and other data if you reinstall the app. You don't need to open the app. Signal can't reset your PIN if you forget it, so be sure to write it down in a safe place, like a password manager.
Once registration is complete you can start using the app to chat with friends just like you would other messaging apps.
Tap the pencil icon in the top right to start a new chat with your contacts.
Within a chat, you can use the icons at the bottom right to send images and voice messages. Use the two icons at the top right to initiate a video or audio call.
Tap your profile icon in the top left to open the Settings menu. Here you can edit your profile, change privacy settings like read receipts and blocked numbers, change notifications and more.
How to use Signal on computer
If you want to use Signal on your computer, download the desktop app from.
So in the menu Settings mobile app, select devices connect and choose Connect new device. This allows you to scan a QR code displayed in the desktop version of the app, connecting your computer and phone.
We remind you that the WEB version works through communication with the mobile app on your mobile device and is therefore not independent from it.