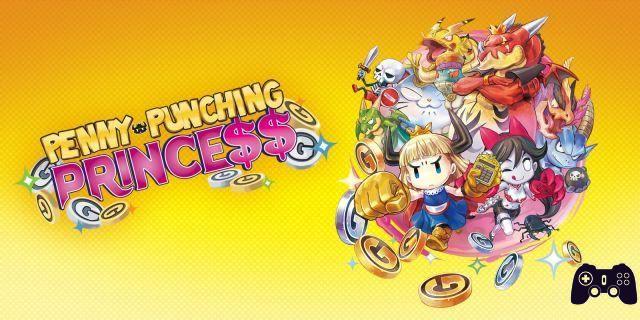 Ah, the money. As important in life as in video games.
Without money it's hard to go on, but just imagine what would happen if any action in your life, even the most trivial, were conditioned by money: Penny-Punching Princess is just that.
During the years, Nippon Ichi Software got us used to the weirdest games and Penny-Punching Princess perhaps it is one of the most absurd ones ever made by the company, in a more than positive sense. Released in Japan only on PS Vita, in the West the title debuts both on the portable console of Sony and Nintendo Switch bringing with it all the madness that only NIS can give.
Version tested: PS Vita.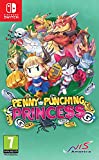 Nintendo Switch Penny - Punching Princess
On amazon: 26,9 € buy
Revenge is a dish that must be served with money
The narrative premise on which Penny-Punching Princess rotates is very simple. Our protagonist will undertake a revenge against the Dragoloan, a family that deceived the princess's father, proving him of all his possessions and condemning him to hell, and what does the princess use to fight the enemy? Money, of course, along with a special magic calculator. The plot itself does not take itself seriously, nor does it want to be, but it is only a mere pretext to give a setting to the title, nothing else.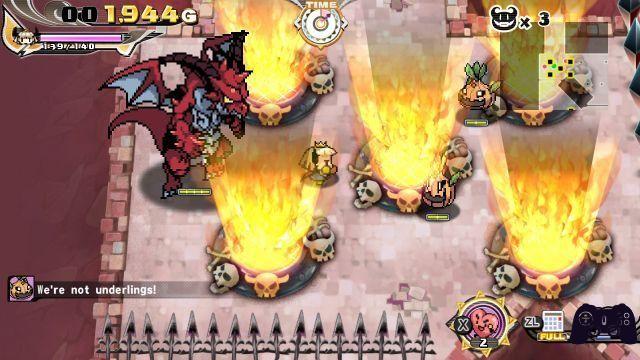 Penny-Punching Princess focuses mainly on gameplay, relegating the story to something secondary, almost superfluous.
The game looks like a beat'em up with a very retro graphic style. The player will be able to use various attacks, from weak ones to heavy ones up to a range of skills, but it's the money and the use of the calculator that make the difference, with this option that will be used in a strategic way to win the most difficult battles. To give an example: during a fight we stun an enemy, this releases money that we can immediately use to bribe him and get him out of the fight even before having defeated him. In addition, all the corrupt enemies will join the new kingdom that the princess is building, thus increasing the population. This money mechanic may seem complex but the truth is that it turns out to be very simple to use and the battles are a lot of fun… at least until we meet large groups of opponents. One of the game's biggest flaws is undoubtedly its own poorly calibrated difficulty: in fact, we will pass from battles that end in a moment, whether it is using money or defeating the monster of the moment, to clashes where it will inevitably be game over due to dungeons full of enemies and traps that make any action impossible. This is where the strategic aspect of the game comes into play, where we will be called upon to use our hard earned money to corrupt the strongest enemies and force them to attack their allies, the end result will be a blast and with a little luck we will exit the dungeon without having suffered any damage, but with a lot less money.
[Nggallery id = 4240]
All this serves to make it clear once again that money is everything in the game and without it we are doomed.
The game also offers some RPG options, such as the customization of the princess through armor and objects, to be created using money and the enemies we have corrupted, each with different statistics and different abilities, so it will be necessary to try various combinations to overcome certain enemies that we will encounter in the various levels of the game. It is not good to get rid of all the monsters taken only to create armor, in fact the more we have available the more bonuses obtained that will give us advantages in battle. There is also the possibility of creating special statues, the Zenigami, that allow you to enhance the skills in our possession. That said, the title doesn't turn out to be very long-lived, too the dungeon structure> waves of enemies> dungeon is extremely repetitive and bored quickly, although it is suitable for a casual audience.
Old coin
On a technical level Penny-Punching Princess is a mediocre game for consoles like PS Vita and Switch, but only partially. The "pixellated" graphic style is great for what is a low budget title and goes perfectly with the portable consoles for which it was developed. However, there are some flaws such as annoying framerate drops, especially in the most crowded sections, there is not even a real dubbing, if not in small situations, as the language you speak is a fictional one, a bit like you see in games like Monster Hunter and Okami. Negative note also the soundtrack, absolutely anonymous and uninspired, good translation. In short, not even for a production of this level.
Verdict 6.5 / 10 Scrooge Scrooge approves Comment By now NIS and NIS America have accustomed us to low-cost productions that make ideas and their particular nature the main strengths. Penny-Punching Princess continues on this line, with a very dated technical compartment for the consoles on which it was developed. Sometimes the difficulty can be frustrating in some situations, but that doesn't affect the gaming experience. The choice to bring it also on Switch together with PS Vita is apt because the title is ideal for those who play little or in any case on the road but what matters most is that Penny-Punching Princess is a game that does its duty: entertain, and it does it very well. Pros and cons
✓
Interesting basic idea
✓
Lots of healthy fun
✓
Perfect for portable consoles
x
Superfluous plot for the game
x
Poorly balanced difficulty
x
Technically dated