The Black Friday 2022 offers continue and, as you may have understood, there is not space only for Amazon in what is our (now very dense) press review dedicated to discounts. On the contrary! We are giving ample space to all the stores taking part in this year's promotions, selecting for you those which, in our opinion, are the most unmissable offers of this promotional round.
And so, sifting through what is the eBay discount proposal, contained in what is the mega promotion called Cyber ​​eDays, we have tracked down for you this splendid offer relating to Nintendo Switch OLED, or what is the "high-end" version of the versatile and beloved Nintendo console, here sold at the lowest price ever!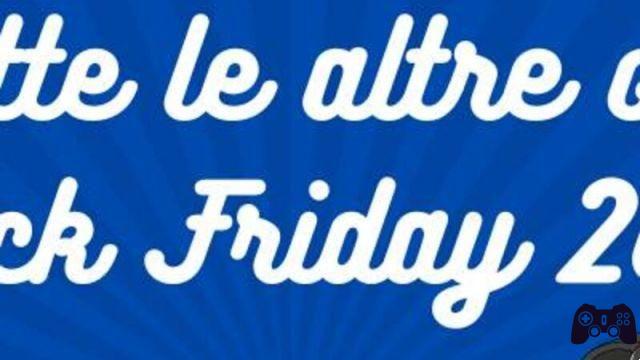 On the store, in fact, the splendid Nintendo OLED Switch is sold at a discount at the lowest price ever, i.e. only €309,90, against the original €349,99 required for purchase! A deal not to be underestimated, not just because we're talking about a truly unbeatable price, even in comparison with stores like Amazon, but above all because it could represent the right opportunity to buy a splendid Christmas present at a reduced price, and away from the possibility of a stock run out!
Beyond the Christmas question, does it make sense to buy a Nintendo Switch today? In our opinion, certainly yes, especially if you have never owned a Nintendo console before! Switch OLED, in fact, while not offering substantial changes to the original hardware (called in a nutshell: it is not more powerful than a basic Switch), is proposed with a slightly larger form factor, and with an excellent and super bright 7″ OLED screen, which considerably expanded the viewing diagonal.
The console is also fully compatible with any Switch game released to date, and guarantees a fluid and satisfying gaming experience, especially because, as you know, Nintendo Switch can be used both in connection with your TV and on its own, in a "portable" version.
In our opinion, therefore, it's a perfectly sensible purchase, also because Switch, given its excellent range of titles, represents a truly priceless choice from the point of view of entertainment, also and above all considering the shortage that is still affecting the current Sony and Microsoft flagships, with PS5 and Xbox Series X still fugitives from the shelves.
Nintendo Switch is a console that makes history in itself, beautiful, fun and full of thick titles, and even if its hardware is certainly less powerful than the consoles of the competition, it still represents an intelligent purchasing choice, as much for the quality of the hardware as for its video games, really valuable, which for the price offered here by eBay, which is truly exceptional!
Read also: The best deals of Black Friday 2022
That said, we just have to send you directly to the eBay page dedicated to the offer, so that you can buy this product before it runs out or worse, that the offer runs out altogether.
Furthermore, before completing your purchase, we strongly suggest that you also subscribe to our three Telegram channels dedicated to offers, with specific channels dedicated to: Offers, Hardware & Tech and Clothing and Sport. Happy shopping!
» See the offer on eBay «
Follow us and always stay informed on the best offers!
Events » Amazon Prime Day | Black Friday
Offers and Discounts » All offers | Discount Codes
Telegram channels » General Offers | Hardware & Tech | Clothing and Sports
Buying guides » SOS Home & Garden