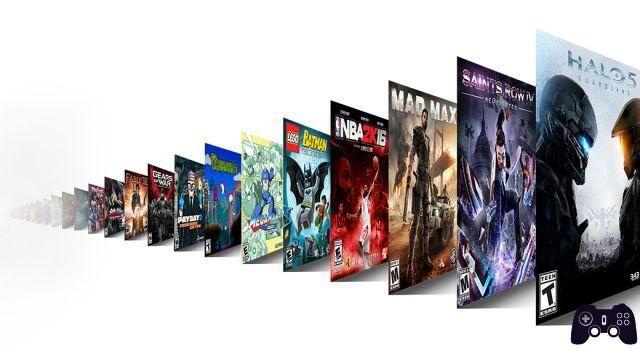 Microsoft products announced in a press release the arrival of a new subscription service, Xbox Game Pass, which will allow all owners of Xbox One to access a rich catalog of over 100 titles between Xbox One and Xbox 360 backwards compatible.
In anticipation of the launch of the service which will take place next spring, some members of the program Xbox Insiders will be able to try out this new service in advance.
In the press release all the details released on Xbox Game Pass.
The Xbox team is delighted to announce the new subscription service Xbox Game Pass, which will allow users unlimited access to over 100 Xbox One games and backward compatible Xbox 360 titles for Xbox One for € 9,99 per month.
The Xbox Game Pass roll out will begin today at 15pm (00am PST) for select members of the Xbox Insider program, and will arrive for the community this spring. If you are part of the Xbox Insider Program and Xbox Game Pass has not appeared in your dashboard, you will need to restart your console.
Here is some information about the Xbox Insider Program:
Like most of the features and programs that come in preview in the program, Xbox Game Pass will be an initial build with some limitations and will not be the same as the final experience that will be available in the spring.
The initial catalog available to Xbox Insider Program members will be limited (ie roughly 20 titles, many of which arcade), most AAA titles will be available this spring. Furthermore, the final interface that will be visible to all users may be slightly different than the one available today.
You may find bugs while in the Xbox Insider Program, but keep in mind that the focus of the Preview is to test features and report bugs so that development teams can fix the user experience before it's available to everyone.
Xbox Games Pass will not initially have full localization and some of the descriptions and channels will only be available in English. When Game Pass arrives for the Xbox community in the spring, all information will be localized.
Among the titles that will be available in the spring with Xbox Game Pass you will also find: Halo 5: Guardians, Saints Row IV Re-Elected, NBA 2K16, LEGO Batman, Mega Man Legacy Collection, Terraria, Payday 2, Gears of War: Ultimated Edition, SoulCalibur II and Tekken Tag 2. These titles will not be available in the Xbox Insider Program.
For more information, please visit Xbox Wire.
Xbox Game Pass, the new subscription service for Xbox One that will allow access to a catalog of over 100 games, will arrive at the end of spring. What do you think?
Source