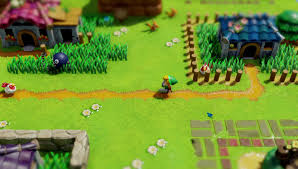 For some time now, Mr. Miyamoto had been planning to bring the Mario Maker style to Zelda
Many users were looking forward to have a Mario Maker set in the Zelda universe, Miyamoto was of the same idea since the days of the first Mario Maker.
We know from IGN, that in an email sent to them by Eiji Aonuma, the Zelda producer claimed to have had a interview with Miyamoto about the new game in the series, here's what he said:
I speak regularly with Mr. Miyamoto future chapters of Zelda e he once asked me if I could make a game with similar gameplay to Super Mario Maker, but for Zelda. We talked about how a game like this for Zelda should have dungeons, but it's generally quite difficult to come up with the logic needed to solve them. "
So apparently there have been several problems that are difficult to solve , but by re-adapting some ideas, they managed to figure it out:
"Then we have thought of a more accessible style of play where you have to think about how organize the parties that already have a solution to create a single dungeon, instead of allowing players to create complex arrangements like in Super Mario Maker 2, and that's how we created the Chamber Dungeons"
Aonuma then explained that the dungeons in The Legend of Zelda: Link's Awakening were their biggest inspiration for the new mode they were working on.
"Since the function Chamber Dungeons relies on using rooms that already have a solution, we went looking for examples from existing titles and found that the dungeons in The Legend of Zelda: Link's Awakening would have been the most suitable, because each room is usually the size of a single screen, and viewed from a bird's-eye view, this makes their layout easy to understand.
A critical part of Chamber Dungeon gameplay is understanding the original dungeons before organizing your own. "
A mode that will certainly make many fans of Mario Maker and Zelda happy, who will not be long in getting a grip on the creator and the Chamber Dungeons, but which could make some people turn up their noses.
Source: Dualshockers