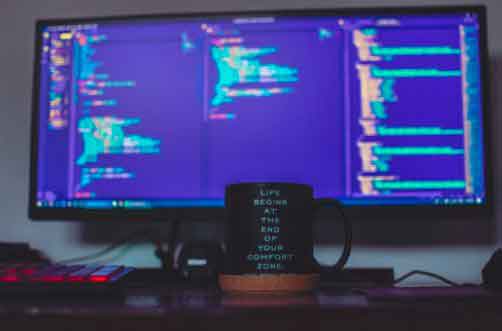 Understanding and using codes has become one in recent years resource that can be spent in any work environment who makes use of digital tools, and who may be able to represent a decisive step forward in their career and business.
Basic skills in programming are able to increase the understanding the possibilities offered by technology, and at the same time saving money on consultancy and jobs that, with the right foundation and a little practice, can be done alone.
Aulab organizes training courses in this sector dedicated to coding that allow you to approach this world by creating skills to be used also in your work environment or to start a career in the field of programming.
Il course Hackademy has been structured so that one person with one average propensity to use computers but animated by passion and the desire to get involved, is perfectly able to create the foundations that allow him to find work in a few months or to improve his knowledge in this area.

For the development of a website, desktop software or mobile app it will be necessary to use programming platforms and software most suitable languages. Depending on the purposes, you can choose between various options, each with its own more or less long and demanding learning curve. A solution for those who need tools for quick programming, can turn to one low-code platform.
What is low-code?
A low-code development platform allows you to do without the classic manual programming thanks to the use of a graphical interface characterized by predefined visual components.
This, needless to say, greatly simplifies the creation of a software and saves all the time spent programming each element. It is therefore a question of a type of programming, but of a simplified type, suitable for those who do not have specific needs, but above all for those who have little knowledge in this area.

This does not mean that there are aspects to be done manually. Let's say that 20% of the work must go to integrate the preset functions and codes. However, there are other types of platforms, defined no-code, which do not require the insertion of any type of code and therefore do not allow any type of customization.
A programming platform to be low-code must have 4 features.
1. Access to graphic templates
The interface of the low-code platforms is intuitive and thanks to the presence of selectable models through a simple drop-down menu, the user has the possibility to set up his work without too much effort. The modeling allows the rapid development of web applications and mobile devices, with a strong advantage under theproductivity aspect.
2. Repeatability
Time saving is the main feature of using this type of application. Once manual programming is limited, users can use other ready-to-use templates, plug-in e widget, reusable at will as many times as you want.
3. Access through the cloud
The vast majority of low-code platforms allow management of your application, including visual elements, through cloud resources. This ensures that it is the same always accessible and usable. But if you want to change a new database, the good thing is that you don't need to reprogram.
4. Assistance after development
The manager of the low-code platform used for your project provides assistance at the end of the development phase. These are therefore tools that also include the aspect of supply and assistance.
The advantages of low-code programming
1. Speed
Lacking manual programming, you have the opportunity to work more quickly and obtain results in less time.
2. Ease of use
As mentioned, the learning curve is made very short by the presence of models to choose from and by the intuitiveness of the interface.
3. Adaptability
The ease of use of these tools allows them to be adapted to various contexts, ensuring immediate reactivity to new needs.
4. Reduced costs
Results in less time and the unnecessary need for specific training lead to a reduction in costs.
5. Greater variety in solutions
Not being a platform for professional programmers and being simple to use, this type of platform allows experts from various sectors to give their contribution in the creative phase.
Further Reading:
How to check if Windows 10 is activated
The fastest and cheapest ways to get Spell Energy in Harry Potter: Wizards Unite
How to install plugins in WordPress using 3 different methods
How to pay bills with your smartphone
Valid Lords Mobile Codes