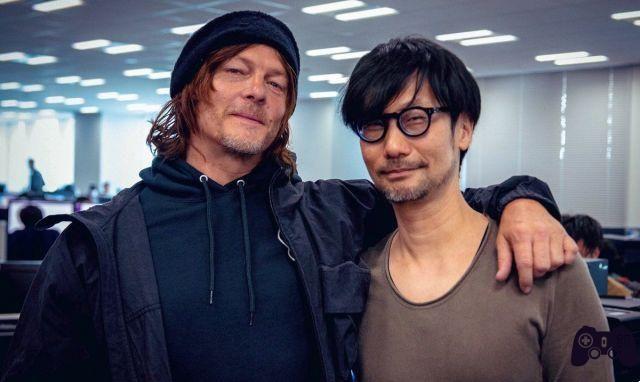 During episode two of the fourth season of Ride, Norman Reedus is on a visit to the studios of Kojima Productions. Here, we can witness an interesting chat between the actor and the genius of Hideo Kojima about Death Stranding. The clip, which appeared on Reddit, shows about five minutes of this visit and offers interesting points of view on the development of the game and on the relationship between the developer and Reedus.
I was watching Ride with Norman Reedus and this came up (S04E02) from DeathStranding
As soon as he arrives at the Kojima Productions studio, in fact, Reedus is immediately greeted by Kojima himself and a close collaborator who takes care of translating the conversation between the two. After a quick introduction to the team and a welcome worthy of a rock star, the actor is taken to a PC station where he is shown the first images of Death Stranding (which you can find on Amazon). It is therefore dated material that dates back to the final moments of the development, with Reedus who is seen for the first time in a complete video game, after the regret for the never finished PT No clue, therefore, leaks about a second chapter of the series.
Hideo Kojima and his translator show Reedus some goodies in Death Stranding that, by now, many players will know very well. For example, let's see what happens if we look at Sam Porter's intimate areas too many times, in addition to the motorcycle from which the character never separates. Reedus asks the developer some interesting questions, asking where such an idea comes from. Kojima's answer is quite simple and is limited to one: "it is in my mind".
Another little gem provided by this piece is linked to Norman Reedus' accompanist. In fact, the actor arrives at the Kojima Productions studios in the company of Ryan Hurst, an actor best known for his role as Opie Winston in Sons of Anarchy. Besides noticing the admiration in Hurst's eyes, his presence is interesting because the actor recently made his gaming debut playing Thor in the new God of War: Ragnarok. We wonder if it was precisely this visit that pushed him in this direction.