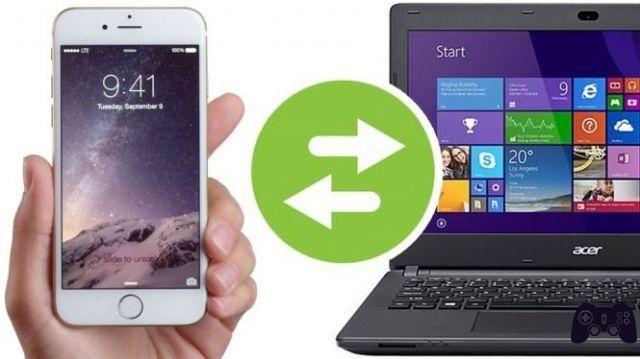 Apple products, starting with the famous iPhone, can easily replace some other devices that you previously thought you couldn't live without. For example, it has been quite some time since cell phones pushed MP3 players off the market. Since then, their capabilities have only increased. With iOS devices, you can use iTunes to easily transfer music from a computer to your iPhone or iPad. Read on to find out how.
App to transfer files from Android to iPhone the best 4
TRANSFER MUSIC USING ITUNES
The most reliable solution to this problem is to sync music from iTunes, as it is the official Apple app for transferring music. Before continuing with these steps, make sure you've installed iTunes on your computer and it's up to date. You can download iTunes here.
Also, keep in mind that iTunes syncing only works one way, only on an iOS device from a computer. If there is a song on an iPhone that is not on the computer, it will be deleted. However, you need to connect the phone to the computer first and find it in iTunes.
1) COLLEAGUE L'IPHONE
Connect your phone to your computer. Do this using the USB port.
Open iTunes on your computer.
Within iTunes, click on the phone icon in the menu in the upper left corner.
Under these menus, you should now see your iPhone in the "Devices" list.
2) USE SYNCHRONIZATION TO AUTOMATICALLY TRANSFER MUSIC
Once you have selected your phone, click on the "Music" tab in the left sidebar.
At the top of the screen, there is a checkbox that says "Sync Music". Check if it's not already selected.
If you want to transfer all your music, click the "All Music" radio button. Otherwise, select the "Selected Playlists, Artists, Albums and Genres" button. Here you can select the things mentioned in the name of the sync button.
When finished, click the "Apply" button to start the automatic transfer.
3) TRANSFER MUSIC MANUALLY
Before continuing to transfer music manually, make sure you have enabled this option in iTunes. To do this, first select "Summary", which is the top tab in the Settings section of the left sidebar. Next, check the "Manually manage music and videos" box and click "Apply".
Once done, you can easily transfer your music to your iOS device:
Find the "Library" section on the left sidebar. Click your preferred option, depending on whether you want to sort the music by song name, artist, album or genre.
Once you've selected the music you want to transfer to your device, you can drag and drop it there. You can also see the device on the sidebar.
Note: To select multiple songs, hold down the Ctrl key (Command on Mac) as you select them.
Note that you can do the same with playlists by dragging them to your device in iTunes. If you were to use this option, it might even save you some time.
SYNCHRONIZATION PROBLEMS
If you are unable to sync an iOS device with iTunes due to an unknown error on Windows, there are several things you should consider trying.
UPDATE ITUNES
Your version of iTunes or Windows may be out of date. Update iTunes, install Windows updates and restart Windows. See if this helps solve the problem.
CONFIGURE THE FIREWALL
An overly protective firewall could be the cause of the problem. Sometimes it can crash a program just because it uses system resources. To check if this is the case, turn it off temporarily and see if you can sync the music. If you can, make an exception for iTunes in your firewall.
SEE IF THE DRIVERS WORK
You can delete a faulty driver and reinstall it using Device Manager, provided there is one.
Open Device Manager. The easiest way to do this is to let the Run program open it for you. To open Run, press Win + R.
Note: This can be done on all versions of Windows.
In Device Manager, find the "Universal Series Bus Controllers". Click the plus sign next to this section.
You can delete the faulty drivers by right clicking on them and selecting "Uninstall". These drivers will have error symbols next to them.
Select the "Action" tab. It's at the top of the screen.
Choose "Scan for hardware changes".
Don't close Device Manager yet, as there is one more thing you can try here:
Back in the USB Controller section, double click on any part of it. Eventually you will need to configure all USBs.
In the following window, click on the "Power Management" section.
If the "Allow this computer to turn off this device to save power" box is checked, uncheck it.
Click "OK".
After configuring all USBs this way, it is optional to restart Windows.
Try to sync again.
FIND YOUR HEADPHONES
Of course, using iTunes isn't the only way to transfer music from a computer to an iOS device. However, it's Apple's official way of doing this, which makes it very affordable. It is not possible for the app to be terminated. Furthermore, this is a way that covers not only iPhones, but other Apple devices as well, such as iPads and iPods.
What is your favorite artist? If you could only listen to one singer or group for the rest of your life, who would you choose? Let us know your musical preferences in the comments below.
Further Reading:
How to transfer music from iPhone to Android
How to transfer songs from iTunes to Android
How to transfer photos, music, videos and data from iPhone to iPhone
How to transfer photos from Android to PC without USB cable
How to transfer files from iPhone to PC