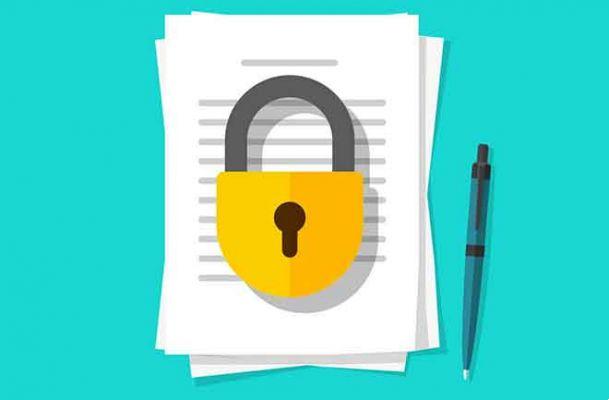 Don't let your sensitive data fall into the wrong hands. These tools are useful for encrypting important PDFs without the need to spend hundreds of dollars to buy the full Adobe Acrobat program. Let's go ahead and see how to password protect a PDF easily and for free.
There may come a time when you need to send someone a PDF containing sensitive information, such as your tax information, financial details, social security number, or other data. Of course, you don't want the information to fall into the wrong hands. If you password protect your document, only someone with the password can open the file.
How to password protect a PDF
Encrypting a Word document may be the best option for collaborating with others, but a PDF is the right choice for sending important documents. However, there are some complications here. Not only will you have to find a way to securely share your password, but the free version of Adobe Reader doesn't support password protection.
You can purchase the full Adobe Acrobat program, but it's an expensive prospect if you need to password-protect a PDF document on an occasional basis. Instead, a variety of third-party programs and online services will allow you to enter a password to your PDF file for free.
How much does Adobe Acrobat cost?
If you need to password protect your PDF documents very often and have decided to buy Acrobat, you will have to pay € 14,99 per month for an annual subscription or € 24,99 per month for a monthly subscription for Acrobat Pro DC. Acrobat Standard DC will cost you € 12,99 per month for an annual subscription or € 22,99 per month for a monthly subscription. Both versions support password protection, so you can save a few dollars by choosing the cheaper Standard plan.
If you only need a password once or for the next few days, get a seven-day free trial for Acrobat Pro. The only requirement here is that you will need to enter your credit card information to download the free trial. Just make sure you cancel before the seven days are up or you'll be charged € 14,99 plus tax for the entire month.
How to password protect a PDF document with Acrobat Pro
After installing Acrobat Pro, launch the program and open the PDF file you want to protect. click on File> Password Protect, then decide if you want the recipient to enter a password for viewing or editing the document.
In most cases, we recommend that you enable a password for viewing so that no one can even open the file without the proper credentials. Select View, then type and retype a strong password in the appropriate fields. The program will measure the strength of your password; click Apply to save.
Some documents, such as editable forms, may not be able to use password protection. In such cases, you may come across an error message telling you that the file cannot be saved due to an incorrect parameter. The trick here is to save a copy of the file and then protect the copy with a password.
In Acrobat, click File> Save a Copy and give the copy a different name than the original. Open the copy in Acrobat and try the password protection option again. After you have password protected the file, you should receive a message informing you that it has been successfully protected.
Enter or remove password
Now, when someone opens the file in Adobe Reader, Adobe Acrobat, or another PDF reader, they will be asked to enter their password to gain access. Type your password, click OK and the document content will be available.
To remove the password, open the file in Acrobat and enter the password. Click the lock icon on the left and click Authorization Details under Security Settings. On the Security tab for Document Properties, click the drop-down menu for Security Method and change the option to No Security. Acrobat will confirm that you want to remove the protection. Click OK and then save the file again.
How to password protect a free PDF with third party apps
Related articles:
How to highlight text in a PDF file in 5 easy steps
How to reduce PDF file size without losing quality on Mac
How to convert Word to PDF on MAC, Windows, Android and iPhone
How to export WhatsApp chat as PDF
How to prevent Microsoft Edge from opening PDF on Windows 10
PDFEncrypt
A free and open source alternative to Acrobat is PDFEncrypt, which offers a simple but effective tool for password protecting a PDF. The basic interface asks you to choose the file you want to encrypt. Then type in your password and click Encrypt. The secure version is renamed with the encrypted word at the end. A Settings screen offers more options, such as the ability to allow printing, copying and other actions.
PDF24 Creator
Another free PDF application is PDF24 Creator, which offers a number of tools under one roof, granting you the ability to edit, merge, split, convert, compress, secure and unlock a PDF. To encrypt a file from the main toolbox screen, click the Protect PDF button. Select the file or drag it to the screen, then create a password and click the Protect PDF File button. You can then save the protected file, ideally with a different name than the original.
PDF24Tools
The developers behind PDF24 Creator also offer an online version known as PDF24 Tools with a host of PDF features. Select Protect PDF, then search or drag and drop the file you want to protect. Enter the password and click Protect PDF File, then download and save the file. You must then enter a password to open the PDF.
Clever PDF
Another website is CleverPDF, which includes a wide variety of PDF tools. Open the Encrypt PDF page and search or drag and drop the file you want to encrypt. Check the box to require a password to open this document. You can also choose to restrict editing, copying and printing with an owner password. Click the Start Conversion button, then hit Download to save the encrypted version to your computer.
Further Reading:
How to password protect a zip file and folder
How to check if your password is secure using Google Password Checkup
What is a WPA2 password? I'll explain it to you
How to protect Whatsapp with two-factor authentication
How to password protect photos on iPhone