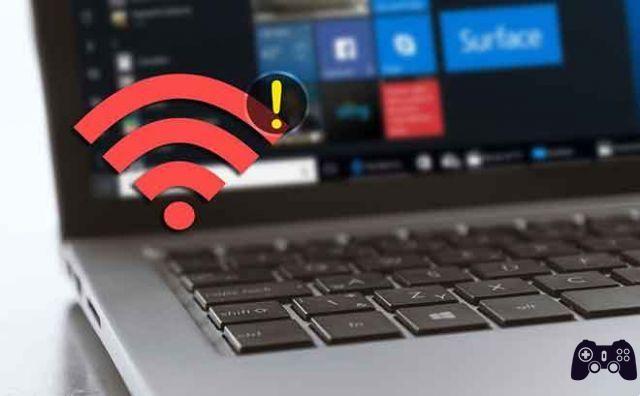 Connecting to the internet is essential when working from home or enjoying web-based content. Sometimes, you may notice a short delay or get no internet error even when connected to Wi-Fi. If you often encounter this on your Windows 10 computer and laptop, you should definitely fix it to enjoy your work and entertainment without any hassle.
First, you can check if you are having network connectivity issues with your LAN or router or if you are getting a message about network problems. After verifying that network connectivity is not the problem, you should fix the problem. We've written some helpful troubleshooting tricks below to help you troubleshoot Windows 10 network connection problems.
How to know who is using my WiFi
1. Check the power supply
The first thing to check is the reliability of the power adapters supplied with the router and modem. While most are reliable, you never know when these adapters stop working consistently. The only way to verify this is to use it with other compatible options or have the power lines tested.
Then you don't know that every time there is a power outage, the modem and router will stop working. This means that the WiFi signal is lost and you may need to manually turn them on after the power is restored.
2. Restart the modem and router
Just as you restart your computer, you can do the same with your modem and router. Restarting these devices deletes the old cache and DNS data. Go ahead and restart your computer, modem, and router. If your modem or router has a problem, it won't work properly after rebooting and that's how you can identify if something is wrong.
Have you installed a new firmware update on your router or modem and haven't restarted it? Well, you should reboot those devices to apply the new firmware update changes.
Step 1: press and hold the power button on the router for 30 seconds.
Step 2: when it shuts down completely, unplug all cables and wait at least 30 seconds.
Step 3: reconnect the power cord and Ethernet cables. Start the router and modem.
Once started, if you have another computer or phone, try going online on that device. If it's connected to the internet then that's all right, but if it's not, it's likely a problem with your equipment or your ISP.
Are you still facing network connection problems? You can continue to narrow down the problem with the following troubleshooting options.
How to improve your WiFi by choosing the best channel on the modem
3. Check the physical connections
Does your network problem persist even after restarting the devices? Before you start diving into the settings and tests, you can check if the Ethernet cables are properly connected to the modem and router.
If you use an Ethernet cable to connect to the router, be sure to unplug it and check it carefully for damage. If your laptop has a wireless switch (function + wireless symbol key), you can use it a couple of times to properly enable the wireless connection.
After verifying a successful connection, check your modem and adapter. Are the green lights on the router or modem blinking? If no lights flash after rebooting, your device may have difficulty operating normally. And if so, you may need to get a replacement or new hardware.
4. Forget the WiFi network
When you forget a network (the one you're connected to) and then add the same one again, Windows 10 treats it as a whole new network.
If network name conflicts make it difficult to connect your Windows 10 computer to the internet, manually forcing your device to forget some of them could fix the problem and get you online.
When you forget a network connection, it removes the WiFi network profile from your PC. Follow the steps below.
Step 1: select the Wi-Fi network icon on the right side of the taskbar.
Step 2: do click Network and Internet Settings.
Step 3: select Wi-Fi, then select Manage known networks.
Step 4: select the network you want to forget, then select Forget.
Next, select the WiFi icon on the taskbar and try to reconnect it.
How to forget (remove) a Windows 10 Wifi network
5. Run the Network Troubleshooter
If you are no longer able to connect to the network, you can use the troubleshooter to diagnose and eliminate some common connectivity problems.
To use the Network Troubleshooter on Windows 10, use the steps below.
Step 1: open the Settings app on your Windows 10 device.
Step 2: go to Update & Security> Troubleshoot.
Step 3: go to Other Troubleshooters> Inbound Connections and run the troubleshooter.
6. Disable the Firewall
As absurd as it sounds, the default Windows firewall may be preventing your computer from connecting to the Internet. You can temporarily disable Windows Firewall. Follow the steps below.
Step 1: press the Windows button.
Step 2: search for Windows Security and click on Firewall and Network Protection.
Step 3: do click on Private Network.
Step 4: turn off the Microsoft Defender Firewall toggle switch.
Step 5: open a browser and check if you can connect to the internet. Try loading different web pages to confirm if the problem is solved or not.
To re-enable the firewall, you can use the same steps, make sure the firewall status is enabled.
7. Update the network card drivers
If you get the error message that you cannot connect to the network while trying to establish a network connection, your network adapter drivers are probably out of date. Then you can check the network driver used by your Windows OS.
Step 1: Right-click the Start button and select Device Manager from the menu that opens.
Step 2: From the Device Manager app, go to Network Adapters.
Step 3: select the Ethernet network connection and right-click to select Properties.
Step 4: in the General tab you can find the name of the driver and the company that provided it. Then download it from the respective driver manufacturer, such as Intel, using another computer or you can do it using your phone with mobile data.
Step 5: one the driver has been transferred to your computer. Repeat steps 1-3 and instead of clicking on Properties, you need to select Update Driver.
After that, you can go to the location where you stored the Ethernet driver (module not stored) and install it.
8. Disable the third party AntiVirus software
A third-party antivirus or malware may also be causing the Windows 10 network connection problems. You can temporarily disable that antivirus program to see if it is causing the problem.
If none of these solutions help you get back online, there may be a network outage in your area. You can contact your ISP's customer service and write a support ticket.
Come back online
It's annoying when internet errors and frequent network problems occur on your Windows 10 computer. Usually, unknown software or the latest Windows update can cause strange network connection behavior.
Further Reading:
WiFi does not work on Windows 11, what to do
What to do when Windows 11 does not connect to the Internet
Slow Wi-Fi / Internet connectivity issues on Samsung Galaxy A20
What to do when Netflix crashes
Slow Wi-Fi / Internet connectivity issues on Samsung Galaxy A40