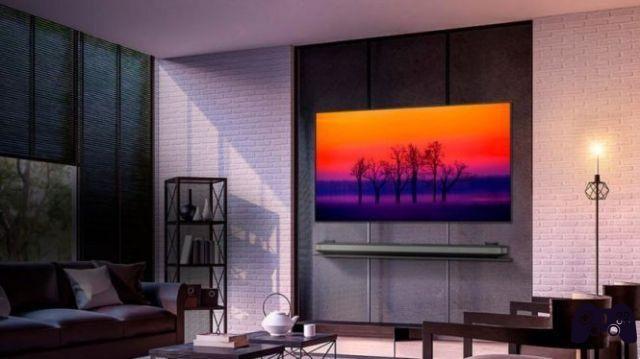 In this article you will find some tips on how to choose your OLED TV. Features, price, manufacturer, we will help you in choosing the next TV. You we offer 6 useful tips for choosing your OLED TV in 2022. Features like the screen that supporta l'HDR, has a powerful processor, integrates Artificial Intelligence, offers good sound quality and even a solid Smart TV platform, they tend to go unnoticed when the focus is on price.
How to choose your Smart TV?
For this reason, we are going to look at some aspects that you need to keep in mind before you embark on buy an OLED TV in 2022. As we said, technology OLED it was one of the most interesting during the 2018. The aggressive offerings that stores tend to apply to OLED TVs these days make them a treat that can't be resisted.
Why an OLED TV?
It is difficult to appreciate the difference between two TVs when shopping in an online store. More than anything else, because you can't stand in front of every model and experience for yourself what sensations they convey to you.
According to a study by the Complutense University of Madrid, carried out with the OLED TV in 2018, this technology increases sensory perception linked to emotions by 33% with regard to other types of backlit displays, such as Quantum LED TVs or traditional LEDs.
OLED it is a totally different technology from what we are used to seeing since, unlike TVs with LCD LED technology, the OLED does not use a backlight system to work.
The technology present on the LED LCD screens, even the most advanced on the market, consists in placing an LED light source behind the panel so that, after passing through a series of diffusing and polarizing filters, the light reaches the panel.
How to connect your smartphone to a TV from Samsung, Sony, LG and others
This liquid crystal or LCD (abbreviations for Liquid Crystal Display) is formed by a series of cells that form the pixels of the screen and, through a series of electric currents, are activated to pass the light in a certain frequency forming the images on the screen .
On the contrary, the OLED technology it is not based on backlight filtering, but uses 33 million small points of light that illuminate themselves.
This allows OLED panels to offer much more accurate color definition than LED models and pure black, as light pollution is eliminated in the colors produced by relying on a backlight source.
We could clearly see this effect if we are in a completely dark room and the image of the Moon in the night sky appears on the screen.
On an LCD screen, depending on the position of the LED lights, a trace of light and different shades of dark gray will appear on the screen so that, in the dark of the room, the perimeter of the screen can be easily demarcated, this type of panels it also needs light to show the black color.
How to install IPTV on LG Smart TV
Pay attention to the processor
In addition to having a true Artificial Intelligence system that facilitates the control of your TV, it is also important that the TV has a powerful processor that can adjust every frame that is displayed on the screen to offer the highest picture quality.
The processor is taken into account when buying a computer, but it goes almost unnoticed when it is chooses a television. This circumstance is surprising, since this component is directly responsible for color quality, image sharpness and the general operation of the TV. It would be like buying a car without taking into account the engine it mounts.
La processor power enables image refresh rates up to 1.000 times faster. This means that each pixel changes its state more quickly, eliminating the usual streak in action-packed scenes or sports broadcasts.
How to install IPTV on Chromecast?
Choose the smartest option
Although rivers of ink have been pouring into it in recent times, there are still users who confuse the terms AI (Artificial Intelligence) with simple voice aids. Artificial intelligence is more than just reciting voice commands.
Voice control is not something new in televisions, but this is limited to a very limited number of commands that must be spoken literally to perform certain tasks.
On the contrary, the real Artificial Intelligence which is integrated on the TV OLED, is able to understand the meaning of words and allow you to interact with the TV in natural language.
For example, thanks toReal Artificial Intelligence installed on televisions, you can ask yours OLED TV if you need an umbrella tomorrow and the Artificial Intelligence will answer you by offering you the weather forecast or ask to program your favorite program.
These are just a few examples of what you can achieve by simply asking your TV for a natural language, just like you would anyone, but it's not the only function of true Artificial Intelligence built into the OLED TV.
Thank you to the connectivity ecosystem or with the help of Google Assistant, your TV can communicate with the air conditioner to turn it on or adjust the temperature, with the lighting system to adjust the lights or search the internet from your TV without writing a single word.
How to install and configure IPTV on Android Box?
Dolby Vision, HDR 10 and other confusing acronyms
THEHDR is one of the features that you will find in the technical specifications of the televisions offered. OLED TVs offer full compatibility with different HDR standards.
Manufacturers can use different acronyms to differentiate their HDR systems, but in reality HDR standards are what they are: HDR10, Dolby Vision, Tecnicolor HDR and HLG. Don't let them confuse you. But do I really need my TV to support so many HDR formats?
THEHDR o Hight Dynamic Range offers a wider dynamic range of colors. That is, it allows you to show a greater amount of shades. The result is more natural and intense images that are closer to the way the human eye perceives the colors of its environment.
At the technical level, and simplifying the concept, HDR is a set of metadata that is inserted into the film or content by its creator. This implies that the content will always be reproduced with the colors and shades of light that its creator originally established.
Each HDR type it was created with a different metadata system which is not compatible with the other systems. It is the creator of the content who decides which type of HDR use, but it is the responsibility of the display to have the appropriate HDR format to be able to read that data and reproduce it correctly.
For example, if the creators of a series have decided to use Dolby Vision, you will need a TV compatible with this HDR format to be able to read this data.
Therefore, when you go to buy an OLED TV, It's important to pick one with broad support for HDR formats and not settle for those that only offer support for one or two formats. This way you will have more options to be able to enjoy a wider offering of HDR content.
Difference between Smart TV and normal TV
Don't forget the sound!
There is no doubt that picture quality is important to a TV, but buy an OLED TV e forget the sound quality…!
As a general rule, the sound quality of today's televisions is sufficient for watching entertainment, news, and so on. But as soon as you want to enjoy the most immersive experience of a TV series or movie, shortcomings can start to appear.
That's why the TV OLED 2022 integrate a system Dolby Atmos surround sound, integrated into the device itself or into a separate sound bar that offers a real and full 360 ° sound experience.
Il Dolby Atmos sound improves the directionality of audio by converting sounds into dynamic sound that can be moved across the scene in 3 dimensions, both horizontally and vertically. This makes possible a greater sonic immersion of the viewer as he will have the perception that the sounds will literally surround him.
A safe and easy to use Smart TV
We no longer design a television without an integrated interactive platform that provides the Smart TV functions. However, not all platforms are equally intuitive to use or, more importantly, not all meet the security standards you might ask for from other connected devices such as your mobile phone or computer.
The security of your Smart TV platform is probably one of the least appreciated aspects of choosing a TV. However, this feature should be considered as a device that is permanently connected to a network that is.
Beware your TV spies on you
So far, only the webOS 4.0 platform is the only operating system that has achieved the CAP 2900-1 security certification from UL Cybersecurity. This system offers protection during application installation and blocks unauthorized apps by verifying digital signature via DRM licenses to prevent cyber security attacks.
This operating system allows you to configure and customize the apps installed on your TV and browse through the application store more quickly and easily to access more multimedia content.
The webOS 4.0 combined with the remote control, included in OLED TVs, provides quick access to specific functions of shortcut buttons on the remote control voice instructions, or using the built-in real artificial intelligence and search for the information you need.
Look for quality and reliable brands
Some stores take advantage of the tsunami of offered to promote televisions of unknown producers who, in many cases, lack customer service or technical service in Spain, so in case of problems with the television ......... ..
Therefore, in addition to evaluating the technical specifications of the TV, it is necessary to take into account whether it is a reliable and widely used brand in your country. This way, you can get technical support from the manufacturer and avail of its warranty if needed.
The differences between LED TV vs. OLED TV
Further Reading:
Plasma vs. OLED, we find the differences
What exactly is Samsung's MicroLED technology (and how it affects your new TV)
Hard reset Huawei Y7 Pro 2022
OLED TV: what you need to know
What is an OLED TV?