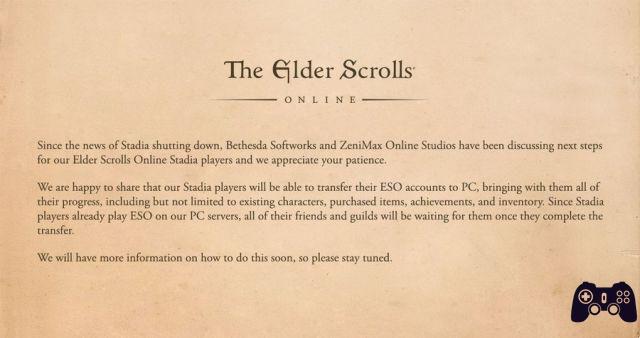 The shutdown of Google Stadia it came a bit like a bolt from the blue, at least for the ways in which it occurred. Two months before the announcement, in fact, Google itself had stated that there was no forecast of stopping the cloud gaming service, but the facts proved otherwise. And as we launch into reflections on the current triple-A video game industry, the problems of us consumers remain, who with a market that pushes more and more towards digital delivery risks making us lose games and above all the time invested in terms of hours. Some publishers have already announced their intention to transfer their titles to other platforms and obviously also the characters and the same has done Bethesda, which has decided to save all players of The Elder Scrolls Online.
Indeed, as reported on Twitter, the development team behind the MMO based on the single player adventure franchise decided to implement a character transfer, to avoid everyone losing their progress. "We are pleased to be able to announce that Google Stadia players will be able to transfer their The Elder Scrolls Online accounts to PC", the words contained in the press release launched via the social network. "Since the servers were shared with the other versions of the game, all friends and guilds will remain at your disposal". All right, right? Absolutely no.
In fact, the solution puts us in front of another problem, also raised by PC Gamer colleagues and above all by users. Those who played on Google Stadia did so because they didn't have a high-performance PC available. Cloud gaming frees from hardware barriers and transferring to other clients may not be enough. While it is true that player progress is not lost, it is also true that it is difficult to continue playing if there is no platform to do so.
A message to our ESO Stadia players: pic.twitter.com/eEIrKyRTDi
— The Elder Scrolls Online (@TESOnline) October 6, 2022
The closure of Google Stadia therefore leads us to open a greater question: when a certain cloud gaming service closes, how will users be protected? At the moment this aspect only concerns the Mountain View service, given that each game was still subject to payment unlike what happens towards other shores, but the question remains legitimate. And it's just another of many that show us how this technology is the right path for a democratic industry, but perhaps still too immature.