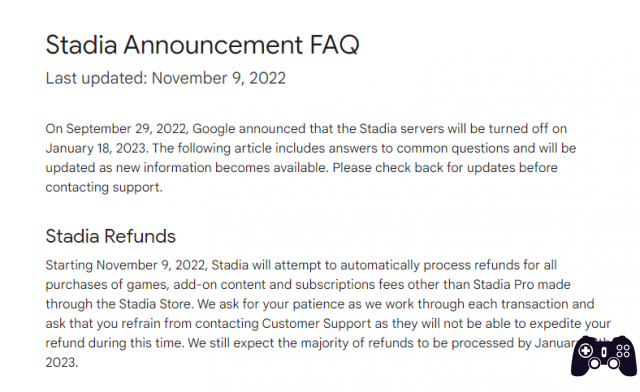 After announcing closure over the last few months, now Google Stadia refunds are coming. As reported on Twitter, in fact, Mountain View has begun to reimburse various users for their purchases, such as games. The news doesn't take us by surprise, but it is the reality that knocks on our door: the Big G project has definitively stalled and is now on the verge of closure.
Taking note of the reality, how much will Mountain View lose from this closure? It is not possible to say officially, but according to some users, the refund could be around 900 dollars for each user. According to some reports, Google Stadia had as many as 750.000 monthly active users and the calculation could be close to 675 million dollars. The real numbers will probably be very different, but all this analysis makes us understand that behind the failure of the serve there was actually a beating heart of players, which could have become much bigger with the right strategy.
Behind the closure of Google Stadia there are gross errors, such as the idea that players should buy necessarily games despite being a cloud service, and rrrr the closure of first party studios that have not been able to create original productions to add value.
Stadia refunds are starting to roll out this week https://t.co/WBpZCbnwWq pic.twitter.com/nZYVAB2KJQ
— Wario64 (@Wario64) November 9, 2022
Google Stadia will officially shut down on January 18, 2023. It's not yet clear what will happen to hardware, such as controllers. However, someone has asked Google to make the firmware open source, in such a way as to use the device on other consoles as well. And in a world where the recycling of plastic and other waste continues to be a problem, perhaps this solution would be greatly appreciated by everyone and not just the customers of the service. Keep following Tom's Hardware for all the news and upcoming announcements from the world of video games.