The love story between video games and gamers it's always been a threesome. As in the most overwhelming stories, this too thrives on a dispute that since the dawn of the medium has led gamers from all over the world to share the purest love, felt towards the game, with a different love, a love that shifts its attention from the product, and focuses on the shopping experience, in the place where this magic happens, namely: the video game store. Currently synonymous with GameStop.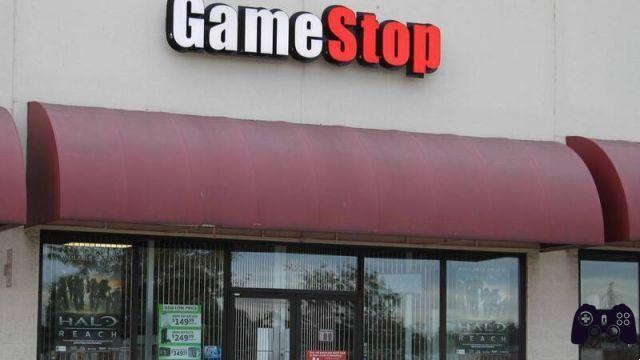 Those who now count quite a few candles on their cake, however, will be able to tell you about towns, cities, where video game shops proliferated, and served as a real point of reference, without which one's passion would have been totally abandoned to itself. itself, in a world that still didn't have the internet to unite us, to allow us to have information other than that printed in the few sector magazines or in the meager manuals present within the games. That era ended, and a different, potentially better one began, with the birth of a single true point of reference, scattered almost everywhere, which would have allowed new ways of understanding the video game trade to make their way, combining commercial offers capable of affecting an ever-growing audience of players with an aesthetic recognizable everywhere: precisely GameStop. This relationship as we know, compared to the love affair with the independent shops, lived through ups and downs.
Over time, the chain of stores has changed many faces, and often its manifestations have not been able to meet the good will of its customers (especially the hardcore band), due to a not always so advantageous commercial offer; even the sensation of being in a place where the preparation of the personnel was not always of the level expected for a specialized shop, has instigated a certain amount of murmurs that are hard to contain. Still, GameStop is a piece of history, like it or not. And as a player, despite having been confronted with all its different faces, I can't help but get excited even today every time I cross the threshold of one of the points of sale. Whatever you prefer, Gamestop has accompanied us in our growth as gamers since the early XNUMXs, and for many of us it now represents a real place of the soul. Let's visit it from our eyes, and from those of the market, to figure out where exactly he is now.
Fleeting moments within the walls of a shop
To write this article, first of all, it is necessary to detach oneself from the sum of bad moods accumulated during the various wanderings in social networks and forums, for all these long years. And slip away, towards a different place, a place more ours: a corner of the heart. That place that manages to help us understand more clearly why the GameStop writing will always have an important meaning for us, regardless of the future evolutions of the company (which unfortunately has just recently announced new cuts).
What do we find inside that sentimental cave? First of all, a sack full of moments, and memories that go far beyond the simple moment of purchase. The video game store was and is a place where, for a large part of us, an articulated purchasing process has always been finalized, which started from afar: the choice, brooded for a long time, with respect to buying or not a certain console or a title. As we well know, unlike what happens in other media, this type of choice involves a period of in-depth evaluation, partly due to the not always low price, partly because playing video games also means "taking part", becoming actors: a effective and emotional participation of high impact typical only of our beloved medium. All this process of assimilation, by opting for the physical purchase, is finalized right in the shop, and from there the genesis of many small fleeting moments.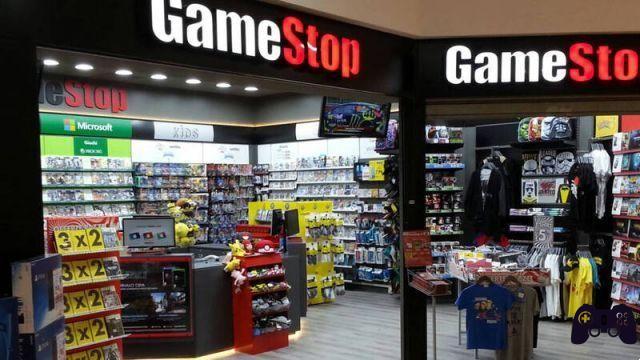 How can we forget, for example, the journey made to finally go and grab a new generation of consoles? The door to a new world of dreams, desired for many years. The path, perhaps very short, it becomes a journey of transition, perhaps accompanied by friends who share our passion and they care about being part of the moment. Time seems to slow down as soon as you cross the threshold of the shop: on balance the purchase takes place in about twenty minutes at the most, but in the world of memory the outlines become totally indistinct, pleasantly immortalizing the background situation and location. This is how its red and white sign takes on greater importance than its commercial nature gives it: it becomes personal, it comes forward with us in life. Together with the chats exchanged with the assistants (between one Game Protection - not requested - and the other), which in an instant turn into small forums, with other customers who intervene in the dialogue: opinions are exchanged, emotions are shared, and the walls of the store, always full of gadgets and conversation starters, are the perfect container for these trivial moments that characterize the life of any gamer, and which have a value that knows no expiration or obsolescence.
The battle against time
Despite these feelings, it is natural to detach yourself just enough to be able to understand the other face of GameStop, or "the other faces", the set of all the changes that the chain has put in place to be able to adapt to the times, with the digital spectrum gradually starting to change the identity of what has never been "just" a chain of shops dedicated to the sale of games and consoles. With its future at stake, between the constant downsizing of stores and staff cuts, the chain has been able to propose solutions over time that are sometimes even able to anticipate the trend of the times. GameStop's "Gamepass", "Power Pass", is the stuff of 2017, a system that allowed the user to benefit from all the titles used in the catalog simply by paying a monthly fee. From models that have proved to be unsustainable (its life was only a few months), to those that are constantly profitable, capable of enhancing everything that could not be digitized to make this chain even more of a meeting point and experience for players. The area dedicated to gadgets, if in the early 20s it occupied XNUMX% of the store space, has come to conquer a preponderant slice of the available shelves. Over time, collateral business models have been added, such as collaborations in the capacity of co-development of titles under the label of GameTrust Games, or the more recent NFT market, which unfortunately has already proved not so profitable. And then communication. Lots of communication.
Next to the Gamesoul editorial team, here is a GamStop TV capable of entertaining his audience with dear faces and prominent signatures of videogame journalism: a signal consistent with the times, where the concept of clientele is replaced by that of community. Community that will prove to be the protagonist of the sudden and historic speculative bubble that saw the company protagonist in the January 2021 share boom, complete with a documentary recently landed on Netflix that you can catch up for a good insight. In short, a lot of irons in the fire, many changes of course, not many happy ones, but the intention transpires crystal clear: "we don't want to be the new Blockbuster and we will try every possible way not to become one".
Despite everything, still indispensable
What we have summarized for you is just a cross-section of the size of a multidimensional company, really hard to read. Considering these elements, however, what really remains today? Leaving aside the nostalgic feelings and the myriad of more or less successful transformations to which the company has accustomed us, what should we expect? What makes us still need you as consumers, and as gamers?
Reasons remain, and here are some glaring ones: first of all, its concentration of shops in obligatory passage points. A factor that makes it easy for us to glance at commercial offers and interesting news, focusing on an immediate buying instinct at the sight of tangible objects which, even in this increasingly digital world, still carve out a large chunk of the cash flow of the sector. A showcase effect that even hardware manufacturers know they cannot do without. Secondly, there are the pre-millennial generations, who still see this medium and this market as a stormy sea, and when they need to buy/give something away, they need a beacon of reference.
Third, last for now, but perhaps the most determining factor in the long run: that experience, mentioned several times in this article, collected and inherited from all the video game shops that came before this gigantic chain, a gem that the company almost unknowingly finds itself in possession of, together with the hearts of gamers who, probably unaware, do not know that they still need places such. Places where one's passion can feel welcomed, within walls that represent it. Even just for a quick look, between one move and another.
An experience which, however, now needs to be seriously refined by a company that must be aware, in order to survive, that the first two survival drivers we have listed are linked to time, and therefore will gradually give way less. While, as the history of theatre, cinema and comics stores teaches us, physicality understood as experience remains an indispensable value for any model of sale or artistic use: there is no digital medium capable of totally excluding it from the laws of the market. GameStop knows this. The game now is just not to have the scepter stolen from under your nose, capitalizing on the history of a company that, with more or less glory, is already an indelible page in the history of this medium. And our lives as gamers.