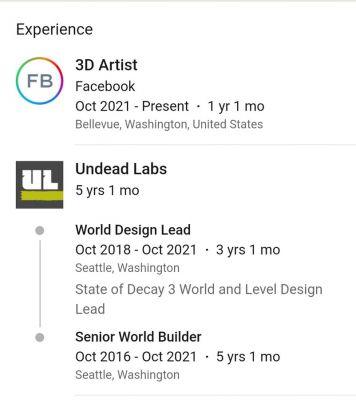 Among the many exclusive Xbox Game Studios, very often someone forgets about State of Decay 3. Perfectly understandable: the game under development at Undead Labs was shown only once and with a CG trailer in 2020. Phil Spencer's reassurances are certainly important to reassure fans , but until today it was not yet certain when the development had started. Now, according to a resume that surfaced on LinkedIn, we may have just found out this small but important detail.
As reported on Twitter, in fact, State of Decay 3 would be in development for at least 4 years. According to the curriculum vitae of a 3D artist present on the social network dedicated to professionals, in fact, work on the game would have started in October 2018. Clearly we cannot take it as a true and proper indication of when Undead Labs began work on the new chapter of the series, but they would reconfirm the words of Matt Booty declared on the occasion of E3 2018, when Microsoft announced the acquisition of the development team and a willingness to offer at least one more iteration of the franchise.
Assuming that the game has been in development for at least 4 years, it is therefore very probable that next year will be the right one, not so much for its release (not very likely, considering the size of the development team and the ambitions of the project) but at least to take a much deeper look at the game. Clearly do not take these words for granted: ours are in fact only hypotheses, based on the development times of this industry that we have now learned to know.
State of Decay 3 from Undead Labs in the work since atleast Oct 2018… So It's already 4 Years in dev. Any chances of late 2023 release??
#Xbox #XboxGamePass@bogorad222 @Xbox_Series_XS@jonylj20 @IdleSloth84_ @eXtas1stv @JezCorden
Source: https://t.co/En4EjyVxjZ pic.twitter.com/1qwzee1xyQ
- Faizan Shaikh (@ FaizShaikh7681) October 9, 2022
Besides Undead Labs, other Microsoft studios also seem to be slightly dormant. Among these we find inXile Entertainment, a development team founded by industry veterans who have been working on a mysterious project for several years that has not yet been announced. Among the many titles that we know well from Xbox Game Studios there are therefore several still mysterious games, which will be revealed at the appropriate time. Will you be patient?