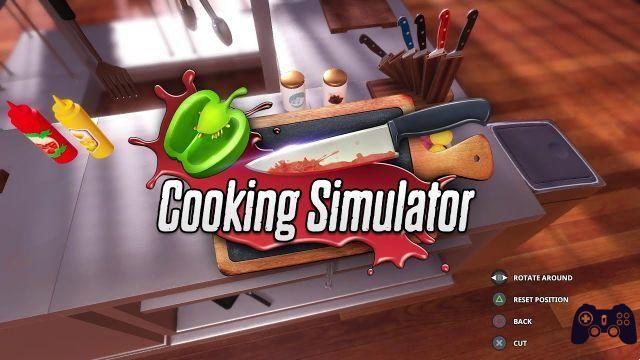 There are very few really good cooking video games these days. Sure, it's easy to find titles that allow you to get your own food and cook it, but works that have the kitchen as a central element, and that offer a realistic and entertaining experience, are quite difficult to find. Of course, though, that doesn't mean they don't exist; looking well, in fact, you can find cooking games that turn out to be real pearls.
In this article, therefore, we wanted to collect what we believe to be top 8 cooking games, which you can find on PC, PlayStation, Xbox and/or Nintendo Switch. In the following paragraphs you will find titles of all kinds: from management to action games, up to even the horror genre!
#1 – Battle Chef Brigade
This item will be released on November 20, 2017
Sviluppatore: Trinket Studios
Genres: action, fantasy
Piattaforme: PC, PlayStation 4, Nintendo Switch
The first title on this list is Battle Chef Brigade, a very original fantasy game that puts us in the role of Mina, a young girl who decides to test her culinary skills in a competition in which she will have to compete against all the best chefs in the kingdom . In our adventure we will grow together with her and we will face various adversities that will hinder our path.
How will we get the ingredients to cook our dishes? By taking out the monsters that populate the entire kingdom! We will have different skills available with which we can deal with them, but be careful: our job is not limited only to preparing dishes left and right. In fact, we will have to prepare dishes that will amaze the judges, based on factors such as the main element of the course and diversity. Even the smallest mistake could compromise the result, so you need to pay attention to all the ingredients you use.
#2 – Overcooked! All You Can Eat
Release date: March 23, 2021
Sviluppatori: Team17, Ghost Town Games
Genres: action, co-op
Piattaforme: PC, PlayStation 4, PlayStation 5, Xbox One, Xbox Series X/S, Nintendo Switch
Obviously, Overcooked cannot be missing from such a list, one of the most chaotic titles that can be found on the market. Join forces with your friends to tame a kitchen that will do anything but come at you, putting countless obstacles in your way that will make your life hell. So arm yourself with enormous patience, and above all get yourself friends with whom you can collaborate: being in sync is a key element for this game.
The series currently features two chapters, with the first dating back to 2016 and the second to 2018. Overcooked! was released in 2021! All You Can Eat, which contains both titles in a remastered version at 4K and 60 FPS, as well as obviously new unpublished content. Between the old levels and the new ones, in fact, this experience offers a total of well over 200 different levels!
#3 – Cooking Simulator
This item will be released on June 6, 2019
Developer: Big Cheese Studio
Genre: simulation
Piattaforme: PC, PlayStation 4, Xbox One, Nintendo Switch
If you are looking for something that does not detach too much from reality and which, on the contrary, emulates it in the best possible way, then Cooking Simulator is the most suitable title for the purpose. This game offers an extremely realistic experience of what it would really be like to take care of the kitchen of your own restaurant and prepare dozens and dozens of different dishes, using all the necessary utensils and with an arrangement of more than 100 ingredients.
The game has achieved massive success since its release, and to top it off it's even available for VR. It doesn't get more immersive than this!
#4 – Plate Up!
This item will be released on August 4, 2022
Sviluppatore: It's Happening
Genres: management, co-op, roguelite
Platform: PC
PlateUp comes with very simplistic graphics, which don't reflect its hyper chaotic gameplay at all. Just like in Overcooked, the aim of this game is to team up with your friends and manage your own restaurant, which will be flooded with hungry and impatient customers day after day, but beware: the roguelite element is also added to this game .
This means that as you progress through the levels we will then have the opportunity to unlock new bonuses that will make the gameplay even more varied, both positively and negatively. However, the key element of this game is cooperation, without which it is almost impossible to advance, so make sure you find friends with whom you can work best.
#5 – Cook, Serve, Delicious! 3?!
This item will be released on October 14, 2020
Sviluppatore: Vertigo Gaming Inc.
Genres: Time Management, Simulation
Piattaforme: PC, PlayStation 4, Xbox One, Nintendo Switch
This game is the definition of mayhem, and arguably one of the hardest of its kind. The title provides us with different places where we can set up our kitchen and serve our customers; If it seems to you that everything is normal here, you are very wrong. In fact, as you continue with your adventure, the game will reach a level of frenzy that will put even the most experienced players in difficulty, making each level a real challenge.
Cook, Serve, Delicious 3 is the last title of the trilogy of which the first chapter made its debut in 2012, and still continues to enjoy great success today due to its incredibly challenging gameplay and well-maintained graphics. In fact, in the series, each dish and ingredient features extremely detailed drawings, portraying the food in question with impressive realism, considering the cartoonish style of the game.
#6 – Dungeon Munchies
This item will be released on June 5, 2019
Developer: maJAJa
Genres: adventure, pixel art, fantasy
Piattaforme: PC, PlayStation 4, PlayStation 5, Xbox One, Nintendo Switch
Another excellent title that combines cooking and fighting in one is undoubtedly Dungeon Munchies. The protagonist suddenly finds himself in an underground area, in which he is forced to make a living. We will therefore meet many different creatures who will give us a hard time (among which there will obviously also be numerous bosses), and which we will have to kill to ensure a hot meal.
This super frenetic title offers us extremely stimulating gameplay, combined with the possibility of combining all the ingredients collected during our adventures to cook many different dishes. The latter, however, do not only have the function of feeding us: in fact, we will have to evaluate well what we will cook, as we will be able to receive various bonuses to our statistics to help us in the fights.
#7 – Recipe for Disaster
This item will be released on November 4, 2021
Sviluppatore: Dapper Penguin Studios
Genres: management, simulation
Platforms: PC
Recipe for Disaster is a game that allows us to put ourselves in the shoes of a restaurant owner and manage it in all its aspects: menu, staff, structure and many other elements will all depend on us, and therefore the success of our place it will depend entirely on us and our entrepreneurial skills.
It will therefore also be our job to keep the restaurant up to date. This means that we will have to regularly update the menu, keep the place clean and improve the cooking stations. The staff, of course, will also play an important part: each employee is specialized in certain roles, so it will be necessary to choose them intelligently to ensure that the restaurant runs at its best.
#8 Happy's Humble Burger Farm
This item will be released on December 3, 2021
Sviluppatore: Scythe Dev Team
Genres: horror, action
Piattaforme: PC, PlayStation 4, PlayStation 5, Xbox One, Xbox Series X/S, Nintendo Switch
This title is undoubtedly the most borderline on the list, and it's definitely not for everyone. In Happy's Humble Burger Farm our protagonist has the "luck" of being able to find work in a fast food restaurant, where he will work the night shift. His job will be to manage the place and keep customers happy, serving them what they order. So far nothing out of the ordinary, right?
This is where the game gets weird: if we fail to meet the needs of our customers, horrific creatures will start chasing us to make a decidedly more aggressive "quality check" than normal. We will therefore have to make sure that the clientele is happy enough with our service if we do not want something (or rather, someone) to severely punish us for our mistakes.
These were our top 8 cooking themed games! Did you already know them? Which of these will you personally try? Let us know with a comment below.