If there's one thing Ubisoft definitely can't blame with Far Cry 6 it's definitely the post-launch support. The latest episode of the famous open world FPS saga has indeed received numerous DLCs over time and additional contents, aimed rather than at increasing the original experience of the title at proposing different parallel adventures. After having played the most famous villains of the saga, such as the unforgettable Vaas of Far Cry 3, and having celebrated Stranger Things with a very successful cross-over mission, this time it's time to immerse yourself in an even different setting with Far Cry 6 Lost Between Worlds. A supernatural sentient entity, fragments to recover and dreamlike settings: will this last journey into the world of Far Cry 6 have managed to convince me or is it perhaps time for Ubisoft to move on about it?
We reviewed the game with the following PC:
GPU: Zotac RTX 3070 Twin Edge OC
MOBO: Asus ROG STRIX Z370-F
RAM: G.Skill Trident Z RGB 16GB DDR4 3200MHz
CPU: Intel i5 8600k 3.6 GHZ
SSD: Sabrent SSD 2TB Rocket NVMe PCIe M.2 2280
Keyboard: Corsair K70 LUX LED Rosso Cherry MX Brown
Mouse: Fnatic Flick 2
Headphones: Logitech G930
Monitor: Samsung C27HG 70 Quad HD 144Hz HDR
Interdimensional rift
Far Cry 6 Lost Between Worlds si apre con one strano meteorite crashing on the fictional Caribbean island of Yara, drawing the attention of our digital alter-ego Dani Rojas. Once we reach the crash site we will soon meet a mysterious sentient being called Fai and we will be trapped in a twisted space, in a kind of fold between the worlds where the Yara we have come to know is distorted in a thousand different ways. A trap from which we could only escape by finding five fragments that went missing and hidden between interdimensional rifts.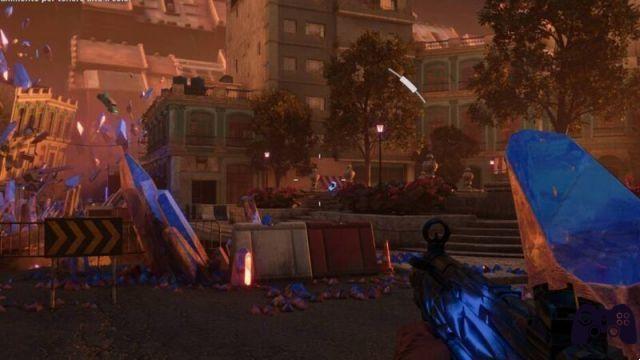 A decidedly particular and science fiction setting, which does not seem to have much in common with Far Cry. The narrative aspect of this DLC is in fact clearly only a mere and simple pretext for experiment with different mechanics, with Far Cry 6 Lost Between Worlds that is a sort of cauldron of many experiences, also profoundly different in terms of gameplay. In short, do not expect who knows what revelations or mysteries about the nature of Fai and the mysterious meteor, but a colorful fan on which to observe what is the core experience of Far Cry 6 from a whole series of different points of view.
Many worlds, many approaches
Indeed, in our search for the 5 fragments, we will dive into about fifteen missions, each of which is governed by particular rules and capable of clearly change what is the approach of the player. In one, for example, we should flee at breakneck speed from the top of a mountain chased by a dangerous dimensional vortex, while in another we should move with lead feet from one refuge to another, in order to avoid being taken in full by the lightning from a particularly aggressive storm.
Just in the ability to offer this series of missions that require a different approach and philosophy is to be found the main strength of Far Cry 6 Lost Between Worlds. Of course, the quality of each of them is not always very high, but ultimately it is really complex not to be satisfied with the offer content of this DLC. Missions such as the previously mentioned escape from the mountain are in fact worth the price of admission by themselves.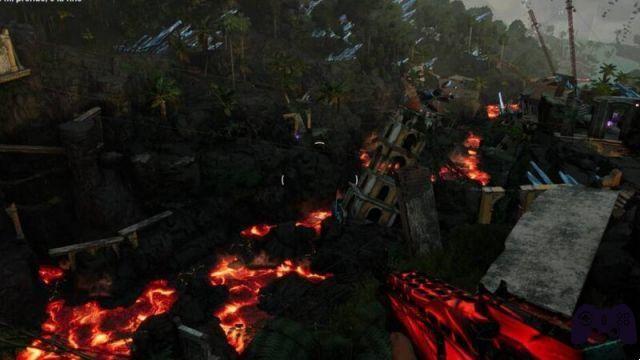 As a corollary of the whole experience there is then a whole system which, in order to reach the various lost fragments, leads us to play each mission over and over again. If repeating some of them isn't actually the best, others lend themselves very well to being enjoyed in a different way, thanks to multiple routes and more. Repetitiveness is partly reduced by some gadgets that are unlocked by obtaining the first fragments, such as a passe-partout or a grappling hook, and which allow access to still alternative routes. In most of the fifteen experiences of Far Cry 6 Lost Between Worlds, in short, you will not feel the weight of having to do the same things again, thanks to a series of small but useful tricks and the nature of the maps themselves.
Far Cry 6 Lost Between Worlds: between duotone and dreamlike settings
Also interesting is the mechanics devised by Ubisoft for those who are the opponents of the title. The various enemies that will block our way in our quest are in fact distinguished by two colors, red and blue. A chromatic binomial that we can also find in our weapons and which indicates those who are the wounded antagonists. With a red weapon, for example, we will only be able to damage its opponents, while a blue one will only be effective if aimed at enemies of the same color. Fortunately, it is possible to change the color of a weapon on the fly with the simple press of a button, thus rendering all less frustrating and even more adrenaline-pumping. Successful, although not unforgettable, even the inevitable boss fight.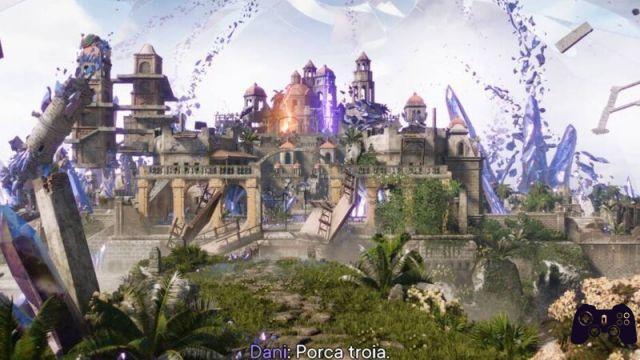 Another great strength of Far Cry 6 Lost Between Worlds is certainly that relating to the various settings. Even more than what we have already seen in the trilogy of additional content based on the famous antagonists of the saga, here the transalpine publisher has given himself to mad joy, proposing scenarios as dreamlike as they are beautiful to seeand, with many gimmicks able to make everything even more captivating. As well as in gameplay, too visually each map differs partially, as if it came, precisely, from a different dimensional fracture. You can get a taste of the goodness of the various settings by simply enjoying the image above.