Are you gamers and are you looking for new ways to enrich your recently built workstation, perhaps with a desk as a base? In this case, a quality gaming chair must absolutely be among the first options to consider, without ifs and buts. In this period, then, we find ourselves in a moment of the year in which summer has already begun: the days are getting hotter and hotter, and for this reason the choice is more easily oriented towards one of the best fabric gaming chairs available on the market. In this way you can have a comfortable seat that at the same time does not get too hot, especially in the case of play, work or study sessions that keep you busy for entire afternoons.
Before exploring what are some of the best fabric gaming chairs currently available, we remind you that on our pages you can find other guides very similar to the one you are about to read, related to the best gaming chairs ever, to the best gaming chairs leather and the best gaming chairs under 200 euros.
Black Friday gaming chairs: the best offer
SecretLab Titan EVO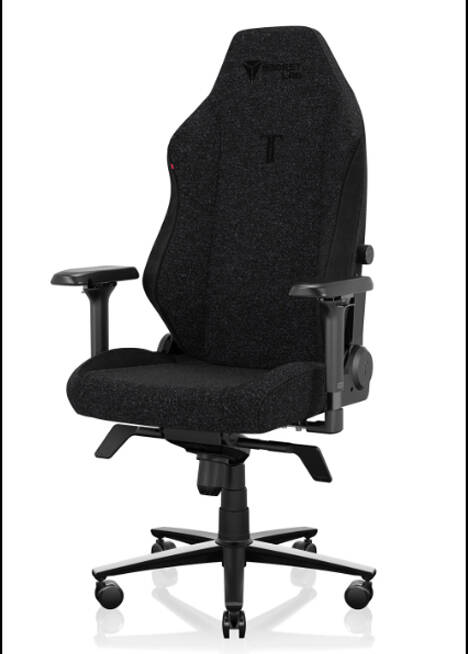 SecretLab is one of the best known brands when it comes to gaming chairs, and has been a leader in the sector for several years now: the company produces three different models, each of which is also available in fabric. The best known, as well as already amply sufficient for the needs of many, is the Titan, especially suitable for people of large stature. The new EVO 2022 model is even more comfortable and performing than the previous SecretLab chairs in the Titan line. SecretLab Titan EVO 2022 in SoftWeave Plus fabric is available in several different variants, one of which, available in a limited edition, is dedicated to Overwatch (specifically, to the character of D.Va).
See on Secretlab
Fabric gaming chairs, the best
Woltu BS38, the cheapest
oversteel
Corsair T3 Rush, the most elegant
SecretLab Titan EVO 2022 XL, the largest and most resistant
oversteel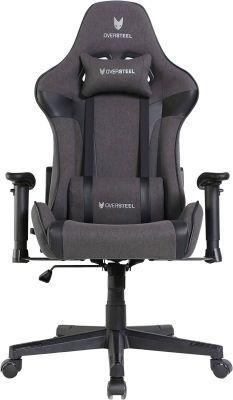 Oversteel gaming chairs are an excellent alternative to the top of the range currently available on the market, and can count on an excellent relationship between the build quality and the price, not exaggerated. The series in question is one of the flagship Oversteel ones, which produces various chairs in different cuts and materials, including various models in canvas or breathable fabric: those below include a series specifically designed for gaming and one openly for office use but capable of adapting to gaming in a versatile way, also thanks to the very similar design. Apart from the differences, each model is united by a good solidity and can count on various adjustments, which allow the seat to be oriented in depth, up to a maximum of 135 degrees. In all the models listed below there are, as accessories, also a headrest and a lumbar cushion, both in eco-leather.
See on Amazon
Woltu BS38 Office/Gaming Chair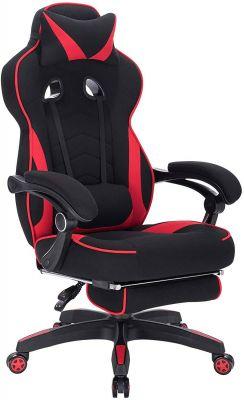 If you are looking for something less flashy and perhaps a little cheaper, but equally valid, the chairs of the series Woltu BS38 they can do it for you. Available in four different colors (with white, blue, gray or red inserts), the chairs in this series are characterized by the material, entirely in breathable fabric, and by the adjustments (up to 155 degrees), which are combined with a more than good general solidity. The armrests, as well as being able to be adjusted in height, can be rotated, guaranteeing greater possibilities of choosing their position. Present, also in this case, the headrest and the lumbar cushion, both in polyurethane. The maximum capacity of Woltu BS38 chairs is 120 kg (declared), while the dimensions do not exceed 135 cm in height (maximum adjustment).
See on Amazon
See on eBay
Corsair T3 Rush, the most elegant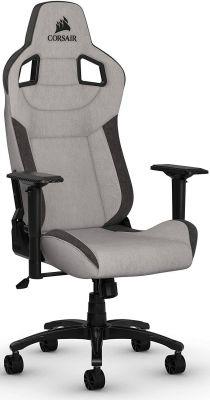 As with many other PC component and accessory manufacturers, Corsair has also entered the gaming chair market for some years: the company has always been a guarantee of products built with materials of the highest quality, and also the gaming chair Corsair T3 Rush is no exception. It is a fabric gaming chair, with a sober and elegant livery, with colors (in grayscale) that closely resemble the Corsair brand, which is also imprinted on the backrest. The material, in mixed fabric with synthetic polyester, guarantees exceptional breathability, among the best in the category; present, as accessories, also a padded cervical pillow and a memory foam lumbar support, a distinctive feature among gaming chairs, which allows the Corsair T3 Rush to stand out for its comfort and makes it suitable for those suffering from back problems.
See on Amazon
See on eBay
SecretLab Titan EVO 2022 XL, the largest and most resistant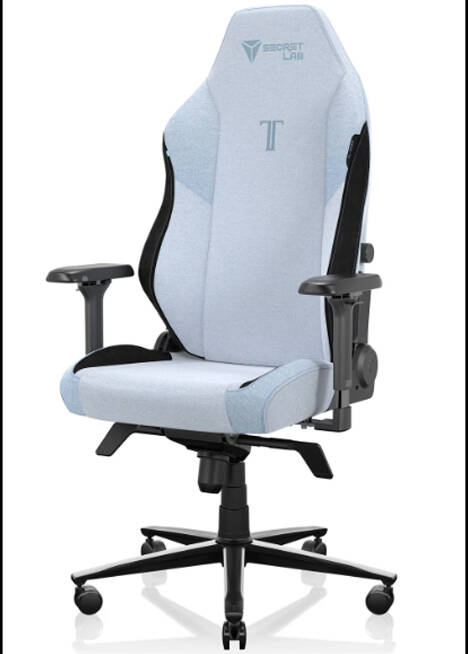 If you are not within the height and weight range of the SecretLab Titan EVO and you don't have particular budget problems, you can bet directly on the SecretLab Titan EVO 2022 XL, which is distinguished by an elongated backrest and a reinforced tubular structure, which allows it to adapt to people from 181 to a maximum of 205 cm tall and weighing no more than 180 kg. The fabric version of SecretLab Titan is also available in different colors. also the Titan EVO 2022 XL model can count on an unparalleled build quality, at the top of the range of gaming chairs and SoftWeave Plus fabric.
See on Secretlab

How to choose the best fabric gaming chair
Choose a fabric gaming chair it can be a not exactly immediate operation if you don't get adequate information on the properties of the chair itself, which can be useful especially in the hottest months of the year (these chairs, in fact, give their best in those situations). We have therefore compiled a series of briefs below tips to help you choose and opt for the fabric gaming chair best suited to your needs and requirements.
Materials
La choice of material, in a chair like this, is of vital importance to be sure of making a good purchase. When you decide to opt for a fabric gaming chair, in fact, you do it mainly because you are looking for a breathable material, which helps to make long sessions of play or work in the summer months more bearable. Even if it is not easy to get an idea from the images, knowing the properties of certain materials (fabric, canvas) can be essential to understand at first glance which ones are best suited to your needs. Usually those looking for such materials prefer to avoid leather or imitation leather, but for those looking for hybrid solutions we have also included chairs such as the DXRacer Formula in this guide, famous precisely for their mix of fabric and leather which can come in handy during the change of seasons: cool in summer, warm in winter.
Adjustments
The adjustments (of the seat and back, respectively in height and depth) can be of vital importance, especially if you use your gaming chair in a particular position and need a certain configuration. The gaming chairs on this list all have one thing in common seat height and backrest adjustments, now inevitable elements in every good chair used for the use of video games. However, the more you scroll through the products in the guide, the more you will find adjustments for every other small detail such as the elbow rests or lumbar cushions, other elements that can considerably increase the comfort of your gaming sessions.
Supports and accessories
In a good gaming chair, elements such as the adjustable armrests and the "external" accessories to the seat itself: it may seem trivial, but sometimes the latter are very important, especially for those suffering from back pain or have joint problems of various kinds. THE headrest and lumbar cushions, for example, have now become a standard for gaming chairs and are almost always supplied as standard in the case of medium or high-end models. Optionally, some chairs can also offer a footrest, but these are mostly models devoted to relaxation, perhaps for breaks between game sessions.
Constructive quality
Since fabric chairs are rarer to find than leather ones, in many cases it's quite easy to be fooled by good materials and think that the entire gaming chair is built well, but this is not always the case. A good gaming chair must also be evaluated for its frame and for its internal structure: it is important, above all, that the key parts (joints, welds, etc.) are solid, in order to have a durable product in your hands over the years.
Price
Finally, let's also talk about the price, which is always very central and decisive in every purchase. Well, the much talked about gaming chairs, as demonstrated by the products we have listed in the guide, are characterized by very different prices. The minimum wage to grab an enjoyable product that meets expectations is to spend around 130 euros. With such a budget you will already be able to take home a good chair, even equipped with a pillow to rest your neck and head. Needless to say, as the price increases, the various comforts offered by the products will also increase, just like the construction quality and the materials used, but a higher investment is required. As always, therefore, keep in mind the use you intend to make and choose accordingly.