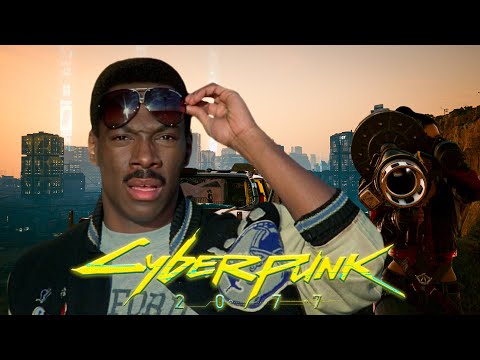 In the last period, Cyberpunk 2077 has experienced a real renaissance. Between the new anime series produced by Netflix and the content that CD Projekt RED is ready to launch in the coming months, many players have returned to Night City. This has produced a fair amount of new mods that have also brought unlikely characters to walk the paths imagined by the Polish studio author of The Witcher series (which you can buy on Amazon).
What we are talking about today, however, is not a mod but a mash-up made by a youtuber known as eli_handle_b.wav. The author of this content, in fact, has created a video in which we can see Axel Foley, iconic policeman played by Eddie Murphy in Beverly Hills Cop, protagonist of some scenes of Cyberpunk 2077. As a mashup, this video is made with a montage that takes scenes from the film and, isolating the actor, brings him back into the game scenes.
Therefore, it is not a playable content but an interesting video experiment in which we can see Eddie Murphy acting alongside the characters of Cyberpunk 2077. Mixing the dialogues of Beverly Hills Cop in which Axel Foley makes fun of his interlocutors with the typical irony of the actor in action scenes, the video has a very funny result. Also noteworthy is the level of cleanliness achieved for the images taken from the film that blend with the game scenes with impressive clarity.
Finally, we point out that on the eli_handle_b.wav YouTube channel you can find many other videos of this kind. In fact, the content creator has already created similar products by inserting equally crazy characters like Ace Ventura, played by Jim Carrey or war machines like Robocop. It is a trend that, despite not bringing new content for players, manages to create visual material capable of attracting a large audience of viewers and turning the world of Cyberpunk 2077 upside down.