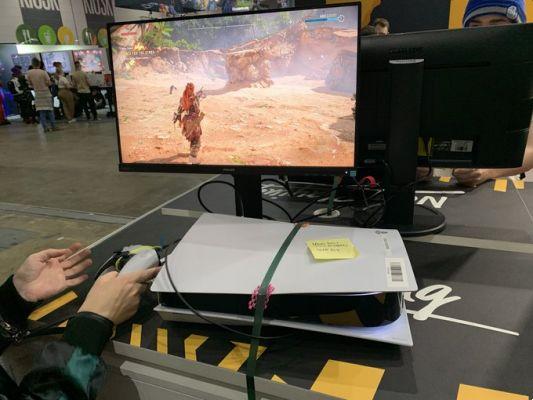 Looking forward to find out whether the rumors of a Horizon Zero Dawn remaster are true, from PAX Aus 2022 a stab in the heart has come to all Bloodborne fans. The FromSoftware home game, developed in collaboration with Japan Studio, is an exclusive PS4, never updated and that many hope sooner or later to see perhaps on PS5 with a 60 frames per second version. The rumors about it have always been many, but obviously all false and someone has decided to make fun of it during the Australian fair underway these days.
As reported by Lance McDonald, modder and dataminer of the Souls scene who has been very active in recent months, there are several PS2022s on the PAX Aus 5 show floor that are used to be able to try out some titles by hand. However, the consoles have a modified body, to look like a console dev kit and have been renamed with a small paper sticker that would indicate the possible test game. The name PS5Bloodborne has obviously not gone unnoticed, but a little investigation on the show floor was enough to realize that no, that label actually has nothing to do with the game.
McDonald's immediately shut down the rumors about it. "Okay, one of these consoles is called PEPSIMAN. Either they have chosen nice names or PEPSIMAN is about to receive a remake for PS5", the modder's words declared on Twitter. PEPSIMAN, for those who don't remember, is an old advertising game launched on PS1 exclusively in some countries and it is quite unlikely that it will actually receive a remake. It is therefore a joke, hardly organized by Sony itself but more by the staff of PAX Aus 2022 or by some prankster visitor.
Ok the one is called PEPSIMAN so I think they just chose cute names OR pepsiman is getting a PS5 remake any day now pic.twitter.com/Flh3kSAVc5
— Lance McDonald (@manfightdragon) October 8, 2022
For the moment, therefore, Bloodborne will not arrive on PS5. And we don't even know if it's in Sony's plans there is actually the will to bring the title to the new console. For now, fans continue to live like this, between hope fueled by false rumors and some small but cruel jokes.