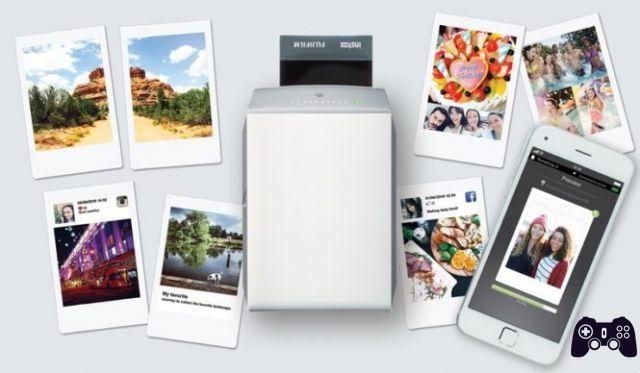 Tell the truth: how many times have you happened to be away from home for work, study, vacation or other reasons and to have needed print documents without knowing how to do it?
Today, thanks to the continuous and, we could say dizzying evolution of technological means, there is no longer the risk of experiencing certain uncomfortable situations, as it is enough to have the smartphone and the game is done.
For many years now these small devices, together with mobile phones, tablets and PCs, have changed our lives by revolutionizing our daily life, but now they become more and more day by day multifunctional and equipped, being able to perform functions unthinkable until some time ago.
An instrument that, due to its usefulness, is enjoying ever-increasing success is the portable printer, which allows you to print without the need for an electrical outlet nearby, a great convenience for everyone, from professionals to avid travelers looking for photos, from students to people who simply do not like to be caught off guard and they always have the right accessory at the right time.
Here's why buy one smartphone printer it is certainly an excellent idea, but how to move within a market that is already quite large and varied?
In fact, the models available are of different types and this could be a small problem for the less experienced.
In addition to inviting you to be advised by someone who knows about it, we suggest you read below: you will find valid suggestions dispensed thanks to the precious help of friends of shoppingconsultants.com (see top 5 di shopping consultants) that will help you buy the smartphone printer that's right for you.
What is the portable printer. Types and main characteristics
The portable printer is a tool that is characterized by compactness, small size and extreme manageability; it is used to print from the PC, tablet and smartphone, as we have said, without the need for electricity.
- aspects to be evaluated at the time of purchase, just like any other object, there are many, but since it is a portable device, designed to follow us wherever we want, it would be good to start with the size and weight.
The lighter the printer, the more, of course, it is also comfortable and practical.
Performances
Anyone who needs to use the portable printer for professional reasons needs it to be fast.
Even if there are models suitable for business use, keep in mind that it is nevertheless impossible that they can match the traditional ones.
This does not mean, however, that there are no portable printers capable of more than satisfactory performance.
So when buying one, make sure of the number of prints per minute it is capable of making.
A concrete reference?
Calculate that a mid-range portable printer can print about 8/10 sheets every 60 seconds.
Let's move on to analyze the colors.
Most portable printers available today work with inkjet technology; our advice is to opt for a color model if you intend to print also or above all photos and images, while for text documents only a black and white is more than enough.
As is generally the case with anything else, spending a little more equals better performance; there are portable printers that can work with more than two cartridges and give prints with excellent definition and color clarity.
Another aspect to watch out for is that the model you choose is capable of supporting the formats you will need.
Mobile printers generally support the classic A4 format, but often also smaller ones such as A5, A6 and B5.
It is also not difficult to come across models that can support the envelope and photographic format, while the larger ones like the A3 are almost impossible to find.
How do mobile printers for smartphones work?
Most of today's portable printer models allow wi-fi and Bluetooth connection, but the most modern and latest generation ones are equipped with Near Field Communication (NFC) and wi-fi direct to obtain a connection with other types of compatible devices without having to connect to a wireless network.
Conclusions
Portable smartphone printers are a great invention that helps make our work, our passions and free time easier and more efficient.
On the market there are various types that differ in the performance they are able to guarantee, largely depending also on the price range to which they belong.
When choosing one, take into account the use you intend to make of it, because if you need it only for pleasure, a mid-range model can be fine, but if you need the printer for professional reasons, you should aim directly at the tools of high end.
Further Reading:
The best multifunction printers
The best wireless printers
How to change the printer's IP address
How to install printer without CD
The best inkjet printers