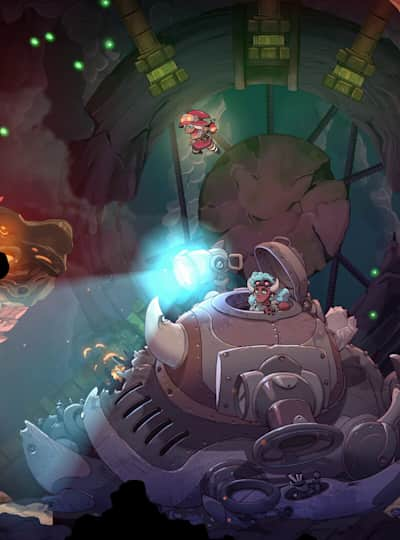 We are in the penultimate month of the year, and as we begin to breathe in the scent of Christmas - but also of Black Friday -, the indie machine never stops. As always there are many titles coming out these days, with genres ranging from strategic to RPG or puzzle; So whether you want to relax with a hot chocolate in your hand, or you want to release stress by shooting left and right, surely there will be some new perfect game for you. In this article we will enclose what we think are the best PC indies releasing November 2022, so you can start to get an idea of ​​what to add to your cart.
10. A Little to the Left
Gender: Hobbies, Puzzles
Developer: Max Inferno (Secret Mode)
Release date: November 8
Let's start the list with one of the perfect hot chocolate games: A Little to the Left is in fact a work of the puzzle genre where you have to sort, stack, and organize household items satisfactorily (or, if we want to use the correct term, satisfying), all while keeping an eye on the evil cat who wants to spread chaos.
Each puzzle can be solved in various ways in order to let the creativity of the player run wild, because ultimately the goal is to get the feeling of satisfaction upon completing the level. If you want to experience the panache of organization before buying the whole game, the free demo is also available on Steam, so you just have to prepare your mind to be cleared.
9. We Who Are About To Die
Gender: Action, RPG, Simulation, Strategy
Developer: Jordy Lakiere
Release date: November 14
How many times, in movies and TV series, have we seen scenes of gladiators fighting each other in an arena? If you've ever wanted to know what men felt inside the Colosseum thousands of years ago, thanks to We Who Are About To Die you can at least get the idea. In this RPG of the roguelite genre you will in fact have to make your way among the fighters, starting from being a slave and working your way up to become great champions.
We Who Are About To Die features a complex combat system, where you will be able to control your character completely at any time. The developers have also pointed out that it will take you some time to learn how fighting works and to hit opponents decently; nevertheless, since it is a roguelite, with each attempt you will be a little better and you will come one step closer to eternal glory. This indie looks very original and hilarious, so it could not fail to be in the list of the best releases on PC for November.
8. From Space
Gender: Action
Developer: Triangle Studios
Release date: November 3
Over the months we have realized that the predominant theme in the world of video games at the moment is that of space, and this category also includes From Space: the aliens have invaded the earth with the form of an infestation that is killing everything in the planet, and your job is to take up some weapons and clean everything up.
As much as you can play From Space alone, the advice is to face the pink aliens cooperatively, creating teams of up to four players to join forces and exterminate as many creatures as possible. You will be able to choose from a variety of weapons and characters, each with their own unique abilities, finding the perfect balance between you and your friends and eradicating any alien being.
7. Beneath Oresa
Gender: Adventure, Strategy
Developer: Broken Spear
Release date: November 3
Beneath Oresa, a deckbuilding roguelike, will catapult you into an arena where your task will be to defeat your opponents, using your strategist skills and selecting the right cards and artifacts, while maintaining the right distance from the enemies. Each time you decide to dive into the depths of Oresa you will choose a second hero to accompany you, each with their own unique abilities; the duos that can be created are therefore very many, and you can adapt them according to your personal style of play.
But being a title deck building, the cards play a vital role in the fights: each one presents a choice between two improvements, and it's up to you to decide how to evolve your deck, sending the fight in totally different directions.
6. Ship of Fools
Gender: Action
Developer: Fika Productions (Team17)
Release date: November 22
November seems to be the month of rogues, and in fact another indie coming out on PC is Ship of Fools, a roguelite with a maritime setting where you will take on the role of the only creatures stupid enough to venture into the depths of the sea (hence the name of the game). You and your partner will therefore jump aboard a boat and face your journey, trying to survive the monsters that try to kill you; obviously one run will not be enough to reach the goal, but gradually you will unlock new artifacts and objects that will help you save yourself from the catastrophe.
The work is designed to be played in co-op in order to best test teamwork with your partner: you will have to work together to defend and repair the ship, combine objects to create devastating combos and have each other's backs . However, there is also a solo mode, where you can keep the glory entirely to yourself and challenge the sea creatures with your hands.
5. TFM: The First Men
Gender: Simulation, Strategy
Developer: Gathering Three
Release date: November 2
Among the most intriguing titles of the month there is also TFM: The First Men, a strategy and simulation game enriched by exploration, real-time tactical combat and character building. In this adventure you will have to impersonate the famous Adam and Eve, developing your settlement and passing the reins of leadership from generation to generation.
During the gameplay you'll discover a world full of wonders, where exploration will be rewarded, but you'll have to be ready to face various enemies. It will be up to you to decide whether to attack or defend yourself in an endless cycle of wars where adaptation is the key to success.
4. The Entropy Centre
Gender: Adventure
Developer: Stubby Games (Playstack)
Release date: November 3
If you are a fan of Portal, this indie due out on PC in November will blow your mind. Let's talk about The Entropy Centre, a first-person adventure where you will have to solve ingenious and complex puzzles using time; in fact you will have the power to restore items over time to pass the rooms, each one step closer to the heart of the space station that is orbiting the Earth.
To help you in the enterprise there will be ASTRA, a device equipped with artificial intelligence which, in addition to scanning the spatio-temporal chronology of objects and moving them in the past, will be capable of heating cups of tea. If you want to try The Entropy Centre, a free demo is also available on Steam.
3. Doors: Paradox
Gender: Adventure, Casual
Developer: Big Loop Studios
Release date: November 4
Doors: Paradox reminds me a lot of the Netflix series Locke & Key, since the basic idea is more or less similar: you will find yourself in a series of strange spaces filled with doors built in singularly shaped structures and you will be able to look at them from every angle to be able to understand where they come from, but above all to collect the pieces necessary to open them and know the truth that lies on the other side.
During the approximately 5-hour long adventure you will relax and be catapulted into scenarios that are completely different from each other, including forests, deserts and futuristic settings. Either way, your goal will always be the same: solve puzzles, open doors, and travel to the next location.
2. Ghost Song
Gender: Action, Adventure, RPG
Developer: Old Moon (Humble Games)
Release date: November 3
In the desolate moon of Lorian, a sleeping creature awakens from slumber, armed and ready to fight for answers. This is the story of Ghost Song, a 2D adventure based on self-discovery, ancient mysteries and terror; in fact, in the role of the protagonist you will have to explore gloomy caves illuminated only by bioluminescent flora, defeat strange beings and obtain new abilities that will help you to reveal the secrets of the alien world in which you find yourself.
During the adventure you will be able to improve your powers and customize both the suit and the rifle with a variety of different accessories capable of exterminating increasingly stronger aliens. Also, the Metroidvania-inspired 2D world is full of secret caves and disturbing stories waiting to be discovered, so it's up to you to roll up your sleeves and immerse yourself in Lorian.
1. The Knight Witch
Gender: Action, Adventure
Developer: Super Mega Team (Team17)
Release date: November 29
We close the list of the best indies coming out on PC in November with The Knight Witch, an adrenaline-pumping Metroidvania-style adventure to say the least. The gameplay is genre shoot 'em up and you will be able to choose whether to use magic or more traditional weapons to defeat all the enemies that will stand in front of you; moreover, you will be able to take advantage of a huge variety of spell cards, each with different powers, in order to create your completely personalized play style.
The witches will get stronger as the game progresses, and it's up to you how you build trust between different characters. The work, in addition to being drawn entirely by hand, was designed as a Metroidvania without barriers: with an intuitive auto-aiming system, tricks that can alter the world and a navigation system focused on the main story, not only there you will never lose, but you can adjust the game according to your skill level.
What do you think of these indies coming to PC in November? As usual, I've tried to include titles that can suit everyone's tastes, but there are many other noteworthy games; if for some reason, however, none of the works that I have proposed should be to your liking, I invite you to take a look at the editions of the previous months of this article, and to follow us so as not to miss the ones to come.