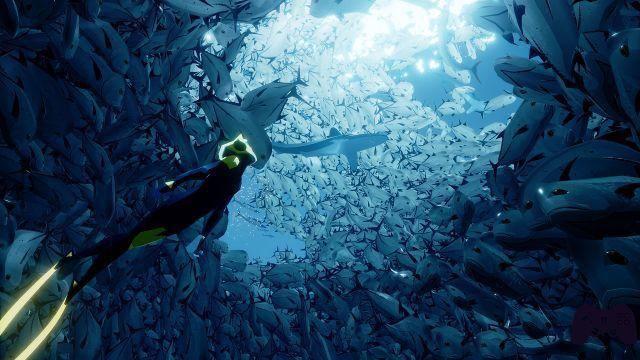 That Matt Nava works with particularly evocative titles far removed from the common conception of video games is now undoubted from that distant 2009, in which he was head of the artistic direction of Flower where, carried by the wind, we followed the misadventures of a petal. In 2012, Nava hit the target again with Journey, telling the story of a lonely traveler in deserted lands (or almost) and wrapping the player in the warm embrace of a scarf. After leaving ThatGameCompany and founded Giant Squid Studios, on 2 August ABZÛ showed its seabed to PlayStation 4 and Steam users, while on 6 December it also flooded the Xbox One digital store. Before diving in and starting to talk about this latest version, we remind you that the title of Matt Nava and Giant Squid Studios will also be available in a retail version next January.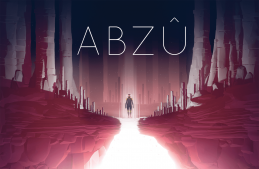 To learn more:
Abzu
* Insert quote from The Little Mermaid *
Another pragmatic title
If in your videogame career you have already faced a title of the ex-member of ThatGameCompany, you will know for yourself that it is one that does not get lost in futile chatter, leaving the burden of the plot to the ability to assimilate and look around the player. In this respect, ABZÛ does not differ in any way from Matt Nava's previous work, leaving every seabed and level to the player's imagination. Why does the diver-like creature dive and swim with the fish? What do the temples scattered across the sea represent and why are they so important to ocean fauna? Were those weird shark-shaped statues built by the same people who left the inactive cameras to their fate? All these questions Nava will not answer, or at least, will not do it directly. It will be up to the player to decipher every little detail, looking around while swimming on the back of a Green Turtle, or while being carried away by a rushing current to the next destination.
Not suitable for all types of players
Another aspect that ABZÛ shares with the previous works of ThatGameCompany is longevity: after a first adventure passing amazed to explore the seabed of about three, four hours depending on how much the player gets lost riding manta rays or swimming with humpback whales, if you have to dive back into the depths of Giant Squid Studios to grab any collectibles (secret tanks that will free other fish breeds and a series of hidden shells) it will take less and less to complete this underwater adventure. This is one of the main strengths (and at the same time defects) of Nava's works: they are often visually exceptional experiences, capable of transmitting pure emotions but which, like everything beautiful, finish really quickly, then giving the feeling of wanting more. A double-edged sword that, at first glance, does not affect the total experience at all, but which for many traditional players may not be worth the price of the ticket.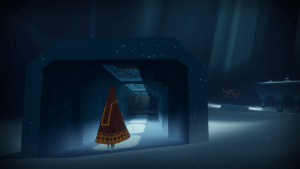 To learn more:
Journey (PS4)
20 capsized under the sea
As for the gameplay, the Xbox One version of ABZÛ is obviously identical to the one released last August 2nd on PS4 and PC: the anthropomorphic protagonist will be able to swim with RT, accelerate with A, cling to the biggest fish with LT, perform a upside down with B and finally interact with objects and switches with Y. A simple gameplay with which you immediately become familiar, while it will take a few more moments to master the camera (improving its performance in the options menu). From the very first dive, the meticulous work done by Giant Squid Studios is evident in the animations not only of the protagonist, but of every element of marine flora and fauna surrounding the events of the title. ABZÛ immerses the player (in every sense) by characterizing every single fish. Manic care that can also be found in meditation mode, in which the player will pass from controlling the underwater figure to the fish in the area, being able to follow their movements and actions for as long as they want. As already mentioned, the entire production of Matt Nava again puts in front of an experience rather than a real game, and the very simple puzzles are useless to open doors or reactivate fountains, which have the sole purpose of pulling the events from one area to another.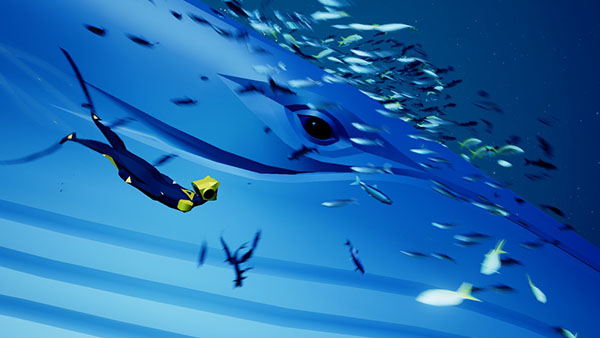 Under water no one can hear you scream
Once the "Atmosphere" and "Playful Experience" matters have been archived, what remains of ABZÛ once the evocative credits have been reached is a pleasant memory, partly due to a superb soundtrack capable of affecting every moment of the game without having to bother. once the spoken or written text. This relying only on the visual and sound sector is the umpteenth strength of Matt Nava's latest effort, a title that cannot and above all must not be ignored although it can make you turn your nose up at the price. The ocean of ABZÛ is alive and in continuous movement, capable of giving very high moments while not disturbing challenging factors or elaborate gameplay, in the same way in which Journey was able to convey the feeling of almost absolute solitude.
Verdict 8.5 / 10 Fish and Fish POPOPOPO Comment If you are one of those who have adored Journey, fearlessly dive into ABZÛ because you will re-emerge more than happy. You even feel compelled to add an extra half point to the rating opposite, even if, for productions like Matt Nava's, the numerical value is not the most appropriate judgment. ABZÛ, like Journey and Flower before him, is part of that circle of subjective titles that can intrigue or leave nothing behind depending on the type of player who picks them up. If, on the other hand, you have never approached this genre of games, ABZÛ is a good opportunity to find out which side you are on. Pros and cons
✓
Excellent artistic sector
✓
Stunning animations and soundtrack
✓
Impact experience ...
x
... but for some perhaps too short
x
Not suitable for everyone