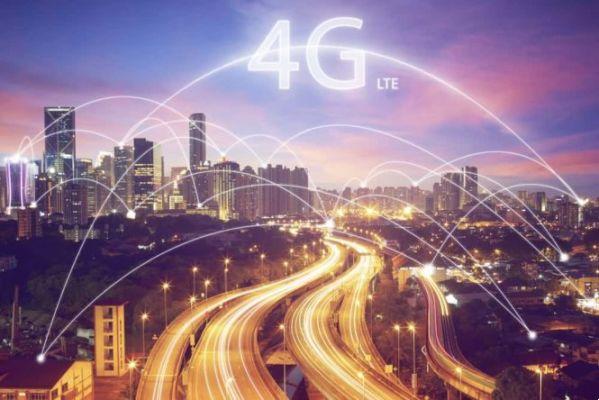 When you are talking about 4G it refers to an Internet connection technology that occurs through the cellular network: it is an abbreviation of "4th generation". While HSPA + technology, a feature of the 3G which represented the previous generation, had a maximum speed of 42 Mbps, with 4G you pass to a minimum speed of 150 Mbps, which ensures an optimal connection quality for, among other things, the use of content video o musica in streaming. For this to be possible, it is also necessary in any case that the area in which you are located is covered by 4G.
How 4G works
There are several frequency bands on which 4G can work, they in turn change according to the operator for which the connection is chosen. In our country, the 800 MHz, 1600 MHz, 2000 MHz and 2600 MHz bands are used.
To understand if a tablet or smartphone is compatible with 4G, just check on their data sheet if they are able to take advantage of these bands. They are mainly the phones arriving from China which can give some problems from this point of view, since the Chinese frequencies are not the same as those of Spain and Europe.
The categories of LTE
4G assumes a distinction in category which are different from each other: not only according to the frequency band that is adopted, but also according to the data exchange technology. Precisely for this reason each category of LTE is able to reach a different maximum speed.
Category 4 of LTE, for example, is characterized by a maximum speed of 50 Mbps in upload and 150 Mbps in download, while category 5 reaches 75 Mbps in download and 300 Mbps in upload. With category 6 there is a maximum download speed of 300 Mps, compared to an upload speed of 50 Mbps.
And so on, up to the category that guarantees the best connectivity in terms of quality, with 1.500 Mbps maximum upload speed and 4.000 Mbps maximum download speed. It must be said, however, that categories 4 and 5 are those of simple 4G, while from 6 onwards we are talking about 4G Plus.
What to do to take advantage of 4G Fastweb
use 4G Fastweb you have to make sure that your device - for example equipped with sim fastweb - is compatible with this technology: verifying it is not difficult, as it is sufficient to check the technical data sheet.
The second step to take concerns the subscription to an offer which includes 4G. The operators offer a wide variety of promotions, with offers that combine SMS, voice and data traffic.
How 4G is activated
The procedure that you need to follow foractivation of 4G Fastweb it is very fast. On Android you need to go to the settings and then go to Cellular networks, so you can select the Preferred network type option.
Once the LTE item has been chosen, 4G is active: the device loses field for a few seconds and then accesses the Internet again with 4G, as can be verified through the network indicator located at the top of the screen.
On iOs, on the other hand, after going into the settings, you need to select "Cellular", "Cellular data options" and "Voice and data": so you can choose the LTE option, to take advantage of the desired connectivity.
Further Reading:
Why use Trough-hole technology in PCB design?
What exactly is Samsung's MicroLED technology (and how it affects your new TV)
New for smartphones, here is reverse wireless charging
Honor 8X vs Huawei P Smart (2022), what are the differences?
Latest generation technologies for face aesthetics, driving