During the closing talk show reserved for the tenth anniversary of Etrian Odissey, Atlus confirmed that a new chapter will be announced, for Nintendo 3ds, in the spring of 2018.
The new title of the series Etrian Odissey had already been confirmed in September, in which the director Shigeo Kimori he had reiterated that it was not about Etrian Odissey 3 Untold, but rather a new episode "designed to celebrate the entire series" and "with new unexpected content".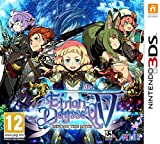 Etrian Odyssey V Beyond The Myth - Nintendo 3DS
On amazon: 69,9 € buy
At the moment there is no further news on Etrian Odissey. For more information, keep following us.
Source