PlayLink is the series for PS4 that debuted in July 2016 with That's You. In one year it has grown a lot and offers us new, interesting multiplayer experiences to play and have fun all together
La Sony he is not afraid to get involved and over the years he has offered hundreds of magical moments to his admirers. The announcement of the Nintendo Switch it could prove to be a serious threat to the production company, which however did not back down and turned out PlayLink, a series to be discovered. In reality, the games in this series were born as "experiments" inspired by party games. For the uninitiated, this genre offers video games based on short and easy to solve minigames, ideal especially for multiplayer games.
To use the games PlayLink it is not necessary to have a Dualshock controller for every player - you just need to have a number of smartphone o tablets equal to that of the participants. Once the devices have been connected to the same Wi-Fi network, the application can be downloaded for free from the mobile phone store: to interact with the selected products, the display of the device will suffice. PlayLink was born with the idea of ​​stimulating cooperation (and why not, even rivalry) between players. The game system is simple, almost elementary, designed for those people who play little or almost never but who want to have fun in a group. PlayLink offers different types of games: you can choose between quizzes, cinematic thrillers, and even singing competitions! In March 2018 they will also arrive Frantics, an arcade game, and a very special interactive live action titled Erica. Below you can see how it works PlayLink, it's really that simple!
PlayLink: all the minigames to have fun with friends
If you have never tried PlayLink, why not take a look at his games? You might find the one that's right for you! You have five options to choose from.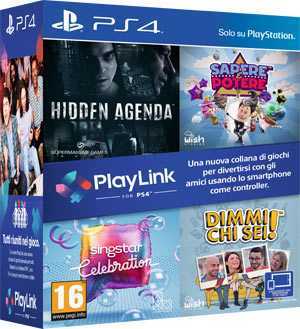 Il bundle PlayLink
Tell me who you are!
Are you sure you know your friends and relatives? Test your knowledge with this game! It will allow you to discover the hidden side of your loved ones and maybe they too will learn something about you. tell me who you are it's a quiz game between 2 and 6 players who will face each other in funny shots and selfies, embarrassing questions and drawings. The rules are simple: choose the answer you think will be the most voted by the other competitors and, if you feel lucky, try playing the wild card to double the points and turn the game upside down! This game will make you laugh a lot, and sometimes even sulk, and the teasing will not fail. You certainly won't be bored!
Knowledge is power
Do you feel irrelevant in current affairs, history, TV and more? If you are a fan of Trivial Pursuit, of quiz or if you want to challenge your friends, this game is for you. Knowledge is power welcomes up to 6 players and allows you to choose one of the four topics proposed to accumulate points (if you answer right!). If so, you can always take revenge on the winners by assigning them handicaps. First of all create a selfie that represents you, there are tons of options to customize your avatar. Select the topic you do best and use superpower to impose yourself on others. You will have bombs, snowballs and ink balloons at your disposal to sabotage your opponents… and have more fun! At the end of the game you can turn the tide of the game with a game that will allow you to become the undisputed winner. If you want an American quiz show experience, give it a try!
Hidden agenda
You will find yourself in a dark and mirrored environment… the mystery deepens! You can play alone or in cooperative, to confront each other and continue the adventure. With extremely realistic graphics, Hidden Agenda it will turn you into a real police officer. Once again you will be manipulating the screen of the smartphone or the tablets instead of the controller, and you'll have to juggle a complex two-hour storyline. You will have to choose one of the two options proposed to continue the story and, in case of disagreement between various players (the majority wins), fate will make the decision for you. Each chapter will be given hints to continue, but only one of the players will have the crucial clue to do justice. In Hidden Agenda there are no right or wrong choices, but it's all in your hands. This game is different from the others, due to the more serious and sometimes dark atmosphere, but it will certainly be able to keep you and your friends in suspense.
Singstar Celebration
Singstar Celebration it's a singing party to which everyone is invited! Smartphone in hand and sing your favorite songs out loud from a huge library of foreign hits. Challenge friends in a head-to-head or sing along or in choir! Anyone can join when and where they want during the song, and there are songs for all tastes ... and for all vocal cords.
Planet of Apes: Last Frontier
In this game you will have to decide the fate of humans and monkeys; like Hidden Agenda, this game puts you in front of choices, but the style is more "passive" making it look more like a movie than a game. In reality this can become a negative point: despite the possibility of choice it almost seems that the game proceeds at its own pace and on its own, and is perhaps a title more suitable for non-gamers, or those who prefer a less direct approach.
Frantics
Due to some unresolved bugs the release of Frantics is scheduled for mid-March, but we know that the game opens with a selfie that determines the assignment of a pet, a digital alter ego during the adventure. Frantics offers 15 skill mini-games where you will challenge your friends, using the movements of your smartphone to knock them off the cliff and win. But beware! The fox, the mascot of the game, is always ready to change the cards on the game table.
Why should you play a PlayLink title?
Do you like being in company? At Christmas and New Year's your house is always full of people and you can't get everyone to agree? Do you like team games and are you good at collaborating with others? Or are you a competitive person who loves challenges? Do you like the minigames frenetic? Or do you like games where you have to work your brain? If you answered yes to some of these questions, then the games PlayLink are for you (and your friends). But if you want to know a little more, visit the page PlayLink official on the Sony website.