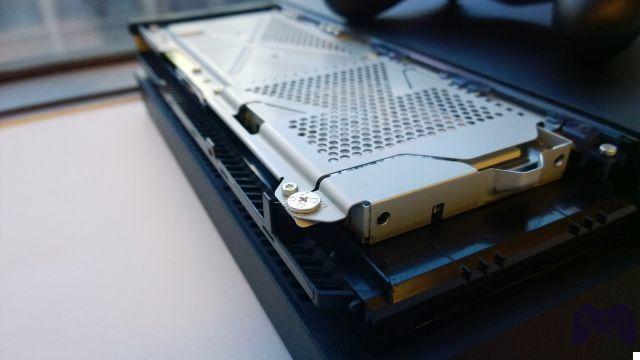 If you love to spend your free time playing the PlayStation 4, the latest Sony home console, you will have noticed how much space the purchased video games take up. How, then, to increase the space dedicated to storage without having to give up our favorite installations?
Many of the Sony console sold in recent years had a basic configuration with included a 500 GB internal hard drive. If you are a fan of RPGs or shooters, you will surely have noticed 74 GB required to install Battlefield 1, or the 58 GB required for Diablo. In conclusion, reaching the 500GB threshold is not that difficult Nowadays.
Whoever was in possession of a console with the aforementioned configuration, came therefore forced to delete one or more installations to make room for the title you just bought.
How to increase the storage space of the PlayStation 4?
Sony, in this version of the PlayStation, ran for cover and came to meet users who did not have a larger hard disk to accommodate a few more video games.
If you think that a console with a 500 GB internal hard drive can hold about 5 games, the more capacious 1 TB models can hold a maximum of 10/11. For a person who is used to spending a lot of time in front of the screen, there are still very few.
For this reason support for saving video games to an external hard drive has been enabled to all PlayStation 4 and PlayStation 4 Pro console models with the update to firmware 4.50, in order to take advantage of the mass memory made available by an external drive, so as not to have to delete old contents to make room for newer ones.
Of course not all external storage devices are compatible, but only those with a USB 3.0 port formatted in NTFS and with a minimum memory of 250 GB. Fortunately, the maximum capacity won't be an issue, as external hard drives up to 8TB are supported.
As for the choice of the USB hard drive (the list of reviews of Roba Da Informatici is a great help), it won't be a problem. Prices have dropped a lot now and 1 TB is the standard for almost all manufacturers. Also with regard to the USB 3.0 connection interface there will be no major problems, since it has also become a standard and will soon leave room for the faster and more performing USB C.
Set up an external hard drive for PlayStation 4
If you have run into this problem and to solve it you have chosen to buy an external hard drive, now it is time to install it on the Playstation 4. The process to extend the console memory is very simple, as it will be enough to perform a few simple steps .
First, you have to format and extend the disk space from the menu "Settings> Devices> USB Storage Devices" and choose the option "Format as extended storage memory". After that you have to follow the settings on the screen and complete the formatting.
Once this process is finished, the configuration to increase the space of the console will be finished and finally you will be able to take advantage of the additional space of the new hard disk installed.
Move the applications to the new memory
Now, to "lighten" l'hard disk principale all you have to do is move the currently installed applications to main memory.
This operation is quite simple and can be performed in the "Settings> Storage memory" menu. At this point it is necessary to select in which memory to save the applications by default.
By further selecting the internal memory of the system, you will be able to access a list of all applications / games installed on the console. From here there will be the possibility to move them to the new external hard drive and free up space.
It should be noted that thePlayStation 4's hard drive can also be removed. Obviously, from that moment on, you will no longer be able to use any application or game until it is entered again.