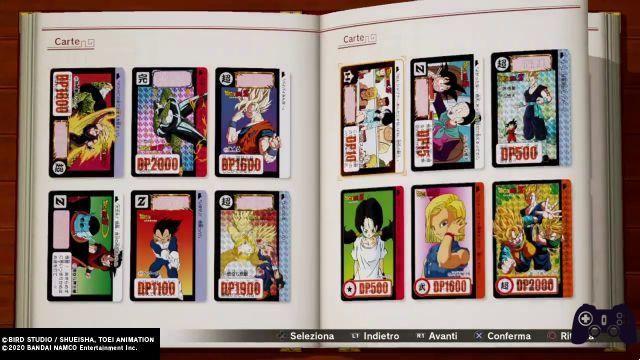 Page 4: Dragon Ball Z: Kakarot | How will I complete the Encyclopedia Z to 100%
Page 1 : Dragon Ball Z: Kakarot, the complete guide
Page 2 :Dragon Ball Z Kakarot | All the recipes of the Complete Menus
Page 3:Dragon Ball Z: Kakarot | Guide to Emblems and the Community Board
Page 4 : Dragon Ball Z: Kakarot | How will I complete the Encyclopedia Z to 100%
Page 5:Dragon Ball Z: Kakarot | How to unlock and upgrade the machine and the bipedal robot
Page 6:Dragon Ball Z: Kakarot | Postgame (Secret Boss, Arale, Super attacks)
If you are looking to I will complete 100% Dragon Ball Z Kakarot to get all the trophies or achievements you will certainly have noticed that you will need to unlock all the entries of the Z Encyclopedia.
This immense compendium, which notes almost every discovery made in the game world and expands the universe of the saga through cards, memorabilia, objects, videos, characters and many other items, is accessible from the early stages of the game in the pause menu. To complete it 100% you will need to collect all possible objects, finish each secondary story and complete many other objectives.
Don't despair though, this one complete guide to the Encyclopedia Z is here to help you become a true Dragon Ball expert.
How to complete all Encyclopedia Z?
There are 11 different categories within the Z Encyclopedia which in turn hide other sub-categories. Finishing the encyclopedia may seem like a titanic undertaking but to get everything just follow these simple steps:
finish the main story
Finish all secondary stories
Complete the postgame
Pass all the allenamenti and learn each ability
Unlock and upgrade all vehicles
Fully upgrade the soul emblems
In this way you will be able to unlock each section of the Encyclopedia Z with the exception of some items that must be unlocked instead talking to the characters in the series, which you will often see appearing in the game world by flying, or collecting Relics and other related collectibles that serve as true keepsakes or memorabilia of Dragon Ball history. They are easily found in the game world, and their location can be revealed on the map by talking to vendors in towns.
Join Goku and his companions and explore the world of Dragon Ball like never before by purchasing Dragon Ball Z Kakarot on Amazon.